Ken Bueltel Return to Coach HOME Last Update: 12-7-2005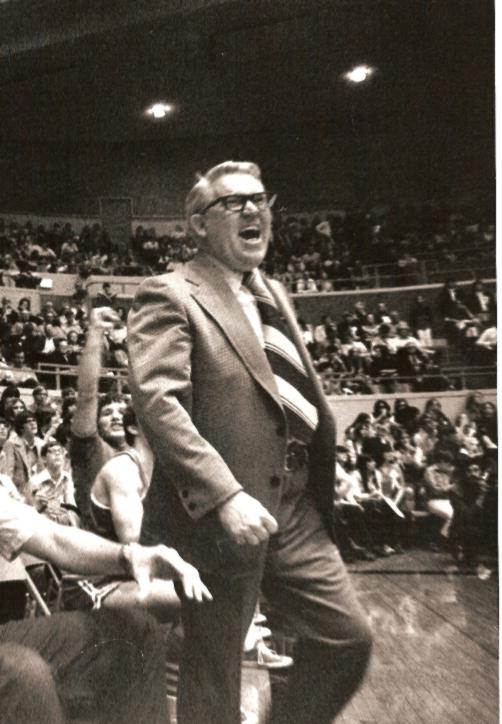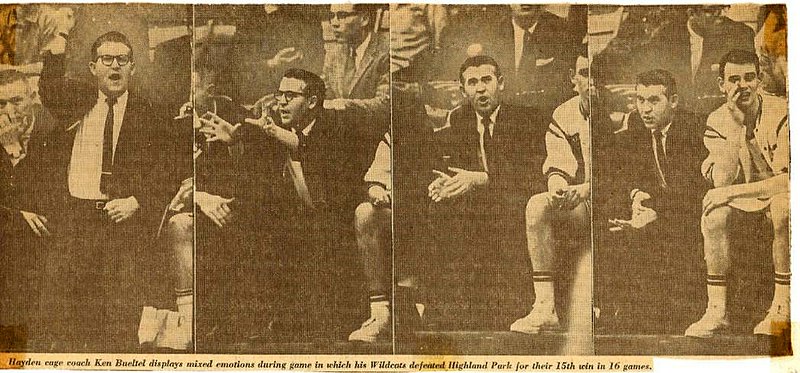 Coach celebrates after 1972 State tournament game (Emporia, KS) Coach "gets into it" during 1961 game before he went "silver". Gene Werner (asst coach) & Larry
Photo courtesy of Topeka Capital-Journal c. 1972 Krische on the bench.
Topeka Capital Journal story of 8-23-1988 and additional comments from Mike Murphy and Tim Morrisey can be viewed by clicking here or on link below.
Ken Bueltel coached Hayden basketball from 1952-1973. He also spent most of that time as Athletic Director. He taught classes in history - he also taught a lot of students how to play bridge. He could have easily been a stand-up comedian or a comedy writer but he was an even better basketball coach.
When I was in grade school I wanted to play basketball at Hayden for Coach Bueltel. There was a stumbling block to my dream - I really had no talent for the game. My lack of athletic ability was matched by a "panic attack" style of play in official games. In practice, I could play reasonably well; but with an audience in the stands and referees in charge of the play, my style was explosive (not a pretty thing to see.)
I had a chance to win (or maybe it was just to tie) a game against Holy Name. I had the ball at half court with no one covering me and the red light on the Hayden East gym wall was lit up letting me know that time was running out. I really had no clue on how much time was left - so I dribbled a few more times and fired the ball towards the goal. I could have been 35, 30 or 20 feet out and the ball did not draw iron, net or backboard. Once the groans from the crowd and our bench died down, my grade school coach (Neil Bartley) took me aside and asked me "Was that a shot or a pass?".
Picture the ball in this photo not arching towards the basket - but simply dropping weakly into the painted block portion of the wall below the bricks . This would give you an idea of where my "shot" was headed. Someone dove out and touched the ball preventing my air ball from actually hitting the wall. I think it is accurate to say that my attempt at the goal came closer to hitting the clock.
( Photo of early 1950 game against Osage City from Hayden Yearbook.)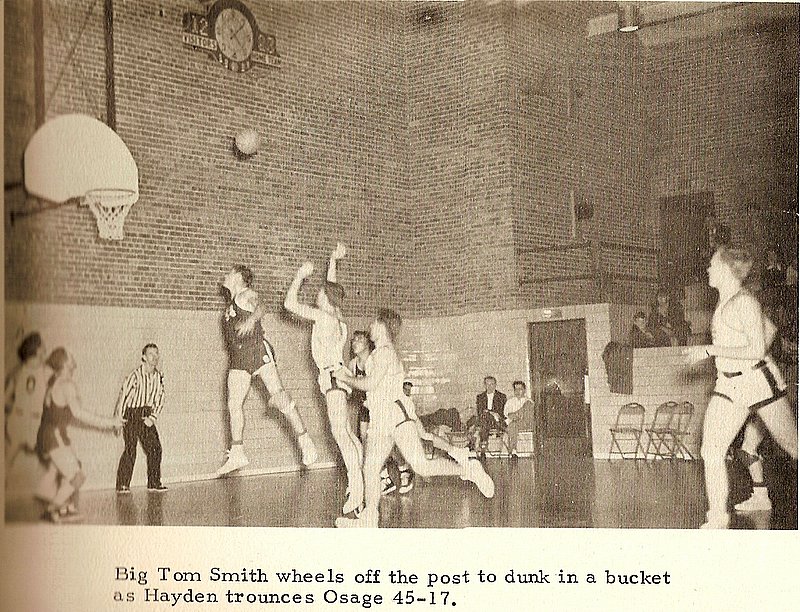 Coach Bueltel cut me two years in a row at Hayden and I eventually gave up the idea of ever playing sports at Hayden. Oh, I was on the football team, but the coaching staff was not receptive to my talents. I sacked the quarterback in the Highland Park game my senior year and Coach Orth complained that I celebrated too much after the play. I guess I should have been tipped off by his question to me on the first day of practice in 1966 - "Macfee, why are you here?".
It took me a long time to get out of the locker room after the Highland Park game (actually worked up a sweat and had to take a shower). When I came out almost everyone was gone except Coach Bueltel. "Macfee", he laughed "you made a tackle!" or something like that. I told him I would be available for autographs for the kids before our next game. He laughed at me some more, but he had made me feel like I was somebody. I wish to hell that he would have been our football coach.
There are so many people who knew Coach Bueltel better than I - but I thought I should give the above personal story to show that he had a way of making even the low man on the athletic totem pole feel pretty good. His style didn't work with everybody - that usually meant there was something wrong with those people.
The best article about Ken Bueltel that I have read was published in the Topeka Capital-Journal August 23, 1988. Rick Dean wrote the story THE SILVER FOX'S GOLDEN TALE for the Sports Plus section of the paper. There are some great quotes from Coach Bueltel regarding his career at Hayden.
Coach graduated from Capital Catholic in 1944. He graduated from Rockhurst College in Kansas City, Mo. His first head coaching job was at Immaculata in Leavenworth in 1951. He took that team to the District finals for the first time in school history. He also served as football coach and recorded a 2-6 record. In 1989 the Hayden Activities Center was renamed the Bueltel Activities Center as a memorial to the coach known as the "Silver Fox".
Career Coaching Record 1951-1973
1952-1953
Hayden
6
17
1953-1954
Hayden
23
5
Jayhawk Champion
3rd Class A State
1954-1955
Hayden
16
4
Jayhawk Champion
1955-1956
Hayden
10
12
1956-1957
Hayden
10
10
1957-1958
Hayden
7
12
1958-1959
Hayden
14
8
1959-1960
Hayden
15
6
1960-1961
Hayden
18
2
1961-1962
Hayden
15
6
1962-1963
Hayden
18
3
Centennial Champ
1st AA Regional
1963-1964
Hayden
16
6
1964-1965
Hayden
21
4
Centennial Champ
3rd AA State
1965-1966
Hayden
16
6
Centennial Champ
1st AA Regional
1966-1967
Hayden
6
14
1967-1968
Hayden
13
9
1968-1969
Hayden
17
4
Centennial Champ
1969-1970
Hayden
14
6
1970-1971
Hayden
20
3
Centennial Champ
1st 3A Regional
1971-1972
Hayden
18
7
Centennial Champ
2nd 3A State
1972-1973
Hayden
10
10
303
154
1951-52
Immaculata
17
5
LIFETIME
320
159
Macfee
Other sources
W
L
W-L
1971-1972
18
7
19-5
1960-1961
18
2
20-2
1959-1960
15
6
16-6
1957-1958
7
12
8-12
1952-1953
6
17
7-17
1951-1952
17
5
16-5
The statistics above describe the difference between my research and various other sources
in regard to Coach Bueltel's won-loss record. I have box score reports on almost all of the games
of this period. When box scores were not available - I have at least a newspaper confirmation of the
score (3 games - 1/16/65, 12/22/65 & 1/10/69). The season records in my list have been verified by
several references throughout my newspaper sources. I have listed at least one confirmation for
each season below.
3/1/72 TDC - states that Hayden has a 13-6 record as it enters Sub-State play. Hayden was 5-1
after that point (won 3 games in Sub-State & 2 games in State tournament before
losing in the Championship game. I think that some early research (MWM) used
statistics in the 1972 Yearbook that are very hard to read & have some inaccuracies.
The 19-5

report from this season was not corrected in several other reports.
11/28/61 TDC - Pre-season reports that Hayden's 1960-61 record was 18-2. I can't explain where
the 20-2 record comes from - I have never been able to find the other two victories.
12/2/60 TDC - Pre-season report states that 1959-60 record was 15-6. Can't find the other game

that would give Hayden an extra victory. Sometimes Alumni games were counted - but
I can't see any reference in newspapers about such a game and my records don't
ever count these games.
12/3/58 TDC Pre-season report states that the 1957-58 record was 7-12. Possibly an alumni game
or some other exhibition counted as a real game.
3/2/53 TDC says Hayden had a 5-15 record going into Class A District play.
Team won it's first
game and lost the next two to take 4th place.
2/22/52 LVT confirms that Hayden scheduled a make-up game with Wamego on the same day as
regularly scheduled Immaculata game. Hayden chose to forfeit this game - many sources
don't count this game as a win. Story clearly states that Immaculata accepted the
forfeit offered by Hayden.
Coach Bueltel's record is often listed as 325 wins and 159 losses. I can only verify as stated above: 320 wins and 159 losses.
Another error that is often repeated is that Hayden finished 3rd in State 3 times under Coach - this really only happened twice.
Immaculata Record 1951-52
12/11/51
Hogan-K.C.,MO
W
41
31
Hogan - K.C.
12/18/51
Redemptorist-K.C.,MO
W
45
44
Immaculata
12/28/51
Ward-K.C.
L
28
48
St. Agnes - K.C.
St. Agnes Inv
12/29/51
Rosedale
W
38
20
St. Agnes - K.C.
St. Agnes Inv
1/8/52
Effingham
W
42
47
Immaculata
1/9/52
Wathena
W
86
20
Wathena
1/11/52
St. Agnes-K.C., KS
L
42
74
St. Agnes - K.C
1/15/52
Maur Hill-Atchison
W
44
37
Maur Hill - Atchisn
1/18/52
Denison
W
47
40
Immaculata
1/29/52
Hayden-Topeka
W
36
34
Immaculata
1/31/52
Wathena
W
64
15
Immaculata
2/1/52
Denison
W
40
34
Denison
2/5/52
Sts. Peter & Paul-Seneca
L
46
61
Seneca
2/8/52
Sts. Peter & Paul-Seneca
W
60
27
Immaculata
2/12/52
Effingham
W
55
40
Effingham
2/15/52
Maur Hill-Atchison
W
46
43
Immaculata
2/19/52
Redemptorist-K.C.,MO
L
37
38
Redemptorist - K.C.
2/22/52
Hayden-Topeka
W +
2
0
Hayden - Topeka
2/26/52
St. Agnes-K.C., KS
W
38
25
Immaculata
3/5/52
Maur Hill-Atchison
W
42
40
Hiawatha
Class A Sub-Regional
3/7/52
Hiawatha
W
52
42
Hiawatha
Class A Sub-Regional
3/8/52
Highland Park
L
42
57
Topeka High
Class A Regional
973