THE SILVER FOX'S GOLDEN TALE
The Shepherd who led Hayden's basketball flock
by RICK DEAN c. Topeka Capital-Journal August 23, 1988 Return to Coach Bueltel HOME
Ken Bueltel had to laugh as he waited for the padlock to be removed from the doors of the old Hayden High School building on Eighth Street.
"Times have changed since I was here," the former Hayden teacher and basketball coach cracked. "We used to put the chains on the other side of the door to keep people IN."
The memories - and the wisecracks - returned quickly for the 61-year-old Bueltel as he entered the now deserted building.
He walked carefully down a dark stairway to the tiny bandbox of a gymnasium, passing his old office along the way. The tiled walls that encase the basketball floor like the sides of a deep pit once locked in the cheers of up to 800 people. The place has long since fallen silent, but Bueltel can still hear the noise.
The scorer's table was positioned in the first row of the bleachers, up above the court, he pointed out. The cable from the scoreboard control would snake out from the stands to a outlet near the home team's bench. Bueltel, according to popular legend, once kicked the scoreboard plug from its outlet late in a tight game, effectively killing the clock when he was out of timeouts.
The story, he admits with a mischievous smile, is true.
"What's not true," he adds quickly, "is that I once pointed a (timer's) gun at an official. A manager of mine did that, a kid named Michael Murphy. To this day I wonder what happened to him." +
"One year we were trailing Shawnee Mission South by 18 when he and the pep club almost brought us back to victory," Bueltel remembered. "This kid actually starts leading cheers from the bench. Really! I got so caught up watching him that I stopped paying attention to the game, which probably explains why we did so well."
Such is the wit and whimsy from which The Legend of the Silver Fox was spun.
Perhaps "legend" is too weak a word here. For in his 21 years as a teacher and coach at Hayden, Ken Bueltel became as much a school institution as the old building on Eighth Street, or the new structure on Gage. No, his popularity was not enough to have gotten him elected mayor of Topeka. But if the city's Roman Catholics could determine their bishops by popular election, Bueltel would be carrying a crosier today.
In terms of basketball statistics alone, Ken Bueltel enjoyed a Hall of Fame career at Hayden High.
From 1952 through 1973, his Wildcat teams won 309 games while losing only 152 - a .670 winning percentage.* A consistent winner, he coached only four losing teams, and had 12 different teams win 15 or more games. Not surprisingly, the Kansas Association of Basketball Coaches inducted him into its Hall of Fame during ceremonies at its state all-star game earlier this month.
"I think it's great," Bueltel said of his induction, a twinkle in his eye tipping off the one-liner about to come. "I didn't want them to name a library after me, but a plaque is very nice."
No, he never won a state tournament. Bueltel coached mainly in an era of four enrollment classes, as opposed to today's six. For part of that time, Hayden had to compete against the state's biggest and best in Class AA - then the biggest of the four divisions. Against Wichita East, Topeka High, Hutchinson. Still, Bueltel guided Hayden to a second-place finish in 1972, and to third-place finishes on four other occasions (1954,1963,1965). **
But won-lost records aren't the only reason people remember the Silver Fox so fondly today, 15 years after his retirement.
Rather, they remember the way Bueltel went about building a basketball tradition for Hayden, and a legend for himself. The way he combined on-the-court innovation and discipline with off-the-court caring and concern. And they remember his ever-present wit and humor - a gift, he says, from his mother, a woman of warm Irish wit; and father, a man who "given the right amount of Schlitz could pass the whole night away telling stories."
To be sure, Bueltel also was blessed with a vast reservoir of basketball know-how, gleaned from his playing days at Hayden (he was the team's captain in 1944) and at Rockhurst College.
"He was ahead of his time in teaching the fast break and the press," noted Greg Bien, a Topeka attorney who was a senior on Bueltel's 1963 third place finisher in the Class AA state tournament. ** "But most of all, he was able to motivate kids - to make them excel while keeping it light and fun."
"He had his rules, all right. He told us if we ever bought a car we couldn't play for him, because he knew we'd be spending all our time riding around looking for girls. Yet all the time I played for him, I really don't ever remember him chewing someone out.
"He got the most out of players like me who may not have had the greatest skills," added Bien, who won All-City honors in 1963. "He did little things to bring you along. There were times in practice when, if you weren't a big scorer, he'd have someone guard you who you could score on just so you could build up confidence.
"He taught world history the same way. He knew he had kids who could care less when World War I was fought, but he tried to make it interesting. He'd choose up teams, play games, things like that."
* error in regard to record - see KEN BUELTEL page for explanation
** error in regard to State Tourney Record - see STATE TOURNAMENT GAMES
Life was never dull around Ken Bueltel. The tales they told about him 20 years ago still bear re-telling today. For instance:
Frank Blackburn of Topeka West thought he had a way to slow down Bueltel's fast-breaking offense. A team that had to wait for the ball to drop from the nets, Blackburn knew, was a team that could not fast break after an opposing basket.
"So he soaked all the nets at Topeka West, and all the grade schools within 16 square blocks so no one borrow one, " said Bueltel, embellishing the story with obvious delight.
"We noticed during the warmup that the balls weren't coming through the nets. So I went up to Gene Smith, the activities director, and said, 'What's (the) matter with those nets?' and he said, 'I didn't do anything.' So I asked the custodian the same question, and he said, 'I didn't see anything.' Well, I knew somebody knew something."
But Bueltel had some tricks of his own. In hopes of stretching them out again, he had his players hang on the shrunken nets during warmups. The ploy might have worked had not the Wildcats pulled too hard on one net and cracked the backboard. The game was delayed two hours while a replacement board was located.
And another: Bueltel didn't always run the ball, especially early in his career when he knew his teams didn't measure up physically to Topeka High. Hence, the "red offense" was born.
It was, Bueltel explained, a delay game in which Hayden would foul on every Topeka High possession - this being in the days of only one free throw. Hayden, meanwhile, would hold the ball for at least one minute on every possession.
It made for a terrible basketball game, Bueltel admits. Unfortunately, one of the spectators that night was his father, Frank.
"It was the first game he'd ever seen me coach, and he came all the way in from Colorado Springs to see it," Bueltel remembered.
"The next day he calls and says, 'What kind of (bleep) were you playing out there?' He said he wanted to leave by halftime, but that my mother wouldn't go; she wanted to see the rest of the game. He told her, 'Hell, that's no game!' and waited out in the hall."
And one more: It was the biggest win of the 1962-63 season. The night Hayden, after two previous losses to Topeka High in the regular season, beat the Trojans in the regional finals to earn a state tournament berth. The night Greg Bien called the winning play.
"By the end of the second OT I was physically and mentally exhausted - unable to speak or think clearly," Bueltel recalled. "During the last timeout, I'm trying to think of something new to run, something they hadn't seen, but I can't come up with anything. Finally, Bien says, "Why don't we run the play we've run all year in this situation?' Well, I thought that was a tremendous play and we win the game.
"Smart guy, that Bien. He's an attorney now, you know; his advice is not as cheap today."
Bueltel had another secret weapon: the old Hayden gym, a classic pit from which few opponents emerged unscathed. An example:
Former Ottawa coach H.K. Stevens was once approached by a Capital-Journal reporter prior to a game in the old Hayden gym. "How'ya doin' Coach?" the scribe called out. "Pretty good," Stevens is said to have replied. "They didn't charge me to get in here tonight."
Even after Hayden began playing many of its games in the more spacious Municipal Auditorium, Bueltel reserved the pit for special occasions.
In 1960-61, Hayden lost its only game of the regular season - the best season in school's history to that time - on the road against Wichita Kapaun, 66-52. A large crowd was expected for the rematch in Topeka; Bueltel easily could have sold out 3,000-seat Municipal Auditorium. Instead, he booked the game into the tiny old Hayden gym. The Crusader coach got a technical foul in the first quarter, and Hayden won 81-64 to finish the regular season 17-1.
And for as long as he coached, Bueltel was reputed to have had one other secret weapon.
"People were always asking me, 'Did he recruit?' and I really don't know," noted Bien. "But let me put it this way: I know I played with some guys who, whenever we went to Mass, didn't know when to genuflect."
The importance of Bueltel's contribution to Hayden's development and image extended beyond basketball, though sport was was the vehicle through which his contribution was delivered.
"What we did," Bueltel said, turning serious, "was give the school some pride by having a good, competitive team every year. We became a community - the athletes, the pep club, the faculty. We lived for the ball games, and then we'd rehash what happened at somebody's house afterward."
If that doesn't seem important to you now, consider it in the context of the times.
"We're talking about the 60s here, when you had a lot of rebels out there who needed something to identify with," Bueltel noted. "We didn't have a lot of unity in our country then; there were too many problems, and kids needed something to become attached to. So some of them followed the Weathermen, some followed Jane Fonda, some listened to bad music and some went to basketball or identified with the pep club.
"Hayden became a center of community relations. All the parishes in the city that contribute to the school began to identify with the success of Hayden High School. To be sure, there were always strong academic people who came out of there - doctors, CPAs, all the lawyers who've overcharged me through the years. But the athletics suddenly became very visible."
It wasn't always that way. Particularly when Bueltel came over from Leavenworth-Immaculata at the start of the 1952-53 school year.
"Most of the basketballs were flat - both of them!" Bueltel recalled, chuckling at the exaggeration.
"We had 24 players back then, and I knew I couldn't just let the tuition-paying players shoot the ball! I asked the principal for more basketballs, but she said the athletic budget was set and that I wouldn't (get) anymore.
"Well, as it happens I also headed up the physical education department. So I went back and asked if the phys ed department could get more basketballs and she agreed. So the basketball team borrowed the PE balls, and pretty soon we got quite proficient with them.
By the end of the 1973 season, however, Ken Bueltel - though only 47 years old - decided it was time to step away from basketball.
It was basically an economic decision, he explained. "My wife Gisele had done a tremendous job of looking after our family all those years I was in basketball. But I knew all along that I wouldn't make any money at a Catholic school. Why, it wasn't until I was put in charge of the school's pop machine that I was able to put meat on the table once a week."
His coaching career ended with one of the more memorable days in this city's sports history.
Ken and Gisele awoke that morning to find student-prepared signs of appreciation dotting their yard on High Street. A limousine drove Ken to school, and all along 12th Street were more signs that students had prepared the previous night in honor of Ken Bueltel Day.
"I thought I was being taken to Brennan's Funeral Home when that limo pulled up to my house," Bueltel recalled of the occasion, which he remembers with great fondness. "I'm very seldom speechless, but that I was. I mean, it was nose-blowing time. That's how great those kids were."
The Cats' last home game that night was one to remember, too. A capacity crowd saw Hayden upset Leavenworth. then the top-ranked team in the Class 4A, 54-51. "It was one of the best teams (Leavenworth coach) Ken Zacher ever had - Clint Sanders*, Warren Dennis and that bunch," Bueltel remembered. "But Zacher said afterward that he knew he didn't have a chance the minute he walked in that gym."
* Coach meant to say Clint Johnson - Future KU starter - Brad Sanders may have also played in that game as a sophomore.
Having closed out his coaching career with a 10-10 season, Bueltel began his own real estate business. And after awhile, he began to listen to friends' suggestions that he consider the political arena. It turned out to be a mistake.
"I ran at the wrong time, in the wrong place and against the wrong candidate," he explained. "(Incumbent mayor Bill) McCormick was doing an exceptional job then. I don't know if it was ego or the influence of people who I let talk me into running, but after I got into it, I knew it was not an occupation for me. I had trouble voting for myself on election day, because I was scared to death that maybe I might get in there."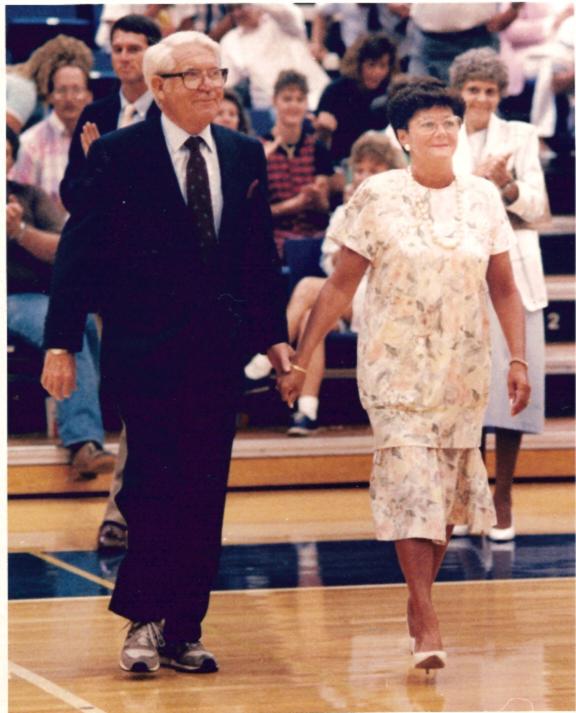 Photo courtesy of Topeka Capital-Journal c. August 1988
He claims he never regretted giving up basketball when he did, though Gisele confirms that he did not do so easily.
"Life after basketball was hard on him," she said.
"But he felt he had done all he could. It didn't really bother him that he'd never been No. 1, either, because he loved coaching and being around the kids so much. And he loved the teaching almost as much as the coaching, which is sometimes unusual among coaches.
"But it still bothers him to go to some Hayden games, especially when they're close," she added. "Sometimes he'll have to get out of the stands and walk around - and that's tough to do in a wheelchair."
The wheelchair was a result of a diabetes-related circulation problem Bueltel has been battling in his legs for a year now. The condition grew severe enough that he was forced into a wheelchair late last fall. And during the holiday season, he underwent surgery for the removal of two toes.
He was aided in his recovery by the outpouring of affection he received from all over the country.
"He got letters from everywhere," Gisele said. "Guys he had coached and girls he had taught, they wrote beautiful letters about things they remembered from 30 years ago. Or they just said, 'Thank you for being my coach.' Or. 'I hope you'll get better because they'll never be another one like you.' All of that meant so much to him, as did the Hall of Fame induction."
He remains a legend even to a new generation of Hayden students - a generation whose parents played or studied under Bueltel.
"I can't tell you how much it meant to him when Tim Harrison (Hayden's All-Class 4A center) approached him before a game this year," Gisele recalled. "He just said, 'Mr. Bueltel, I'm Tim Harrison and I just wanted to say it's honor to have you at our game tonight.' Fifteen years he's been away from the school, but to have a youngster like Tim know who he is meant a lot to him."
Bueltel has returned to work now - he sells commercial property for Griffith and Blair, where Gisele also is a realtor - after nearly a year's layoff. He walks without artificial help, plays golf, travels and tries to live an active life. And he talks, continually cracking one-liners as freely as he did in the Saturday morning coaches bull sessions in the back room of Team Sporting Goods during the 60s.
It's hard to imagine Ken Bueltel living any other way.
*************************************************************************************************************************
+ Michael Murphy is now the official scorekeeper for the Hayden basketball team. He claims that Coach got it wrong about him pointing a gun at an official. Listed below is his version of the events.
The Game and The Gun - October 4, 2005
Michael C. Murphyís version of the two stories told by Ken Bueltel in the Topeka Capital-Journal August 23, 1988
The Game
We were playing Shawnee Mission South for the championship of the Topeka Invitational Tournament at the old Topeka Municipal Auditorium. Hayden had entered the game 8-0 but we were a large 3A school, having moved down a class from the year before, playing the biggest school in the state that year. The seating in the old Municipal Auditorium was like a horseshoe, with the big auditorium stage at the north end. The building was a sell out for the finals, the 3rd place game as I recall was Topeka West vs Highland Park and many stayed to watch the championship game. The Hayden fans sat mostly on the east side of the auditorium, everyone was used to that since we were only a year removed from using the auditorium for home games prior to what is now the Bueltel Activities Complex being completed. Hayden fans filled the east side and around the bend and easily made up about 60% of the total attendance. I sat on the bench next to Coach Neil Bartley who sat next to Coach Ken Bueltel.
After half-time of our game with Shawnee Mission South things were just not going well for the Wildcats, missed shots, bad passing, things were just not looking good. About three minutes into the third quarter, Coach Bueltel turned to Coach Bartley and made a comment about how quiet the place was. I took a look around the entire building and was amazed that so many people could be this quiet. I also noticed that the South fans that were in attendance filled only one section of the auditorium. I thought it strange that the largest school in the state, playing for the championship has such a poor following. With such a poor following I was sure they were not used to playing in front of such a large crowd and I figured that if we could get the crowd excited it just might help us out.
With 3:09 left in the third quarter we were behind in the game by 18 points and Coach Bueltel called for a timeout. I decided that now was the time to do something, so I told my assistant to take care of things during the timeout. I ran across the floor to the Head Cheerleader Michelle ( canít remember her last name) and told her that we needed to get some noise out of all these people but to keep an eye on me. I got the same message to Mark Montague who was the Student Body president as he and most of the boys were sitting in the balcony, the girls from the Pep Club sat at the floor level.
Coach Bueltel, at least to my knowledge, didnít know I had done that. He was too busy talking to the team to notice. He must have really given it to them because they came out of the time out huddle and were ready to get at it. During the rest of the quarter whenever a South player had the ball I had the place rocking. Couch Bueltel put the defense into a full court press and with that and the noise they just got flustered. I was told later that people listening to the game on radio could not even hear the announcer because of the noise. The great thing was it was working. Over the next 3:08 we made up the 18 points and got to even.
To this day I believe the outcome of the game was determined by a last second shot at the end of the third quarter by South that went in giving them a 2 point lead going into the fourth quarter. If we had been able to go into the fourth tied or with the lead, I donít think there was any way South could have come back. When they made that last basket you could feel the dejection in the building. They did get it back together and we lost the game 65-52.
Everyone knew that what I was doing was working, our fans were great and at the end of the game people were so tired some couldnít even talk because of all the yelling the had done. After the game I was met in the hallway by Leroy Brungardt, who was the football coach at the time, and he made a comment something to effect that what I did was not very sportsmanship like. He was probably right, it didnít work anyway. I was also met in the hallway by students who were sorry they couldnít help more. It was a great night even though we lost the game.
The following Monday morning I was met in the hallway by Father Santa who basically said the same thing Leroy said and then I got called to Coach Bueltelís office where I was figuring I was headed for a few days of detention. But NO, everyone said basically Nice job, donít let it happen again.
The Gun
This part of the story has always been bothersome to me because it never happened. The other thing that is bothersome is that if you ask anybody who knew me in high school they will say I did it. Why? Because to be honest it sounds like something I would have done. One other thing, I probably wanted to do it many times. I will admit to having done a lot of weird and crazy things in my life, but not this one.
Michael C. Murphy
&&&&&&&**************************************************************************************&&&&&&&&&&&&&&&
And now we have comments from another noted Irish basketball authority
Former player TIM MORRISEY was seated on the bench when Murphy had his moment in the limelight.
My name is Tim Morrisey and I graduated from Hayden in 1971. My brothers, Mike and Shawn graduated from Hayden in 1969 and 1976, respectively. We all played basketball for
Coach Bueltel, were a part of, and share many memories of Hayden basketball. I failed greatly, but I wanted to be "just like Lee Allen" when my turn at Hayden arrived!
After Hayden, brother Mike graduated from Rockhurst College and brother Shawn graduated from St. Mary's of the Plains, each attending via basketball scholarships. Being the "best looking of the litter", I spent my 4 years after high school chasing girls.
Our father Jim Morrisey, "starred" for Maur Hill in 1939 and 1940 ... at 6'2" he was considered a "giant". All of his childhood friends went on to Capital Catholic and are noted throughout your web site. Dad went on to play briefly for St. Benedicts and Kansas State before leaving to fight in WWII.
While I was attending Holy Name, we won the CYO league in 1967. Our coach was Mike Unrein who was replaced mid-season by Mark Hanson (Mike left for Viet Nam). So the Morrisey roots were pretty well entwined in Hayden basketball! As well, Mom and Dad were "running buddies" with the Bueltel's in the 1940's and 1950's. Dad told us that the reason Coach Bueltel was always teaching us the importance of dribbling with our left hand was because he never could do it very well himself. I believe this was an attempt at a bit of Maur Hill / Capital Catholic rivalry humor. (Coach Bueltel was left handed, if you remember)
Regarding Mike Murphy's account of the game against SM South (1/23/1971) ... Mike Murphy did incite the crowd just as he and Coach Bueltel described. What Mike didn't say was that I was on the bench with an injured ankle (needing his attention and needing him to do his job!!!) while he was acting out his greatest fantasy of being a Hayden High School Cheerleader! What a couple of great guys they both were.
Regarding the fabled "gun pointing incident" ... if Coach said Mike Murphy did it ... Mike Murphy did it!
E-MAIL 11-23-2005 from Tim Morrisey.