Ken Bueltel & Paul Donahue running drills at Hayden East gym c. 1964-1965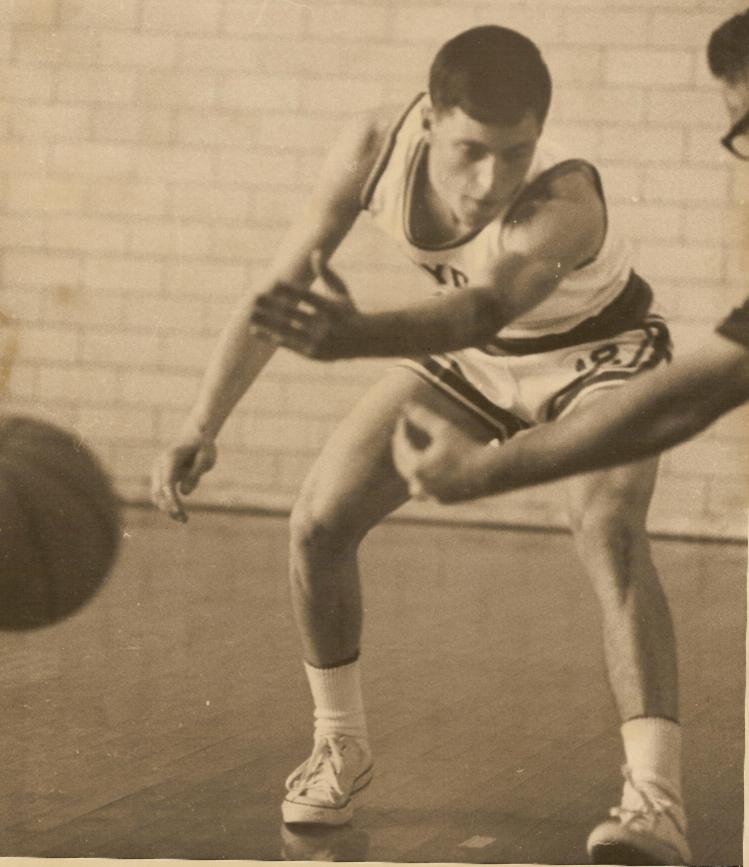 Photo courtesy of Paul Donahue estate
Paul Donahue was the starting point guard for Hayden during the 1963-64 and 1964-65 seasons. He was listed in the 1965 programs at 5' 9" and that was probably about right. He was an excellent ball handler, passer and could score when needed. He ran those teams out on the floor and was a good fit with the type of pressing and fast break basketball that Coach Bueltel ran in those days.
The 1964-65 team is still remembered as one of Hayden's best basketball teams. A description of Hayden's dramatic win over Hutchinson is presented on another page of this website. The lifting up of Paul by the fans and his teammates after the winning shot seems like something out of the movie HOOSIERS, but that is what really happened. All Hayden fans who were there will remember that crazy finish till the day they die.
He had natural athletic ability - but he developed into a starter because he spent so many hours practicing. He was not known as the "rah-rah" guy during his Junior year, but he did lead through his actions on the court. He developed, along with the other team members, a tremendous endurance that allowed him to finish a game as strong as he started. That all came together for him as a Senior during that State Tournament in 1965.
BELOW: Paul leads the break against the Salt Hawks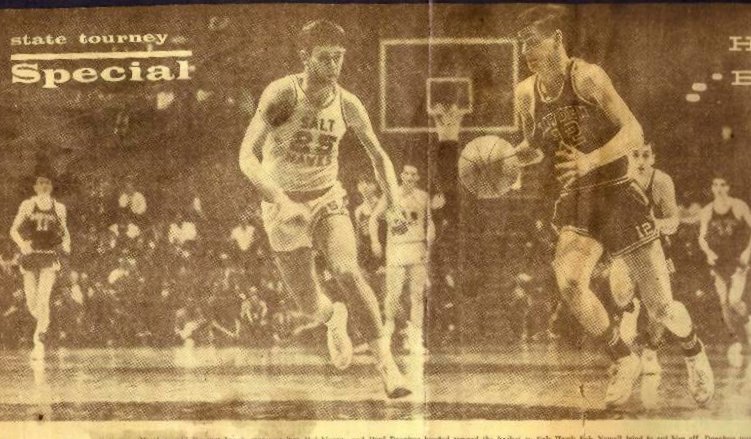 Rich Clarkson photo TCJ March 1965
After graduation from Hayden, Paul attended college but did not work out in any basketball program. A lot of Hayden players during these years did not pursue much of a college career in basketball. The truth was that some small college programs were almost a step down from the enthusiasm that Hayden generated for players and fans.
Paul remained a very active participant in athletics. He played amateur basketball and some other sports. One day in the summer of 1971, he and some other recent Hayden alumni played an informal scrimmage against a group of current players at the new Hayden gym. They "schooled" the varsity pretty well in the ways of the old Hayden press and fast break. Later in the afternoon he played in some slow pitch softball games and then went with others to a local apartment complex where he decided to cool off in the swimming pool.
He dove into the pool, but never cleared the shallow end. He suffered a serious neck injury that left him with severe physical impairment of all four limbs. In a matter of seconds, he lost the athletic part of his life that he enjoyed so much.
It was humbling to hear his brother John and sister Mary talk about the effort he put forth in his rehabilitation. He had help from them and all the other members of his family - especially his mother. He worked to move around in a wheelchair. He learned how to drive a specially equipped van. He graduated from Washburn University with a degree in business administration. He helped many people and made many friends in his work for the Kansas Insurance Department.
Only those who were close to him can know how hard it was for him to restart himself. They also know how much he suffered attempting to fight off the other physical problems that eventually caused his death. His teammates expressed the belief that he had permanently "parked" his wheelchair and went back to his old game in the afterlife. As fans, we have faith that this is true. We know for certain he finished this life just as strong as he played the game so long ago.
Photo courtesy of Paul Donahue estate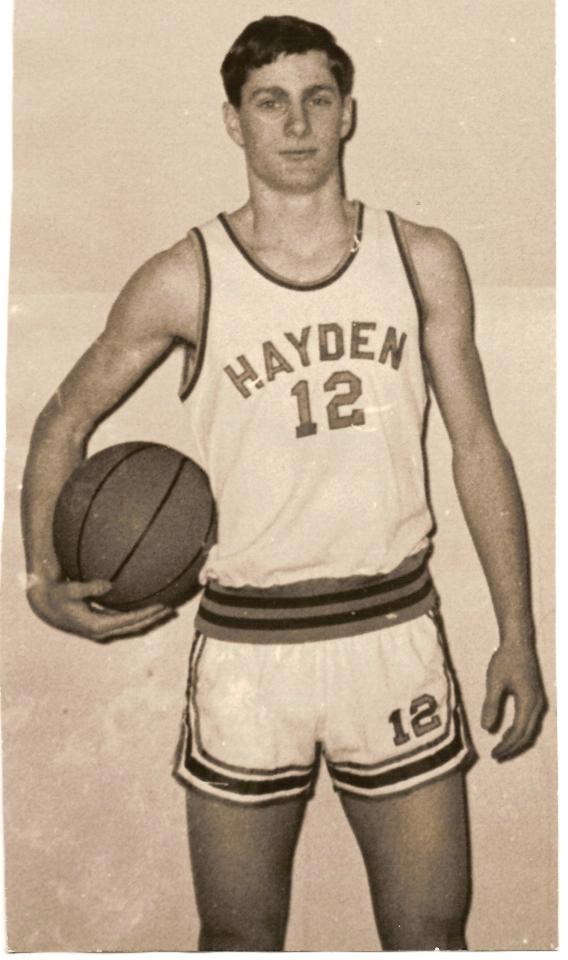 TCJ Obituary May 6, 2005
Paul Donahue steals the ball from Wichita East player - 1965 State Tournament - Gary Settle photo c.1965 TCJ