1982-83 Return to Year-by-Year HOME Update: September 15, 2007
STATE CHAMPIONS 6A: Lawrence 5A: Salina Central 4A: Hayden 3A: Hesston 2A: Canton-Galva 1A: Thayer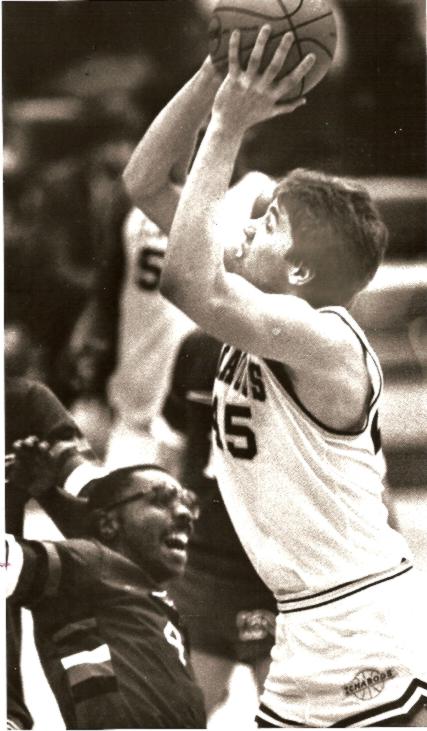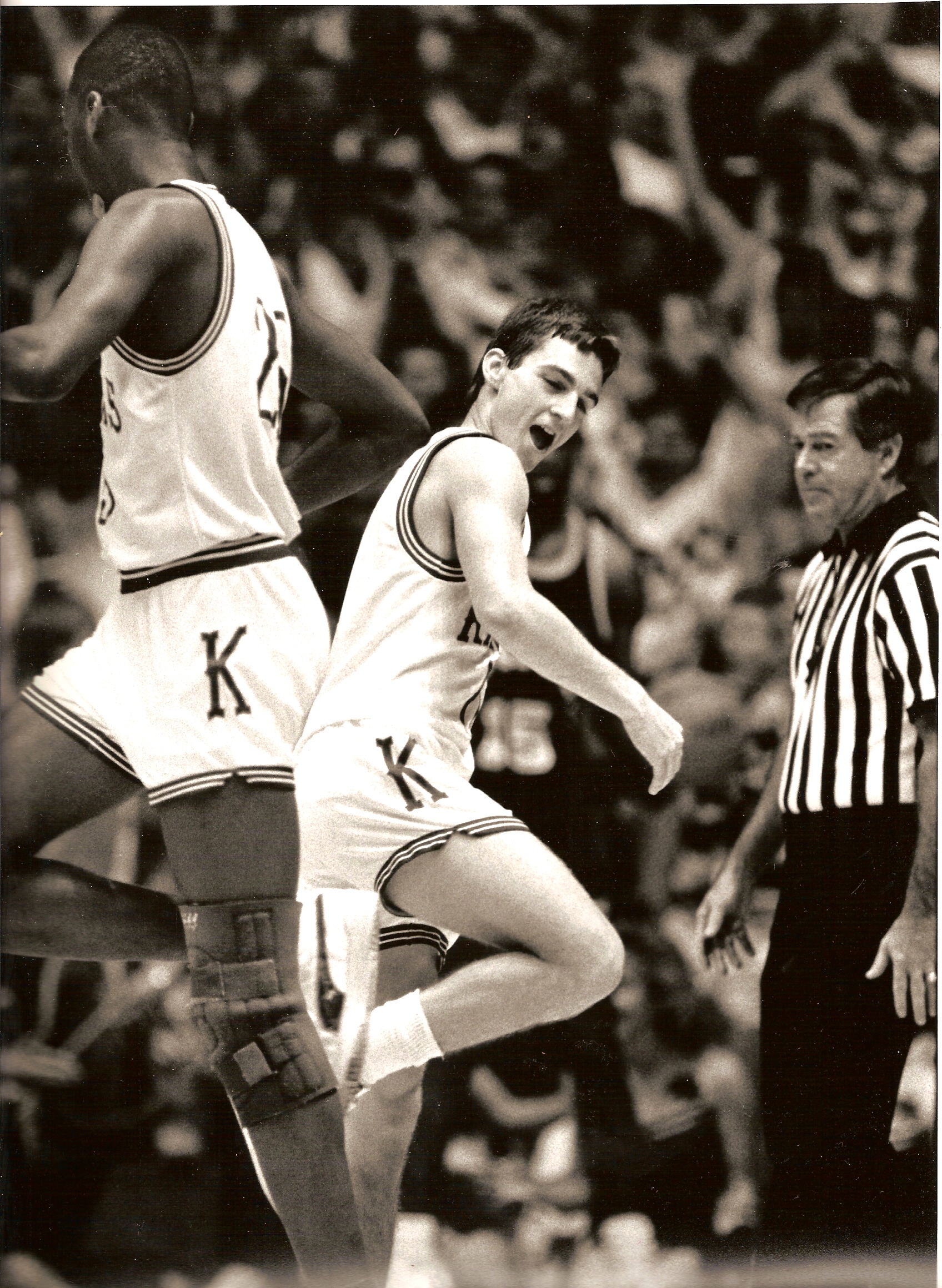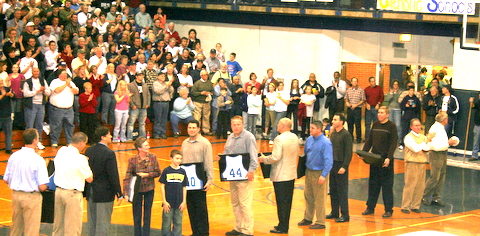 Tom Meier: Washburn University 1985 Mark Turgeon: Kansas University 1987 25-0 Team honored prior to Hayden's upset of Highland Park 2-1-2008
THE GOLD STANDARD
There is no cliché about great teams that would not fit the 1982-83 Hayden basketball team. They had an inside and outside game. They had two of the greatest players the school ever had along with 3 other senior starters that would have been stars on other high school teams. They were able to press and run or slow it down and play ball control. They drew everybody's best shot since they were the defending 4A State Champs and highly favored to win the Centennial League. By the end of the season they had put away all challengers. They were the first Topeka team to complete an undefeated season in basketball and, in the opinion of most observers, they were the best high school basketball team in 1983 regardless of classification.
It was definitely not easy to accomplish this feat. Their first big challenge was against Topeka High at the "dungeon". Rob Reilly's "double--clutch" shot with 2 seconds left in OT won the game for the Wildcats. Coach Nicklin's Topeka High team played one of their best games of the year but still came up short. Highland Park tried to upset them in the semi-finals of the Topeka Invitational when Hayden was in serious foul trouble. Turgeon was forced to the bench and the Scots were effective keeping Tom Meier in check. So, Reilly, McGreevy and Gomez picked up the slack with help from Reyer,Thompson and Fangman from the bench.
The championship game against Lawrence at Municipal Auditorium was a throw-back to the old days of Coach Bueltel. The fans were enthusiastic for both sides. The team followed Coach Meseke's instructions to perfection. Mark Turgeon ran a disciplined offense that overcame the Lion's large front line that included Turgeon's future teammate at KANSAS University, Chris Piper . "That's why they're successful," Lawrence coach Ted Juneau said at the time. "They can play any way they want. They can run up and down if they want to, and they can slow it down. They played very intelligently tonight..". Coach Meseke also praised Turgeon using the "surgeon" nickname to describe his point guard's play. He also gave thanks to the Hayden crowd that had loudly supported the team. They blew all the air out of the place when Meier stuffed the ball past Chris Piper near the end of the game.
Shawnee Heights was the next team that took a shot at Hayden's dream season. Coach Ellis Dahl always had his team ready to play Hayden and Turgeon was out with the flu when they met at the T-Bird's gym. The offense was unable to get the ball into Tom Meier, but McGreevy and Gomez were steady from the foul line . Gomez picked off the rebound of Heights' last shot to preserve the victory. After another impressive win, 7 point win over Atchison at Atchison, everyone thought that Hayden might finally be over the hump. Wrong!
The dramatic "Christian Laettner" type shot by Tom Meier against Highland Park saved Hayden's undefeated season in the 3rd and final match-up played at Highland Park. The capacity crowd (almost all games that year were) had just witnessed a Highland Park score that gave the Scots a 2 point lead with only 2 seconds left in the game. The Scots fans had danced out on the court celebrating as the Hayden team huddled in a time-out. Tom Meier said at the time Turgeon " kept yelling that 'we could do it, we could do it.' We'd done it before, but this was unbelievable." Mike McGreevy threw the 75 foot pass to Meier who jumped high to catch the ball and then went right back up to hit the shot that put the game into overtime. After that, Hayden took over in the overtime period. Meier tied the school record with 36 points while Reilly and Turgeon excelled at feeding him the ball. Highland Park coach Bob Bodenheimer lamented the poor free throw shooting by his team, but noted that otherwise " we played as well as we can possibly play. We did everything we could possibly do. "
Hayden stumbled a bit in the semi-finals of the 4A State tournament against Thomas More Prep-Hays. They let a 18 point lead slip away in the second half - but Tom Meier bailed the team out with clutch shooting and a critical defensive play late in the game. He drew a charge against a TMP player that ended the Monarch's last run. The championship win over Atchison was the usual team effort: Gomez 15, Meier 17, Turgeon 7, Reilly 8, McGreevy 7 and Fangman came off the bench with 6. Coach Chic Downing of Atchison congratulated the Hayden players as they accepted their individual medals. Atchison lost only 3 games all year - twice to Hayden and once to Missouri 4A State runner-up VAN HORN (2 point loss earlier in the season).
Some day another Hayden boys team will go undefeated in basketball - but only these guys can say that they were the first.
* Quotes in this review of the season came from the original game reports by Allen Quakenbush and were published in the Topeka Capital-Journal
** Above photos c. Topeka Capital-Journal Scroll down for comments from a member of the famous 25-0 team.
.1982-1983
COACH
Ben Meseke
Centennial League Champion
Topeka Invitational Tourney Champion
1st Class 4A State
WON

25
LOST

0
12/3/82
Shawnee Heights
W
61
32
Bueltel A.C.
Centennial
12/10/82
Highland Park
W
68
44
Bueltel A.C.
Centennial
12/14/82
Topeka High
W *
58
57
Topeka High
12/17/82
Emporia
W
85
67
Bueltel A.C.
Centennial
12/21/82
Topeka West
W
73
38
Bueltel A.C.
1/7/83
Seaman
W
66
49
Seaman
Centennial
1/8/83
Harmon - K.C.
W
62
55
Harmon - K.C.
1/14/83
Washburn Rural
W
57
43
Washburn Rural
Centennial
1/18/83
Ward - K.C.
W
73
59
Topeka West
Topeka Inv
1/20/83
Highland Park
W
59
58
Topeka West
Topeka Inv
1/22/83
Lawrence
W
53
39
Municipal Auditorium
Topeka Inv
1/28/83
Marysville
W
63
47
Bueltel A.C.
1/29/83
Shawnee Heights
W
43
42
Shawnee Heights
Centennial
2/4/83
Atchison
W
71
64
Atchison
2/11/83
Emporia
W
68
48
Emporia
Centennial
2/15/83
Highland Park
W *
65
59
Highland Park
Centennial
2/18/83
Seaman
W
66
57
Bueltel A.C.
Centennial
2/23/83
Chapman
W
74
47
Bueltel A.C.
2/25/83
Washburn Rural
W
59
46
Bueltel A.C.
Centennial
3/2/83
Piper - K.C.
W
75
45
Bueltel A.C.
4A Sub-State
3/4/83
Jefferson West
W
87
36
Bueltel A.C.
4A Sub-State
3/5/83
Santa Fe Trail
W
75
47
Bueltel A.C.
4A Sub-State
3/10/83
Andover
W
83
45
Bicentennial Center-Salina
4A State
3/11/83
TMP - Hays
W
64
61
Bicentennial Center-Salina
4A State
3/12/83
Atchison
W
60
50
Bicentennial Center-Salina
4A State
1668
* Overtime
PLAYER
No
G
FG
FT
TP
Tom Meier
25
174
87
435
Chris Gomez
25
119
67
305
Mark Turgeon
23
108
49
265
Rob Reilly
24
103
33
239
Mike McGreevy
25
79
33
191
Gary Fangman
23
26
14
66
Chris Reyer
22
17
13
47
David Proctor
12
23
0
46
Mark Thompson
18
10
4
24
Charlie Appelhanz
8
8
3
19
Gavin Wittman
14
6
5
17
Wes Meier
6
4
2
10
Brian Buckner
7
0
2
2
Steve Custenborder
5
1
0
2
Sheldon Bryan
1
0
0
0
Kevin O'Mara
2
0
0
0
1668
Tom Meier - 2 time All-State, All-Class Team 1982, 1983 - (Topeka Capital-Journal)
All 20th Century Team (High School) - City of Topeka - (Topeka Capital-Journal)
NAIA All-American 1987 at WASHBURN University. WASHBURN won the NAIA National Championship in 1987.
WASHBURN University Athletics Hall of Fame
Mark Turgeon - All-State, All-Class Team 1983 (Topeka Capital-Journal)
MVP 1983 KABC All-Star Game
Participated as player in 4 NCAA tournaments at KANSAS University
Currently Head Basketball Coach at TEXAS A&M University
Rob Reilly - WASHBURN University Basketball Letterman 1986 and 1987. Starter on NAIA National Champion in 1987.
Chris Gomez - Played Collegiate Golf at several Colleges including KANSAS STATE. Competed on four professional golf tours.
Currently Head Women's Golf Coach at WICHITA STATE UNIVERSITY.
Mike McGreevy - 4 Year Football Letterman 1983-1986 at WASHBURN UNIVERSITY
Chris Reyer comments on the good old days - e-mail September 15, 2007.
My name is Chris Reyer and I was fortunate enough to be a member of the 1982 and 1983 2 time state championship basketball team for Hayden. 47-3 combined!!
What a bunch of fantastic memories. Unbelievable that it will be 25 yrs this season, 2007/2008, when we cut down the nets in Salina after completing the perfect 25-0 season. Wondering if anyone, former player or coach, or even current coach Dishman (now Ted Schuler*) or school administrator is planning a silver anniversary reunion for our historic team ? I think it would be appropriate.
Probably my best story regarding Mark Turgeon was our senior year when I took him to a KU basketball game. At that time my family had season tickets half-court 8 rows up. Driving over to Lawrence Mark told me that he would be the starting point guard at KU the next year. I said something to the effect "man you aren't even being recruited by them...maybe so at Washburn or Emporia State but not KU". His reply was "you just watch". Well I watched and yep..mid season there he was starting point his freshman year.
I am not 100% sure he said "starting" but knowing him I wouldn't be surprised. I called in to Turgeon's radio coaches show a few seasons ago when he was at WSU, told him who I was which, of course, he remembered. I asked him what Coach Meseke instilled on him during our high school careers and how he translates that into his coaching. He said Meseke basically laid the foundation for what he is doing now. Mark also mentioned Meseke usually came to every home WSU game.
Of course my stories are unlimited and e-mail space is limited. Stories... like McGreevy sinking a full court shot during practice one day. Tommy Meier used to mess around with half court shots (I think we all did) during pre-practice shooting warm ups so Coach Meseke, not being too happy about this, told Tommy at the end of practice when it was time to run lines that if he made it from half-court that there would be no lines to run. Well of course he made it. Good times.
I am so happy to find this sight. Looking at the photos and reading your information sure brought me up. I appreciate it. Take care and keep in contact. --Chris
* Earlier I listed Wes Meier as new Boys basketball coach. Wes Meier is the new Girls basketball coach. Ted Schuler, former assistant to Jeff Dishman, is the new Boys basketball coach. Sorry for the error and thanks to Mike Murphy for letting me know.