1971-72 Return to Year-by-Year HOME Update: 2-15-2007
STATE CHAMPIONS 5A: Wichita East 4A: McPherson 3A: Chapman 2A: Atwood 1A: McCracken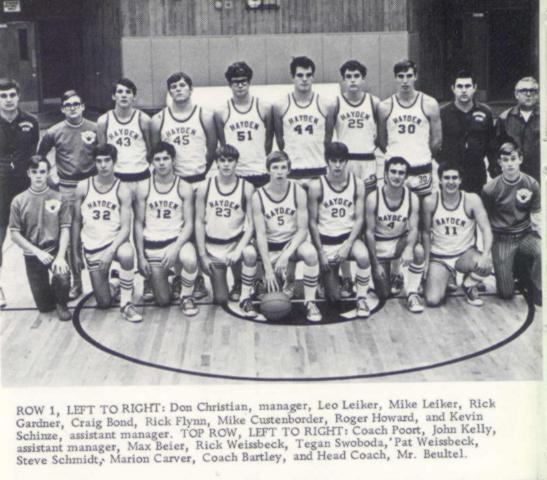 Hayden's 1971-72 team was led by Pat Weissbeck (ALL CLASS All-State: Topeka Capital-Journal) and Marion Carver. Early season losses seemed to discourage fan confidence that this team would advance farther than the 1970-71 team in the State tournament. However; the team came together and gained a share of the Centennial League title. Hayden bombed out all Sub-State opponents, including a very good Atchison team, at Hayden's home court.
Fan interest caused huge crowds at Emporia's White auditorium and Hayden responded with two wins. Goddard and Phillipsburg put up good resistance but Hayden managed to stay in control throughout both contests. This seemed to be the pattern for the championship game. Hayden never could build a large lead and Chapman was a well coached team that had some outstanding shooters. Calvin Schrader, their top player, had finally recovered from regular season injuries and was key in wins over #1 Parsons and Thomas More Prep.
Hayden had possession with 13 seconds left and the score tied. A pass was intercepted and our player was forced to foul to prevent an easy lay-up. The Chapman player hit the free throws giving them a two point lead. A last second shot launched from the corner by Weissbeck almost connected to force an overtime. There can always be second guessing in disappointing losses like the Chapman game. Coach decided to play a deliberate game in the final - Chapman had scored over 80 points against Thomas More Prep. Hayden, except for Marion Carver, had a terrible shooting night and sometimes the deliberate game seems to prolong a team's shooting woes. Hayden ran a delay game with 2:10 left in the game and should have had the last shot.
*The intercepted pass was simply a case of our guy losing track of a Chapman defender. The Chapman player had slipped behind the player with the ball. Our player never saw the defender until the ball left his hands. The Chapman player had alertly stepped up to intercept the pass and had a free line to the Chapman goal. The referee actually was caught out of position and appeared to slow down the Chapman player's drive to the basket. Rick Flynn was able to catch up and appears to have blocked the shot - but Tegan Swoboda was trailing the play and also made a desperate attempt to block the shot. Under the circumstances, no one could be blamed for fouling the Chapman player. Later analysis of the film shows that Tegan and Rick both raised their hand to acknowledge the foul. Unfortunately for Hayden, Chapman hit 15 of 17 free throws including the last two to win the game.
Hayden fans had assured a very profitable tournament for the KSHSAA by turning out in large numbers, filling out the entire lower east side and much of the balcony for the championship game. A spectator was quoted in the 3/11/72 TDC as saying "They must all be here (616 students)... and everybody else that's ever gone to school there." Coach Bueltel was very upset that our fans did not receive the Sportsmanship Award. He also did not appreciate the interruption of our school song by the tournament official announcing the awards.
So, Hayden finished second, which was the highest finish ever in a State Tournament. Coach Bueltel would become known as "the greatest high school coach to never win a State title." Hayden fans would stick by their players and their coach - SEE 1972-73 and "Ken Bueltel Day".
1971-1972
COACH
Ken Bueltel
Centennial League Co-Champion
1st Class 3A Sub-State
2nd Class 3A State
WON

18
LOST

7
12/3/71
Atchison
W
59
49
Atchison
Centennial
12/4/71
Salina South
W
57
53
Bueltel A.C.
12/10/71
Seaman
W
61
47
Bueltel A.C.
Centennial
12/11/71
Topeka West
W *
50
48
Topeka West
12/17/71
Highland Park
W
64
44
Highland Park
Centennial
12/18/71
Miege - K.C.
L
50
58
Miege - Kansas City
1/7/72
Washburn Rural
L *
33
38
Bueltel A.C.
Centennial
1/14/72
Leavenworth
L
58
73
Leavenworth
Centennial
1/15/72
Shawnee Heights
W
66
65
Shawnee Heights
1/19/72
Lawrence
L
45
52
Municipal Auditorium
Topeka Inv
1/21/72
Highland Park
L
43
53
Municipal Auditorium
Topeka Inv
1/22/72
Topeka High
W
48
45
Municipal Auditorium
Topeka Inv
1/28/72
Atchison
W
67
57
Bueltel A.C.
Centennial
2/4/72
Seaman
W
92
65
Bueltel A.C.
Centennial
2/11/72
Highland Park
W
46
43
Bueltel A.C.
Centennial
2/12/72
Topeka High
W
76
66
Bueltel A.C.
2/18/72
Washburn Rural
W
62
54
Washburn Rural
Centennial
2/19/72
Topeka West
W
59
52
Bueltel A.C.
2/25/72
Leavenworth
L
59
61
Leavenworth
Centennial
3/1/72
Effingham
W
94
63
Bueltel A.C.
3A Sub-State
3/2/72
Shawnee Heights
W
70
56
Bueltel A.C.
3A Sub-State
3/3/72
Atchison
W
61
39
Bueltel A.C.
3A Sub-State
3/9/72
Goddard
W
41
37
White Auditorium-Emporia
3A State
3/10/72
Phillipsburg
W
56
44
White Auditorium-Emporia
3A State
3/11/72
Chapman
L
37
39
White Auditorium-Emporia
3A State
1454
1/8/72 - Hayden played Chapman in an exhibition game using 11' baskets. Old scorebook says Chapman won the game
Yearbook and scorebook says Chapman 47 Hayden 40
Played at Manhattan
PLAYER
No
G
FG
FT
TP
Pat Weissbeck
25
162
102
426
Marion Carver
25
151
90
392
Mike Leiker
25
75
80
230
Rick Flynn
23
44
48
136
Tegan Swoboda
21
38
17
93
Leo Leiker
24
20
24
64
Craig Bond
22
14
16
44
Roger Howard
19
9
15
33
Rick Weissbeck
14
7
2
16
Rick Gardner
8
5
1
11
Steve Schmidt
4
0
3
3
Mike Custenborder
2
0
2
2
Max Beier
2
1
0
2
Larry Russell
1
1
0
2
Mark Laird
1
0
0
0
1454
* I was able to see a copy of the game film to verify what happened in the last 13 seconds. Funny how my memory of this play could be so far off from what really happened. I thought the ball was thrown to a spot where our player had just vacated. I also thought the Chapman player had driven too far under the basket to hit the lay-up and it would have been better to not foul him. Tegan and Rick have the distinction of playing in one of the most disappointing (Chapman 1972) and exhilarating (Leavenworth 1973) games ever played by a Hayden basketball team.
February 25, 1972 Leavenworth game box score from LVT