1965-66 Return to Year-by-Year HOME Update July 26, 2018
STATE CHAMPIONS CLASS AA: Garden City CLASS A: Marysville CLASS B: Lindsborg CLASS BB: Dwight
Source: TDC, HYB
This team surprised many with a repeat Centennial League championship and a return to the AA State Tournament. Both Leavenworth games were heated contests with shoving matches and post-game parking lot altercations. The trip out of Leavenworth was a little "rocky". A fan came out of the stands and congratulated Coach Etheridge on the win over Hayden. Then he decided to engage Coach Bueltel in conversation - Coach would have none of it and the two had to be separated by officials. The truth of the matter was the Centennial League had turned into an extremely competitive league and teams were out to knock down Hayden and Leavenworth.
The famous "new net" game with Topeka West was played during this season. Topeka West's Coach Frank Blackburn installed new nets on the goals on game day. This caused a return to the peach basket days of the James Naismith original version of the game. This was all designed to slow down the Hayden fast break after a West goal. At halftime of the JV game, the varsity warmed up and Jerry McMorris shattered the back board while trying to dislodge a ball that was stuck in the net. Bob Hartzell of the TDC commented "that cost Topeka West a little of the profit from the gate of 2000." Topeka West still lost even though they started a line-up of 6-7, 6-4, 6-4, 6-4 and 6-3 against Steve Gibbs (5-9) , McLaughlin (6-1), McMorris (6-4), Lee Allen (5-11) and Vince Rolsing (6-1).
Hayden suffered two close losses in the Topeka Invitational - the most painful was a semi-final overtime loss to Lawrence. Mickey Allen of Lawrence won it with a 30' plus heave at the buzzer. Ward hit 2 free throws with 5 seconds left to place Hayden in a 4th place finish. After these tough losses Hayden pulled together for a 7-1 finish of the regular season. One of these games was a satisfying "pay back" win over Leavenworth at Municipal Auditorium. This time a Leavenworth player decided he needed to talk to Tom McLaughlin and then decided to throw a punch. McLaughlin cinched the game by making both free throws that resulted from the conversation. Hayden won the league title with a 77-64 win over Shawnee Heights - one of the better T-Bird teams of the era.
Players who had been overshadowed by the 1965 stars had outstanding seasons - especially Tom McLaughlin and Lee Allen. Bobby Meier came out of nowhere with excellent shooting. Lee Allen had some spectacular games towards the end of the season. He had a run of 23, 26, 24, 27 and 25 points with games played between 2-19-66 and 3-4-66. The regional final against Topeka West saw the team come back from a 52-45 deficit with 5 minutes left. That game had a SRO crowd (4500) - the doors were locked at 6:45 (15 minutes before the 3rd place game tip-off.)
It looked like Hayden was well on the way to another 1st round win in the State tournament at Allen Fieldhouse. Bill Russell, future LA Dodger, pulled out the win for Pittsburg in the last two minutes of play. That AA tournament was the most wide open field of the 1960s. Garden City defeated Pittsburg for the championship.
Pictured Below: 1) Lee Allen lifts Regional trophy. 2) Mike Hassur, Tom McLaughlin, Jerry McMorris, Lee Allen, Steve Gibbs, Bob Faught, Bobby Meier and Coach Bueltel.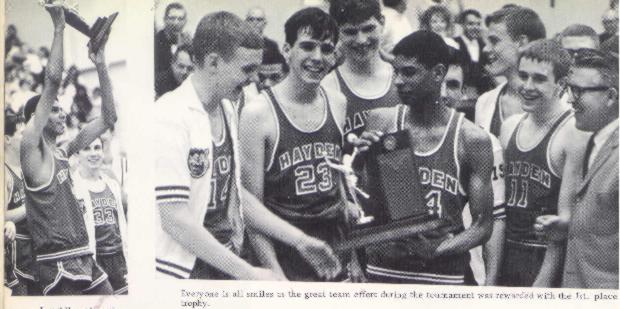 1965-66 Coach Ken Bueltel Won 16 Lost 6 Centennial League Champion AA Regional Champion
| | | | | | | |
| --- | --- | --- | --- | --- | --- | --- |
| | 1965-1966 | | | | | |
| | | | | | | |
| | | | 16 | 6 | Coach: Ken Bueltel | |
| | | | | | | |
| DATE | TEAM | W/L | | | | PLACE |
| | | | | | | |
| 12/3/65 | Lawrence | W | 54 | 48 | | Lawrence |
| 12/10/65 | Highland Park | W | 93 | 57 | Centennial | Hayden (Municipal Auditorium) |
| 12/11/65 | Olathe (Olathe North) | W | 95 | 65 | | Hayden (Municipal Auditorium) |
| 12/17/65 | Leavenworth | L | 57 | 59 | Centennial | Leavenworth |
| 12/22/65 | Topeka High | L | 53 | 61 | | Hayden (Municipal Auditorium) |
| 1/7/66 | Atchison | W | 68 | 63 | Centennial | Atchison |
| 1/8/66 | Topeka West | W | 53 | 31 | | Topeka West |
| 1/15/66 | Shawnee Heights | W | 60 | 46 | Centennial | Hayden (Municipal Auditorium) |
| 1/20/66 | Junction City | W | 69 | 49 | Topeka Invitational | Topeka High |
| 1/21/66 | Lawrence | L * | 58 | 60 | Topeka Invitational | Topeka High |
| 1/22/66 | KC-Ward | L | 47 | 48 | Topeka Invitational | Topeka High |
| 1/28/66 | Washburn Rural | W | 66 | 52 | Centennial | Hayden (Municipal Auditorium) |
| 2/5/66 | Highland Park | W | 72 | 57 | Centennial | Highland Park |
| 2/8/66 | Seaman | W | 64 | 58 | Centennial | Hayden (Municipal Auditorium) |
| 2/11/66 | Leavenworth | W | 51 | 44 | Centennial | Hayden (Municipal Auditorium) |
| 2/12/66 | Atchison | W | 66 | 48 | Centennial | Hayden (Municipal Auditorium) |
| 2/19/66 | Shawnee Heights | W | 77 | 64 | Centennial | Shawnee Heights |
| 2/22/66 | Seaman | W | 76 | 66 | Centennial | Seaman (Municipal Auditorium) |
| 2/25/66 | Washburn Rural | L | 64 | 76 | Centennial | Washburn Rural |
| 3/3/66 | Topeka High | W | 75 | 58 | CLASS AA REGIONAL | Topeka High |
| 3/4/66 | Topeka West | W | 65 | 64 | CLASS AA REGIONAL | Topeka High |
| 3/10/66 | Pittsburg | L | 65 | 67 | CLASS AA STATE | Lawrence-KU Allen FH |
| | | | | | | |
| | | | 1448 | 1241 | | |
| | | | | | | |
PLAYER


No
G
FG
FT
TP














Lee Allen


34
21
136
120
392
Tom McLaughlin
23
22
131
71
333
Bob Meier


11
22
85
39
209
Jerry McMorris
45
22
50
31
131
Steve Gibbs


33
21
35
53
123
Mike Hassur


14
19
31
20
82
Vince Rolsing
22
19
20
26
66
Bob Faught


25
16
17
18
52
Don Grantham
13
18
20
10
50
Ron Esquibel


2
2
2
6
Dale Bennett


7
1
0
2
Dan Dalrymple


6
0
2
2
Bernard Bartley


3
0
0
0
Cecil Kohake


1
0
0
0


































1448