1963-64 Return to Year-by-Year HOME

STATE CHAMPIONS CLASS AA: Wyandotte CLASS A: Buhler CLASS B: Goddard CLASS BB: Mullinville
Topeka Invitational Tournament Champions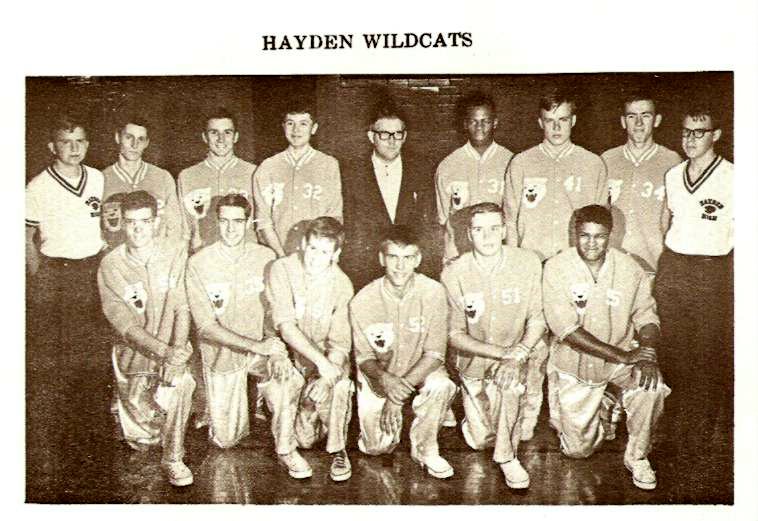 Back Row: Asst Tom Turkle, Paul Donahue, Steve Gibbs, Jim McMullen, Coach Bueltel, Don Gregg, Gary Reser, Dennis Butler, Asst Tom Coleman
Front Row: Pat Dickey, Tom Sheahan, Don Grantham, Mark Hanson, Mike Kennedy, Lonnie Hansard.
Hayden used the Municipal Auditorium as home court for the first time during this season. It was a nice place for fans and the team performed well at this venue. Highlight of the year was winning the Topeka Invitational Tournament at Topeka High. (This tournament was also called the Topeka Christmas Invitational - I am not sure that this is counted as part of the Topeka Invitational Tourney history). Leavenworth made a huge comeback to give Hayden their first loss. The season ended with disappointing losses in the AA Regional, but the team showed a lot of potential. Don Gregg gave a consistently good effort despite a serious hip injury that he suffered in football his Sophomore season.
The Leavenworth comeback was unusual for the time (no shot clock as now - but also no 3 point goal) . Hayden had a an undefeated 7-0 record headed into the game and got off to a great start against the Pioneers. The score at halftime was 39-18. Hayden also had a big advantage at the free throw line - Leavenworth was only 1-5 for the entire game. But somehow their last quarter press and Hayden's failure at the free throw line allowed the Pioneers to go ahead 57-56 with 1:48 left in the game. Hayden was ahead by 17 just 6 minutes earlier. The lead changed hands a few more times before Hansard tied the game with a free throw - his second shot missed and Leavenworth took the rebound with 21 seconds left. Then, Ray Simpson, 6'3" football star, scored the winning basket with 2 seconds to play. That was Hayden's first Centennial League loss.
The team recovered from the loss and won the annual battle against Topeka High. Don Gregg and Lonnie Hansard both had great games in the 71-67 victory. When Hayden ( ranked No. 5 in CLASS AA) faced Leavenworth (No. 9 in CLASS AA) Coach Bueltel was confidant his team would be up to the challenge of the road trip. As it turned out, the game was no contest with Leavenworth gaining a halftime lead of 36-21. The referees seemed intent on enforcing the rule that said a player who was called for a personal foul had to raise his hand for the benefit of the scorekeeper. Don Gregg was assessed a technical for not raising his hand after his 5th foul even though he was headed for the bench. The Pioneers proved that their earlier win was no fluke - they also went on to win the CLASS AA Regional at Topeka High. Our school bus was rocked on the way out of the Leavenworth parking lot by local "fans".

| | | | | | | |
| --- | --- | --- | --- | --- | --- | --- |
| | 1963-1964 | | 16 | 6 | | |
| | | | | | | |
| | Centennial League | | 9 | 3 | | |
| | | | | | | |
| | | | | | Coach: Ken Bueltel | |
| | | | | | | |
| DATE | TEAM | W/L | | | | PLACE |
| | | | | | | |
| 12/6/63 | Washburn Rural | W | 59 | 49 | Centennial | Hayden (Municipal Auditorium) |
| 12/13/63 | Seaman | W | 66 | 57 | Centennial | Seaman (Municipal Auditorium) |
| 12/19/63 | SM-Miege | W | 65 | 60 | | Hayden (Municipal Auditorium) |
| 12/26/63 | KC-Washington | W | 53 | 45 | Topeka Invitational | Topeka High |
| 12/27/63 | Topeka West | W | 68 | 56 | Topeka Invitational | Topeka High |
| 12/28/63 | KC-Ward | W | 61 | 55 | Topeka Invitational | Topeka High |
| 1/3/64 | Highland Park | W | 78 | 50 | Centennial | Hayden (Municipal Auditorium) |
| 1/4/64 | Leavenworth | L | 59 | 61 | Centennial | Hayden (Municipal Auditorium) |
| 1/10/64 | Shawnee Heights | W | 72 | 58 | Centennial | Shawnee Heights |
| 1/11/64 | Topeka West | W | 66 | 57 | | Topeka West |
| 1/18/64 | Topeka High | W | 71 | 67 | | Topeka High |
| 1/24/64 | Atchison | W | 62 | 58 | Centennial | Atchison |
| 1/31/64 | Washburn Rural | W | 50 | 42 | Centennial | Washburn Rural (Municipal Auditorium) |
| 2/1/64 | Leavenworth | L | 52 | 67 | Centennial | Leavenworth |
| 2/7/64 | Seaman | W | 71 | 58 | Centennial | Hayden (Municipal Auditorium) |
| 2/14/64 | Highland Park | W | 73 | 60 | Centennial | Highland Park |
| 2/15/64 | KC-Ward | L | 73 | 91 | | Hayden (Municipal Auditorium) |
| 2/21/64 | Shawnee Heights | W | 71 | 47 | Centennial | Hayden (Municipal Auditorium) |
| 2/28/64 | Atchison | L | 54 | 67 | Centennial | Topeka High |
| 3/3/64 | Highland Park | W | 72 | 48 | CLASS AA REGIONAL | Topeka High |
| 3/5/64 | Lawrence | L | 50 | 66 | CLASS AA REGIONAL | Topeka High |
| 3/6/64 | Topeka High | L | 49 | 63 | CLASS AA REGIONAL | Topeka High |
| | | | | | | |
| | | | 1395 | 1282 | | |
| | | | | | | |
| | | | | | | |
PLAYER


No
G
FG
FT
TP














Tom Sheahan


22
107
78
292
Don Gregg




21
93
49
235
Mark Hanson


22
75
74
224
Lonnie Hansard


20
71
45
187
Jim McMullen


20
60
29
149
Paul Donahue


22
65
16
146
Gary Reser




20
33
8
74
Steve Gibbs




20
11
14
36
Pat Dickey




20
10
7
27
Don Grantham


10
2
3
7
Dennis Butler


3
2
2
6
Mike Kennedy


5
1
3
5
Ron Esquibel


1
2
1
5
Mike Rees




1
1
0
2
Jim Kamer




4
0
0
0


























1395