1959-1960 Return to Year-by-Year HOME
STATE CHAMPIONS CLASS AA: Wyandotte CLASS A: Washburn Rural CLASS B: Rozel CLASS BB: Quenemo
Hayden lost the first game of the season to Washburn Rural and then won 14 straight games - a Hayden record at the time that stood until the 1982-1983 season. This was a strong team that for some reason just lost it at the end of the season. The Topeka High tournament loss was so disappointing that the team did not have much left for the third place game against Lawrence.
Dave Braunsdorf was the leading scorer on this team - he broke the single game scoring record against Haskell with a 35 point total. Pete Townsend really improved this season and began to perfect his inside game. Steinbock and Rolsing made solid contributions.
The wins over Washburn Rural and Topeka High were the highlights of the season. Washburn Rural went on to win the CLASS A State championship. Hayden used a tough defense to slow down the Jr. Blues potent offense and then opened up some run and gun in the final quarter to avenge the season opening loss. Hayden won it's 12th straight game against Topeka High at Topeka's gym. Dick Fensler (SCHOOLBOY SCENE) noted that the game was a "nerve racking battle" full of turnovers and other mistakes on both sides. Topeka High did play this game without Fred Slaughter who was recovering from an injury. He was a great player who never got to play up to his full potential at Topeka High - he would be a starter for UCLA in their 1964 NCAA championship season.
Coach Bueltel commented in Ken Bronson's TSJ column that the Catholic grade school's CYO league was finally bringing him the players to compete with the public schools. "But more than anything else that's helped us is the fact that we've become a real good high-spirited group. Our student body really supports basketball. And there's no better pep club in the United States."
The Hayden gym was a very friendly place, but it was clear that the gym was way too small for the kind of crowds attracted to the varsity games. This was the last year for regular use of the old gym. Hayden would lease a variety of larger venues (Topeka High, Washburn's Whiting Field House & Municipal Auditorium) for most home games until the new gym was built in 1970.
Sources: TDC, TSJ, HYB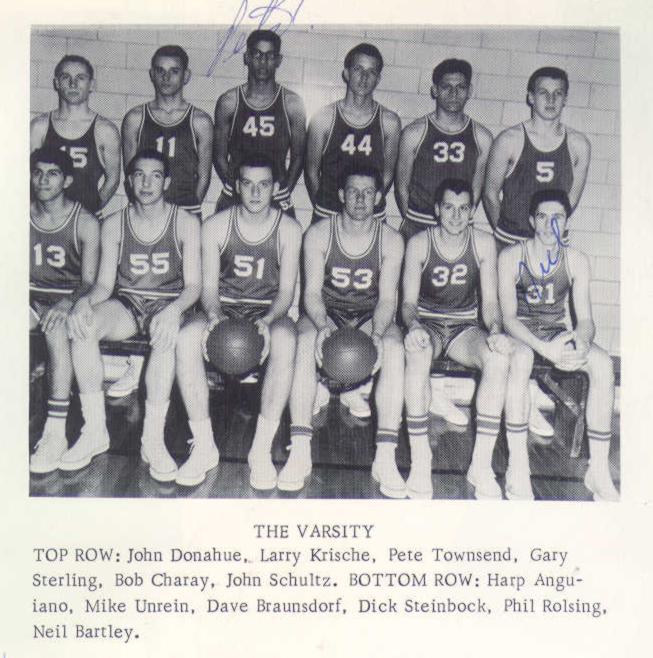 | | | | | | | |
| --- | --- | --- | --- | --- | --- | --- |
| | 1959-1960 | | | | | |
| | Independent | | 15 | 6 | | |
| | | | | | | |
| | Ken Bueltel | | | | | |
| | | | | | | |
| DATE | | | | | | PLACE |
| | | | | | | |
| 12/4/59 | Washburn Rural | L | 59 | 67 | | Hayden East |
| 12/8/59 | Seaman | W | 54 | 41 | | Hayden (Whiting FH) |
| 12/11/59 | Highland Park | W | 52 | 34 | | Highland Park |
| 12/15/59 | SM-Miege | W * | 70 | 67 | | SM-Miege |
| 12/18/59 | Wamego | W | 78 | 51 | | Wamego |
| 12/28/59 | Highland Park | W | 58 | 44 | Highland Park Invitational | Highland Park |
| 12/29/59 | Seaman | W | 51 | 45 | Highland Park Invitational | Highland Park |
| 12/30/59 | Washburn Rural | W | 60 | 46 | Highland Park Invitational | Highland Park |
| 1/5/60 | Ottawa | W | 73 | 67 | | Hayden East |
| 1/12/60 | Lawrence-Haskell | W | 81 | 45 | | Hayden East |
| 1/16/60 | SM-Miege | W | 76 | 53 | | Hayden East |
| 1/26/60 | Seaman | W | 65 | 44 | | Seaman |
| 1/29/60 | Topeka High | W | 45 | 38 | | Topeka High |
| 1/30/60 | Highland Park | W | 66 | 50 | | Hayden East |
| 2/5/60 | Lawrence-Haskell | W | 65 | 56 | | Lawrence-Haskell |
| 2/8/60 | Ottawa | L | 54 | 66 | | Ottawa |
| 2/12/60 | KC-Rockhurst (MO) | L | 53 | 59 | | KC-Rockhurst (MO) |
| 2/20/60 | KC-Ward | L | 52 | 64 | | KC-Ward |
| 2/26/60 | Olathe | W | 66 | 42 | | Hayden East |
| 3/4/60 | Topeka High | L | 46 | 59 | CLASS AA REGIONAL | Atchison |
| 3/5/60 | Lawrence | L | 55 | 77 | CLASS AA REGIONAL | Atchison |
| | | | | | | |
| | | | 1279 | 1115 | | |
| | | | | | | |
PLAYER


No
G
FG
FT
TP














Dave Braunsdorf


21
107
92
306
Pete Townsend


21
82
49
213
Mike Unrein




17
73
53
199
Phil Rolsing




21
77
34
188
Dick Steinbock


20
50
27
127
Neil Bartley




20
40
15
95
Larry Krische


19
25
9
59
Bob Charay




15
17
6
40
John Donahue


14
14
2
30
Gary Sterling


10
6
1
13
John Schultz


8
1
5
7
Lupe Anguiano


12
1
0
2
Paul Braunsdorf


2
0
0
0
Bill Cushing




1
0
0
0
Elston




1
0
0
0


























1279