1954-55 Return to Year-by-Year HOME UPDATE: July 20, 2018

STATE CHAMPIONS CLASS AA: Wyandotte CLASS A: Russell CLASS B: Haven CLASS BB: Montezuma
Pre-season reviews of Hayden's basketball team stressed the loss of all starting five players from 1954's CLASS A State third place squad. Coach Bueltel cited the lack of experience - but hoped that the varsity might actually run the floor a little better than the '54 team. Top reserves from the previous year were Bob Turgeon and Carl Strecker and they provided most of the scoring punch for this team. Both flirted with the single game scoring record for the school. Carl Strecker ended up establishing a new record with 28 points (Osage City 2-25-55).
Turgeon was known as "little Bobby Turgeon" in the press. He was a team leader in scoring and probably many other categories not reported in newspaper box scores. He had great games against Wamego in the Jayhawk Christmas Tournament and against Lawrence in the AA Regional (27 points).
Junior transfer from Chicago, Joe Ramos, helped Hayden when he became eligible for play in the second semester. He was part of the push that gave Hayden a tie for the Jayhawk League Championship. Two transfers from East Topeka Jr High (Chello Anguiano & Tom Ortiz) provided bench strength for the fast breaking offense of the Wildcats. In general, the team was playing at a high level in the second half of the season with 10 straight victories before the Lawrence game. Turgeon said several years ago that he had regrets that Hayden was not able to spend one more year in CLASS A where the team probably would have had a legitimate shot at the state championship in 1955.
This was Hayden's last year in the Jayhawk League.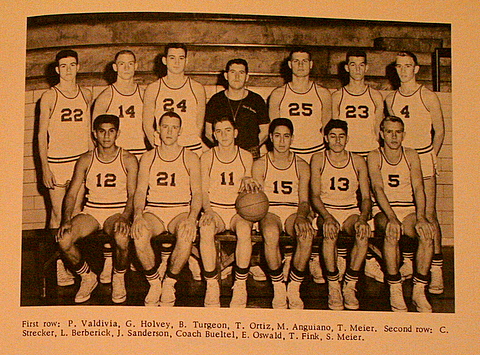 | | | | | | | |
| --- | --- | --- | --- | --- | --- | --- |
| | 1954-1955 | | 16 | 4 | | |
| | Jayhawk League | | 11 | 1 | COACH: Ken Bueltel | |
| | | | | | | |
| DATE | TEAM | | | OPP | LEAGUE/TOURNEY | PLACE |
| | | | | | | |
| 12/3/54 | Holton | W | 58 | 47 | Jayhawk | Hayden East |
| 12/7/54 | Highland Park | W | 70 | 61 | | Hayden East |
| 12/10/54 | Seaman | W | 58 | 42 | Jayhawk | Seaman |
| 12/17/54 | Wamego | L | 69 | 83 | Jayhawk | Wamego |
| 12/28/54 | Seaman | W | 54 | 42 | Jayhawk Xmas Tourney | Municipal Auditorium |
| 12/29/54 | Wamego | W | 62 | 58 | Jayhawk Xmas Tourney | Municipal Auditorium |
| 12/30/54 | Lawrence-Haskell | L | 50 | 54 | Jayhawk Xmas Tourney | Municipal Auditorium |
| 1/4/55 | KC-St Agnes | W | 58 | 41 | | Hayden East |
| 1/11/55 | Highland Park | L | 56 | 58 | | Highland Park |
| 1/14/55 | Washburn Rural | W | 86 | 44 | Jayhawk | Hayden East |
| 1/18/55 | Lawrence-Haskell | W | 59 | 52 | Jayhawk | Haskell - Lawrence |
| 1/21/55 | Osage City | W | 68 | 61 | Jayhawk | Hayden East |
| 1/25/55 | Holton | W | 71 | 64 | Jayhawk | Holton |
| 1/28/55 | Seaman | W | 76 | 59 | Jayhawk | Hayden East |
| 2/1/55 | KC-St Agnes | W | 75 | 57 | | KC-Agnes |
| 2/11/55 | Washburn Rural | W | 58 | 55 | Jayhawk | Washburn Rural |
| 2/18/55 | Lawrence-Haskell | W | 59 | 56 | Jayhawk | Hayden East |
| 2/24/55 | Wamego | W | 74 | 57 | Jayhawk | Hayden East |
| 2/25/55 | Osage City | W | 68 | 53 | Jayhawk | Osage City |
| 3/10/55 | Lawrence | L | 68 | 77 | CLASS AA REGIONAL | Lawrence |
| | | | | | | |
| | | | 1297 | 1121 | | |
| | Topeka Daily Capital | | | | | |
| | | | | | | |
Sources: Topeka Daily Capital, Topeka State Journal
| | | | | | |
| --- | --- | --- | --- | --- | --- |
| PLAYER | No | G | FG | FT | TP |
| | | | | | |
| Bob Turgeon | | 20 | 113 | 85 | 311 |
| Carl Strecker | | 20 | 109 | 88 | 306 |
| Larry Berberick | | 20 | 59 | 32 | 150 |
| Tony Meier | | 20 | 29 | 64 | 122 |
| Joe Ramos | | 9 | 38 | 30 | 106 |
| Tim Fink | | 20 | 23 | 25 | 71 |
| Ed Oswald | | 19 | 23 | 22 | 68 |
| Tom Ortiz | | 18 | 25 | 10 | 60 |
| Paul Valdivia | | 18 | 14 | 13 | 41 |
| George Holvey | | 17 | 12 | 10 | 34 |
| Chello Anguiano | | 9 | 7 | 5 | 19 |
| Sil Meier | | 10 | 3 | 3 | 9 |
| Jerry Sanderson | | 6 | 0 | 0 | 0 |
| Larry Huerter | | 2 | 0 | 0 | 0 |
| Danny Flowers | | 1 | 0 | 0 | 0 |
| Jim Rafferty | | 1 | 0 | 0 | 0 |
| | | | | | |
| | | | | | 1297 |
| | | | | | |