1950-1954 Return to Football Year-by-Year HOME Update 1-22-2005
The winning ways of John Starbuck's tenure continued with Notre Dame graduate Al Lee's football squads of the 1950's. From 1950 to 1952 Hayden did not lose a Jayhawk League game. This era also saw the continuation of the longest undefeated string in Hayden football history. The streak started October 2, 1949 and ended with a loss to Highland Park on October 25, 1951 (22 games). Barney Byard took over as football coach in 1953. His first year was rough - but the team came back the next year as Co-Champion of the Jayhawk League in 1954. 10/15/50 was the first game played at Hayden Field. 11/22/51 Thanksgiving Day game was Hayden's first with Topeka High.
***********************************************************************************************************************
1950 TDC Kansas State Champion: Topeka High Trojans (Class AA)
Jayhawk League coaches picked Hayden to win the league even though Al Lee was a rookie head coach. Lee had been a backfield coach at St. Benedict's and had played running back at Notre Dame for Elmer Layden. He inherited a group of excellent players from Coach Starbuck's tenure. Top experienced players in pre-season drills were Jim Waite (HB), Bob Steinbock (HB), Stan Stringer (T), Ed Gabel (T) and Dick Hoffman (G). The team showed signs of moving the ball well in the first 2 games but had trouble scoring. Still, the defense was strong in both contests.
Hayden's ground game rolled against Osage City ( 270 yards). 2,500 fans saw the first game ever at Hayden Field with opponent Maur Hill of Atchison providing the competition. Bob Smith, Jim Waite and Bob Steinbock led the rushing attack to 313 yards while Hayden's "200 pound line" wore out the smaller Maur Hill line. In these early years the site was sometimes referred to as Booster Field as a tribute to Hayden parents and supporters that built the site.
The size of the line for Hayden was a source of amazement to many during the year. It was extremely unusual for high school football teams to average 200 pounds in the line. "Never in my life", Topeka High coach Bob Briggs commented, "(have I seen) a high school line any bigger than Hayden's." (TDC 10/28/50)
The team preserved their undefeated status by the slightest of margins against Ward in Kansas City. Coach Lee's team was out gained in yardage by Ward and the Cyclones were driving for a score as the clock ran down. A Ward running back was ruled down at the 5, but the decision seemed to be changed as the same referee that called the runner down threw up his arms to signal a touchdown after a Ward player took a lateral from the running back and crossed the goal line. There were only 10 seconds left in the game when the referee reverted to his original decision - that the runner was down and the lateral occurred after the play was ruled dead.
The biggest game of the year occurred at Moore Bowl against Highland Park where 7,000 fans watched Hayden win 19-0. Former coach John Starbuck said the crowd far exceeded the largest ever Jayhawk League attendance record set in 1948. Ed Gabel led the celebration afterwards by hauling in a huge water jug used on the sideline during the game. "Boys, I just bring out this jug for special occasions." (TDC 10/28/50). The usual group excelled in the backfield but the line play of Ted Bechtel, Gable, Stringer, Hoffman and Charles Vasquez was praised in the press (TSJ 10/28/50).
After Hayden disposed of Wamego, there was talk of a meeting between Topeka High and Hayden in a post season special. Topeka High was undefeated - but was committed to playing an all Class AA schedule and had not played a local team since 1927 when a similar contest was arranged with Seaman. Stu Dunbar of the TSJ begged for a mid-November meeting at Moore Bowl that would break all attendance records. "Say 8,000 to 10,000" Dunbar stated as a projected crowd count for the special contest.
Hayden used several pass interceptions to clobber Seaman. The 34-14 win represented the highest scoring total ever recorded by a Hayden team to that date. Washburn Rural provided little resistance in the season finale and the team finished 9-0. This remained the only undefeated and untied season until the 1998 team did the same winning the 4A State Championship.
The TDC All-Jayhawk League team gave a nod to Stan Stringer (T), Ed Gabel (G), Ted Bechtel (C), Bob Smith (BACK), Bob Steinbock (BACK) & Jim Waite (BACK) for their 1st Team list.
Topeka High ended up being named the mythical state champion (AP) - they overtook El Dorado on the last poll of the season. That post-season game between the Trojans and Wildcats never came off in 1950.
1950
Al Lee
9
0
0
Jayhawk League Champion
9/22/50
Marysville
W
7
6
Marysville
9/29/50
Washington - K.C.
W
7
0
Kansas City
10/6/50
Osage City
W
20
2
Osage City
Jayhawk
10/15/50
Maur Hill - Atchison
W
29
7
Hayden Field
10/20/50
Ward - K.C.
W
13
12
Kansas City
10/27/50
Highland Park
W
19
0
Moore Bowl
Jayhawk
11/1/50
Wamego
W
27
12
Wamego
Jayhawk
11/10/50
Seaman
W
34
14
Hayden Field
Jayhawk
11/17/50
Washburn Rural
W
25
6
Hayden Field
Jayhawk
1950 Statistics
RTD
PTD
RCTD
PAT
PAT-K
FG
S
TP
Bob Steinbock
10
1
1
62
Bob Smith
7
1
12
54
Jim Waite
7
3
1
3
51
Jake Schaefer
1
6
Leo Haefner
1
6
TEAM
1
2
181
Yardage figures are not available
**************************************************************************************************************************
1951 TDC State Champion: Wyandotte (Class AA)
15 letterman returned for the 1951 season to try and continue Hayden's undefeated streak. Bob Steinbock was the key player on offense against Marysville and Washington-K.C. . Louis Guth and Ed Gabel were injured in the Marysville game and did not play in Kansas City . Everyone seemed to get in the act on the offensive side against Osage City. The Wildcats racked up a new record point total with Steinbock, Jim Waite, Harold Rafferty, Jake Schaefer, Bob Geist & Jesse Hernandez scoring touchdowns.
Ward-K.C always played Hayden tough - but the defense stopped Ward's rushing attack cold. Down 27-0 at halftime - the Cyclones mounted a passing attack to make it close. Wichita-St. Mary's (Kapaun) was winless when Hayden made the trip to Wichita. A good contingent of fans traveled south and saw Hayden's Steinbock score 31 points out of the total to continue the undefeated streak.
Hayden was ranked No. 7 and Highland Park No. 8 in the TDC state poll. Both were undefeated and a crowd estimated at 5,000 watched Highland Park win with a 4th quarter 12 point surge. The key play of the game was a touchdown saving tackle of Steinbock by Jimmy Gates. Gates broke his wrist on the tackle - but his play inspired the Scotsmen to make their comeback. This was Al Lee's first loss as coach and Hayden's first defeat since 9/29/49.
Hayden reacted to the loss by going berserk in the final regular season games. The 73-0 win over Wamego is still the school record for total points scored by a Hayden football team and the largest victory margin in school history. The second stringers played the second half but could not be stopped by the Red Raiders. Steinbock & Waite contributed long TD runs - Steinbock went 99 yards on a pass completion and Waite scored on a 84 yard run.
The day before Hayden's win over Washburn Rural, Fr Henry Gardner & "Buck" Weaver of Topeka High announced an agreement to play a special post-season game on Thanksgiving Day at Moore Bowl. The Trojans had only 3 wins but were one of the largest squads in the state and everyone predicted a close contest. The game was heavily publicized in the press and both schools hoped for a large crowd to offset gate receipt losses due to bad weather for regular season games. The game ended up being broadcast live by 3 Topeka radio stations - Merle Harmon (KTOP), Walt Lockman (KJAY) and Max Falkenstein (WREN). The game day crowd was a less than expected 3,500 due to a cold temperature and, some said, the availability of live radio broadcasts. (TSJ Stu Dunbar 11-23-51)
In the end, the depth of the Trojan team proved to be too much for the Wildcats. Jim Waite was slowed by ankle injuries but Coach Lee said "We were beat fair and square by a better club." "We were out horsed," Ed Gable said. "Every time I looked up there was a different guy across the line from me." (TDC 11-23-51).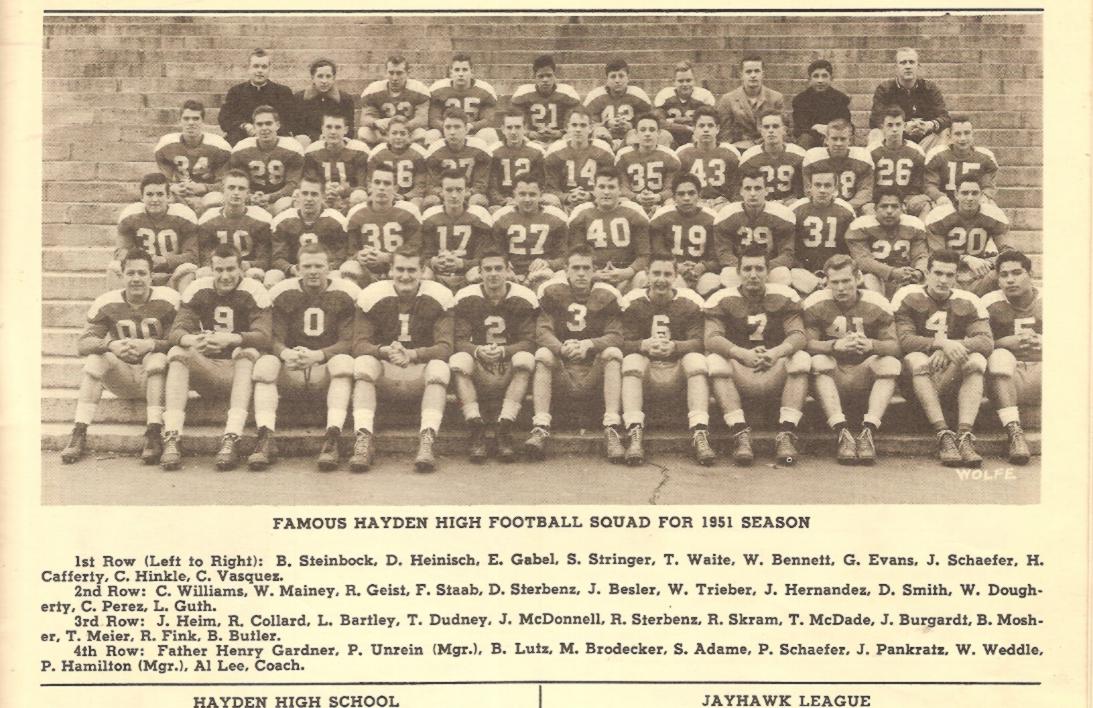 Team picture from SPORTS Guide (Steinbock Family)
1951
Al Lee
8
2
0
Jayhawk League Champion
9/21/51
Marysville
W
6
0
Hayden Field
9/28/51
Washington - K.C.
W
19
6
Hayden Field
10/5/51
Osage City
W
44
0
Hayden Field
Jayhawk
10/11/51
Ward - K.C.
W
27
12
Hayden Field
10/20/51
St. Mary's - Wichita
W
39
0
Wichita
10/25/51
Highland Park
L
14
18
Highland Park
10/31/51
Wamego
W
73
0
Hayden Field
Jayhawk
11/9/51
Seaman
W
46
6
Seaman
Jayhawk
11/16/51
Washburn Rural
W
39
7
Washburn Rural
Jayhawk
11/22/51
Topeka High
L
6
21
Moore Bowl
Post Season
1951 Statistics
RTD
PTD
RCTD
PAT
PAT-K
FG
S
TP
Bob Steinbock
17
1
5
4
1
137
Jim Waite
8
6
5
53
Harold Rafferty
5
5
35
Jake Schaefer
3
18
Francis Staab
3
2
1
19
Bob Geist
3
18
Don Sterbenz
1
1
7
Jesse Hernandez
1
1
7
Stan Stringer
1
6
Dick Heinisch
1
6
Cecil Perez
4
4
TEAM
1
2
Pete Beasler
1
1
313
10-5-1951 Schaefer 50 Yd Interception Return included in RCTD
11-16-51 Schaefer 27 Yd Interception Return included in RCTD
Yardage figures are not available
**********************************************************************************************************************
1952 TDC State Champion: Lawrence (Class AA)
Only one starter, Charles Vasquez, returned to play with nine other lettermen in 1952. Marysville got revenge over Hayden in the opener. Richard Staab and Bob Geist were the main offensive threats this year and they were prominent in the wins over Holton and Osage City. The game in Osage City had Hayden behind with less than a minute left in the game. Staab's pass was intercepted by Bob Bodenheimer on the one yard line. Then as Bodenheimer was being tackled by Vasquez on a return to the 6, Bob Geist wrestled the ball away and ran into the end zone. Osage City out gained Hayden in yardage - but had no time left to change the outcome.
Ward was undefeated and Hayden played well to lose by just a touchdown. Loren Bartley made the only score for Hayden on a pass reception from Staab. Hayden was a definite underdog against Highland Park. Hayden decided that Highland Park's field would be better suited for the large crowds expected (Hayden Field was still in the process of being enlarged.) The greatest rivalry game for Hayden during the late 1940s and early 1950s was the annual Highland Park game. The Scotsmen were an old Jayhawk League foe and were playing as an Independent (they would join the NEKL the following year). This meeting in 1952 was no contest as Highland Park scored 4 touchdowns before playing reserves in the 4th quarter.
Hayden's return to Jayhawk League play was a continuation of an undefeated conference winning streak (last loss in the league was 11-14-47). Geist, Staab, Bill Weddle and Larry Berberick led the offense in the win over Wamego. A hard fought game against Seaman clinched at least a tie for the championship. Pre-season predictions had only given Hayden an outside chance at the title. Washburn Rural was the weakest team in the league in 1952 and Hayden scored an easy win to close out as Jayhawk champs for the 5th straight year. St. Mary's-Wichita was dropped from the schedule in 1952 and no replacement opponent could be found - so only 8 games were played in 1952.
1952
Al Lee
5
3
0
Jayhawk League Champion
9/19/52
Marysville
L
0
38
Marysville
9/26/52
Holton
W
14
0
Hayden Field
Jayhawk
10/3/52
Osage City
W
12
7
Osage City
Jayhawk
10/10/52
Ward - K.C.
L
6
13
Kansas City
10/23/52
Highland Park
L
0
26
Highland Park
10/31/52
Wamego
W
27
7
Wamego
Jayhawk
11/5/52
Seaman
W
12
0
Hayden Field
Jayhawk
11/14/52
Washburn Rural
W
31
0
Hayden Field
Jayhawk
1952 Statistics
RTD
PTD
RCTD
PAT
PAT-K
FG
S
TP
Bob Geist
5
1
2
38
Dick Staab
2
3
1
13
Bill Weddle
2
1
13
Loren Bartley
2
12
Larry Berberick
2
12
K Stephens
1
6
Cecil Perez
1
TEAM
7
Carl Strecker
1
102
10-3-52 Geist 6 Yd Fumble return included in RTD
Yardage figures are not available
*********************************************************************************************************************
1953
Coach Byard installed a split-T formation that replaced the single wing offense of Starbuck and Lee. Loren Bartley was the only returning regular starter from the 1952 season. New coach, new system and new players resulted in only one victory for the 1953 Wildcat football team.
1953
Barney Byard
1
8
0
9/18/53
Marysville
L
0
34
Hayden Field
9/25/53
Holton
L
7
20
Holton
Jayhawk
10/2/53
Osage City
L
6
27
Hayden Field
Jayhawk
10/11/53
Ward - K.C.
L
0
13
Hayden Field
10/16/53
Haskell - Lawrence
L
18
37
Hayden Field
Jayhawk
10/22/53
Highland Park
L
0
32
Highland Park
10/30/53
Wamego
L
0
34
Hayden Field
Jayhawk
11/4/53
Seaman
L
7
12
Seaman
Jayhawk
11/13/53
Washburn Rural
W
7
6
Washburn Rural
Jayhawk
1953 Statistics
RTD
PTD
RCTD
PAT
PAT-K
FG
S
TP
Loren Bartley
1
6
Ray Dechand
1
1
6
Joe Rocha
3
2
20
Jim Rafferty
1
6
TEAM
1
1
7
45
No Yardage figures are available
***********************************************************************************************************************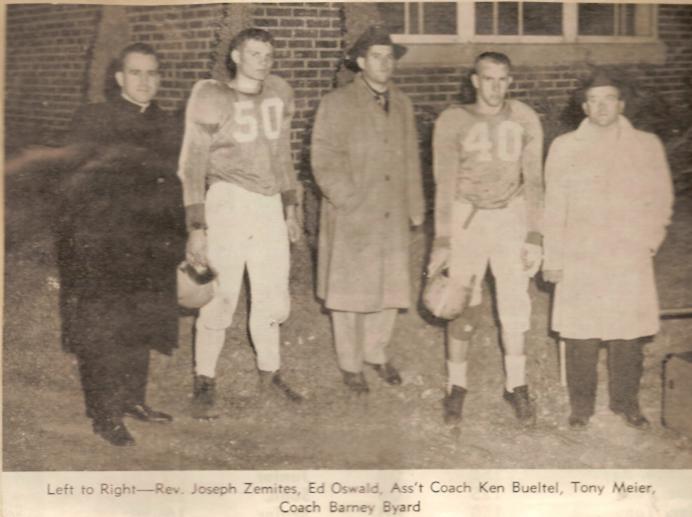 1954
The experience gained in 1953 paid off in a winning season and conference co-championship in 1954. Carl Strecker and Ray Dechand shared quarterback duties with Jim Rafferty, Larry Berberick, Larry Schultz, Tony Munoz and Tony Meier returning as running backs. The line play was expected to be better with Jim Burgardt, Jim Cain and John Etzel at tackle, Tim Fink, P. Melchoir and John Peters back at guard. Jim Dyer was the returning center with A. Hernandez and Ed Oswald at ends.
After squeaking out a win over Marysville, Hayden continued their excellent defense against Jayhawk rival Holton. Osage City had been highly ranked but was soundly beaten 26-0 as Coach Byard's offense started clicking. Hayden ground out 173 rushing yards - Rafferty and Meier leading the way. Several players ended up injured and probably accounted for some of the lack of offense in the loss to Ward. Ward had an excellent team in 1954 and capitalized on several turnovers late in the game. The win over Haskell was thought to be a clincher for Hayden's sixth Jayhawk League title in 7 years. Haskell was a top contender but was without their star player John Edwards.
Highland Park-Hayden games were hotly contested during this period and the tie was not completely unexpected even though Hayden had a better record. TDC stated that Highland Park's schedule was much tougher. The toughest loss of the year against Wamego prevented Hayden from claiming an outright championship. Hayden dominated the game at Wamego but the Red Raiders were fired up and took advantage of 3 fumbles deep inside their own territory. Ray Wilson's interception stopped another scoring drive and his extra point kick was the margin of victory. Strecker scored the only Hayden touchdown.
Paul Valdivia scored first on a pass from Strecker in the Seaman game. As was common in the 1950's this game was interrupted "by occasional fisticuffs" according to the TDC. One player was ejected and both teams were heavily penalized. Hayden's defensive line stood solid throughout the game and defensive back Valdivia intercepted a pass to set up Hayden's last score.
Coach Byard will always question the call that cost at least a tie with Maur Hill in a Sunday game at Hayden field. He thought the kick by Strecker should have been called good and one of the Maur Hill kicks might not have been good as called. Maur Hill's star was Mark Flynn and the defense held him in check but Jim Purslow picked up the slack for Maur Hill. This game was added to the schedule over the usual total of 9 games per season.
At about this time, several articles appeared regarding unrest in the Jayhawk League. Apparently, some of the smaller population schools were upset about the size difference within the league. Osage City admittedly thought that Hayden should withdraw, since they were the largest school in the league. In the end, Hayden voluntarily left the league with no hard feelings. It was thought that another league would be available within a few years - but it actually took until the formation of the Centennial League (1962-63) for Hayden to resume league affiliation.
The final game of the year was a fairly easy win over Washburn Rural that insured a share of the Jayhawk championship. Therlo Conner's 67 yard run was one of many highlights in this game. Frank Munoz returned a fumble 40 yards for a touchdown. Therlo Conner was also famous for his javelin throws. At one time, he held the national high school javelin throw distance record.
Therlo Conner Spring 1956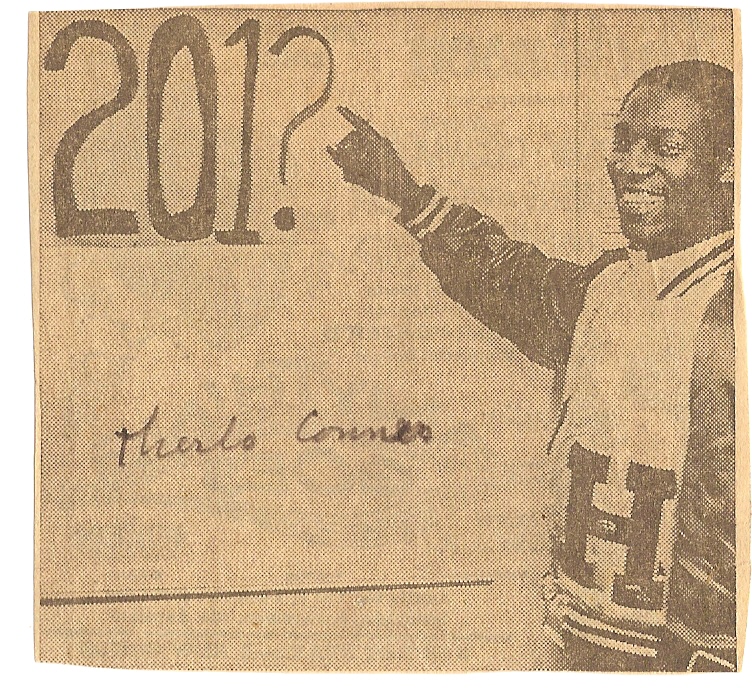 1954
Barney Byard
6
3
1
Jayhawk League Co-Champion
9/17/54
Marysville
W
13
7
Marysville
9/24/54
Holton
W
12
6
Hayden Field
Jayhawk
10/1/54
Osage City
W
26
0
Osage City
Jayhawk
10/8/54
Ward - K.C.
L
7
19
Kansas City
10/15/54
Haskell - Lawrence
W
13
0
Lawrence
Jayhawk
10/21/54
Highland Park
T
7
7
Moore Bowl
10/29/54
Wamego
L
6
7
Wamego
Jayhawk
11/3/54
Seaman
W
33
0
Hayden Field
Jayhawk
11/8/54
Maur Hill - Atchison
L
13
14
Hayden Field
11/12/54
Washburn Rural
W
26
0
Hayden Field
Jayhawk
156
1954 Statistics
RTD
PTD
RCTD
PAT
PAT-K
FG
RA
R YDS
CT
RCYDS
PA
C
PYDS
S
TP
Jim Rafferty HB
4
1
61
292
1
11
2
0
0
25
Carl Strecker QB
2
6
10
31
31
60
19
271
22
Tony Meier HB
2
1
43
201
2
43
18
Larry Berberick HB
2
1
40
152
1
30
18
Therlo Connor HB
2
19
132
12
Larry Huerter FB
2
23
100
12
Sil Meier
2
2
50
12
Ed Oswald E
1
1
6
6
8
115
7
Larry Schultz FB
1
50
237
1
5
1
0
0
6
Frank Munoz HB
1
35
194
2
13
6
Paul Valdivia FB
1
21
87
2
46
6
Ray Dechand QB
1
23
74
14
7
129
Bob Mainey HB
1
30
A. Hernandez E
1
6
22
2
25
6
Ted Weddle HB
8
9
Tom Ortiz E
1
3
0
4
51
3
0
0
6
Padilla
5
83
1
11
1650
400
400
156
10-1-54 Rafferty 32 Yd fumble return included in RTD
10-8-54 Oswald recovered fumble in end zone included in RTD
11-11-54 Munoz 40 Yd fumble return included in RTD