BOB STEINBOCK - (1948-49 to 1951-1952) Return to FBYBY HOME
Four year letterman in football. 1951 3rd Team All-State football player.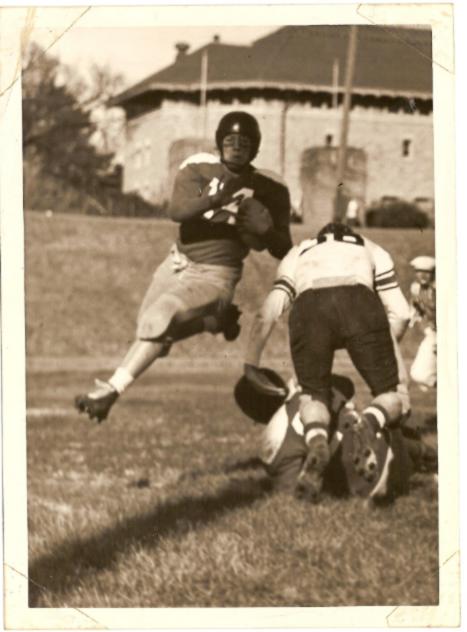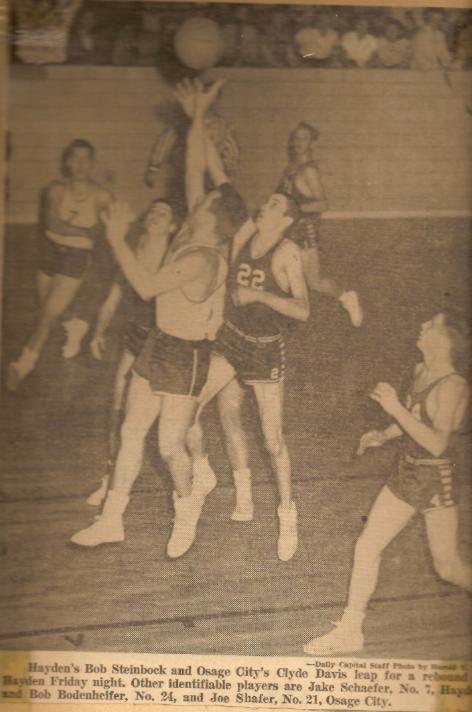 Bob Steinbock rushes against Ward 11-24-49 at Moore Bowl Newspaper photo of Steinbock fast breaking against Osage City
Photo, clipping and letter award from Steinbock family scrapbook
Bob Steinbock entered Hayden as a freshman in 1948 just as the athletic teams for the school started to rise under Coach Starbuck. Even as a freshman, he was known for his running on the football field. He ran kick-offs and punt returns in the first game of 1948 against LILLIS of Kansas City. He got the chance to play against ST. AGNES after starting back Joe Desch was injured. Coach Starbuck praised his play in that game and he never missed a start the rest of his high school career. This was the only game Bob's father (Casper) ever saw in person. He had to be restrained from going after the players who fouled Bob when he attempted a drop kick. After this game, he stayed home and listened to the games on radio.
Continued below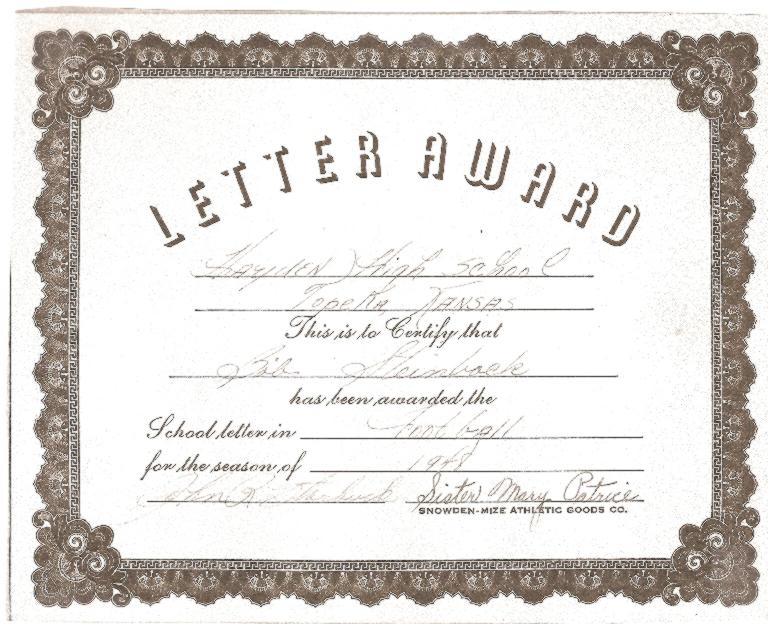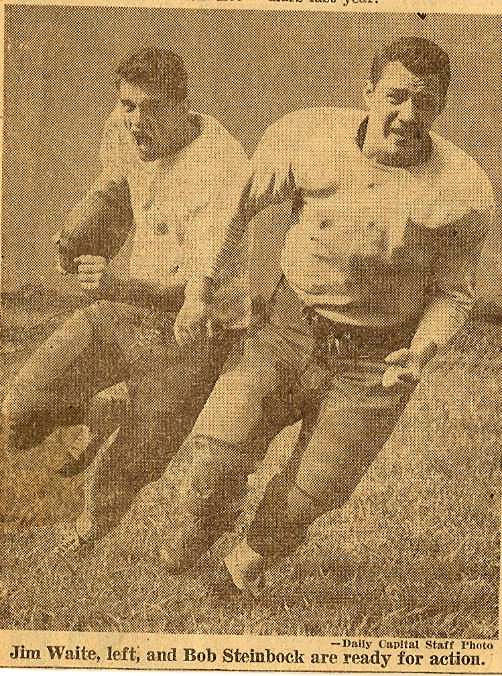 Bob's 1948 letter award 1951 newspaper clipping
Bob established a record that will probably never be broken by a football player at Hayden - he was a starter in the backfield for 36 straight games. This record was accomplished in an era when no face guards or mouth protectors were worn. Padding was not of the same quality as used today. Bob said he received lots of cuts and scrapes, cracked ribs, etc but was always ready on game day. He was named to the Jayhawk All-League first team 3 straight years. He held the all time scoring record in football and single season scoring record well into the 1990s.
He played along side the first really good football players at Hayden - lineman like Ted Bechtel, Stan Stringer, Ed Gabel, John Schwerdt and many others. Lou Stadler, Jim Waite, Harold Rafferty and others got their share of scoring but Steinbock led the team in 1950 and 1951. Sometimes his own players got mad at him for scoring too much. "I couldn't help scoring all those points (31 out of 39 scored in 1951) against St. Mary's(Wichita)", he said. "Late in the game, my line decided to let the other team through to tackle me and Coach Lee did not like it." He explained that Lee tore into the team for the prank. He got one of his TD runs on a punt return and another on a pass from Waite. The rest were rushing TD's where his hard running and the team's blocking just made it difficult for St. Mary's-Wichita to stop him. In today's high school game scoring too much would not be a problem. In 1951 he was named to the TDC All State 3rd Team. This was an all-class all-star team. He was offered scholarships at several colleges, but finances were not available for all the incidental costs of higher education. He worked for the Santa Fe shops for most of his life and has been retired for several years..
Bob says that Coach Lee may have seemed calm to the "press" about the loss against Highland Park that ended the 22 game undefeated streak by Hayden, but the next week of practice was especially rough and the team did let off steam in the 73-0 blow out over Wamego. Bob got 2 TD's against Wamego and then followed that up with 5 against Seaman. His season point total of 137 in 1951 exceeded the total scored by any Hayden team prior to 1949. Of course, today's scoring leaders sometimes get to play as many as 14 games if they are able to play into the state championship final. In Steinbock's day the season never went further than 10 games. His individual yardage figures were not published - but it is safe to assume that he broke 1,000 yards in 1951 and maybe 1950 also.
He was a solid basketball player and made his best contribution in 1952. The Wildcats won the Jayhawk League that year but were upset by Wamego in the Class A Sub-Regional.
Bob Steinbock - 2005. He has lots of KU signs posted outside his house in addition to the leprechaun in the flower bed.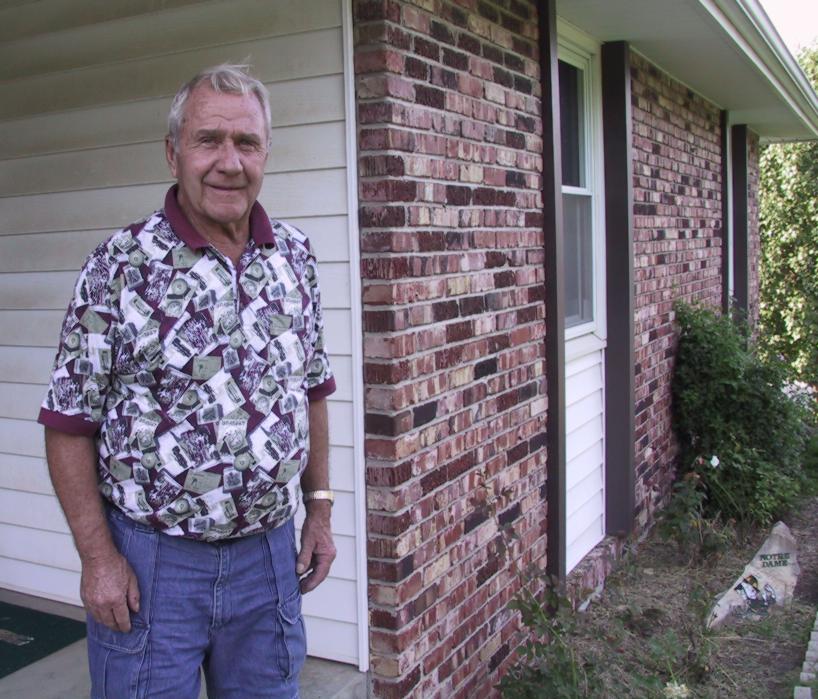 Football Statistics - individual yardage not available
| | | | | | | | | | | | | | | | | |
| --- | --- | --- | --- | --- | --- | --- | --- | --- | --- | --- | --- | --- | --- | --- | --- | --- |
| Bob Steinbock | RTD | PTD | RCTD | PAT | PAT-K | FG | RA | RYDS | C | RCYDS | PA | CA | PYDS | INT | S | TP |
| | | | | | | | | | | | | | | | | |
| 1948 | 2 | | 1 | | | | | | | | | | | | | 18 |
| 1949 | 5 | | 2 | 2 | | | | | | | | | | | | 44 |
| 1950 | 10 | | | 1 | 1 | | | | | | | | | | | 62 |
| 1951 | 17 | 1 | 5 | 4 | 1 | | | | | | | | | | | 137 |
| | | | | | | | | | | | | | | | | |
| | 34 | 1 | 8 | 7 | 2 | | | | | | | | | | | 261 |
Basketball Statistics
Bob Steinbock
Games
FG
FT
TP
1949
14
9
1
19
1950
5
0
0
0
1951
21
31
18
80
1952
22
92
29
213
62
132
48
312