1945-46 Return to Year-by-Year HOME
STATE CHAMPIONS CLASS AA: Newton CLASS A: Hoisington CLASS B: Pretty Prairie
1946 Annual says "these boys gave all for God and country".
++++++++++++++++++++++++++++++++++++++++++++++++++++++++++++++++++++++++++++++++++++++++++++++++++++++
UPDATE: October 19, 2014

1. Jack Seymour '40 (RCAF) 2. William White '37 (RAF) 3. Philip Desch '36 (AAF) 4. Robert Bateman '39 (ARMY)
DNB 9-13-1941 KIA 10-8-1941 DNB 11-21-1942 KIA 1-7-1945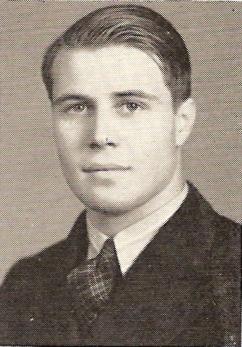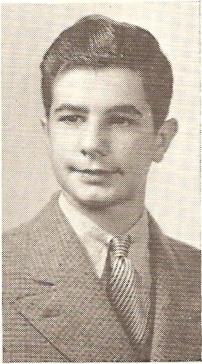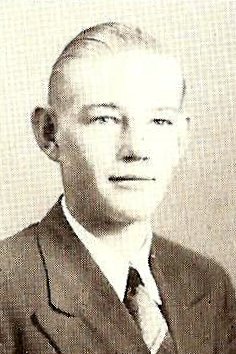 +++++++++++++++++++++++++++++++++++++++++++++++++++++++++++++++++++++++++++++++++++++++++++++++++++++++
5. James Curry '37 6. Alfred Booker '35 (AAF) 7. Ivan May '36 (AAF) 8. William Mentlick '36
3-17-42 DNB 2-10-1945 DNB 11-12-1941 MIA 10-25-1944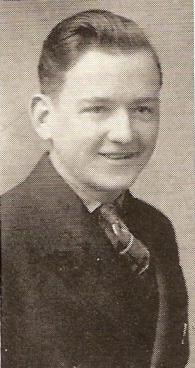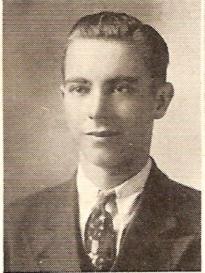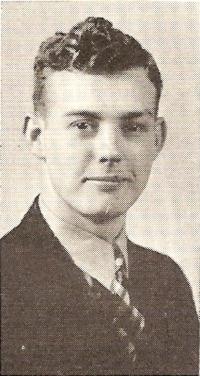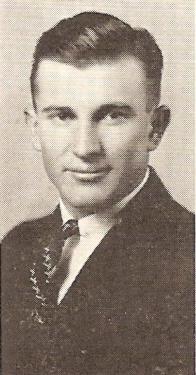 ++++++++++++++++++++++++++++++++++++++++++++++++++++++++++++++++++++++++++++++++++++++++++++++++++++++++++
9. Lester Renyer '41 10. Stephen Surbaugh '37
KIA 4-16-1945 FOD 4-5-1944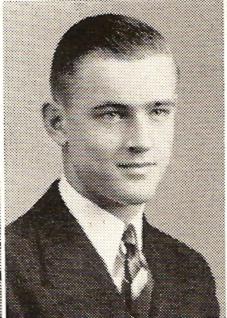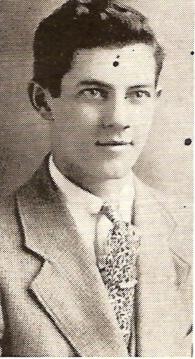 NOT PICTURED: 11. Michael Sommers '37 DNB (USMC)
12. Charles Lopez '42 KIA (AAF)
13. Thomas Flynn '39 KIA (USMC)
DNB = Death, Non-Battle FOD = Finding of Death KIA = Killed in Action
1. JACK SEYMOUR - Class of 1940

John Paul Seymour was killed September 13, 1940 in a plane crash in Canada. Seymour was one of those who volunteered for service prior to December 7, 1941. Pilots trained in Canada
became eligible for service with the RAF in the "Battle of Britain". LAC (Leading Aircraftman) Seymour was piloting a Cessna aircraft near Unit 12 SFTS RCAF - Brandon, Manitoba. His remains were returned to his mother
- Ethel (Devlin) Seymour. He is buried at Mount Calvary Cemetery in Topeka, KS. Find A Grave Memorial #6362621
2. WILIAM WHITE - Class of 1937

William Joseph White was killed October 8, 1940 in a plane crash in England. He was an officer in the American Eagle Squadron of the Royal Air Force. His father reported that he attempted to join the US Naval
and Marine Air Corps, but was rejected by both due to a small growth inside his nose. He left Washburn University and traveled to Tulsa, Oklahoma where he was given training sponsored by the Canadian
government. He was transferred to Ottawa, Canada and then to England in July.
The Perry Mirror, October 16, 1940 (USGENWEB Archives - sumbitted by Jim Laird 7-20-2005)
Philip D. Caine in his book EAGLES OF THE R.A.F.: World War II Eagle Squadronsexplains that White was piloting one of four planes (all Hawker Hurricanes) that crashed in formation into a mountain on the Isle of Man. The No. 133 squadron was attempting to let down in very bad weather to refuel before continuing on to Northern Ireland. They were to receive further training based in Londonderry and were assigned to pilot the "unpopular, but critical convoy patrol duty over the North Atlantic." Caine says that the No. 133 squadron was hampered by the lack of experienced hands to help the "green" pilots that had been placed in the unit. The multiple plane crash event ironically took the life of one of the squadron's most experienced pilots. Petty Officer White is buried at Brookwood Military Cemetery, Surrey, UK.
American War Memorial Overseas, Inc

3. PHILIP DESCH - Class of 1936

Philip Jacob Desch was killed November 20, 1942 in a runway accident at Foster Field, Texas. Desch joined the Army Air Force in October, 1942. Details of the events leading up to the accident are not available but his death was caused when he was struck by an airplane propeller. Topeka Daily Capital November 21, 1942 He was previously employed by the Santa Fe Shops and was survived by his wife Adelaide. PFC Desch is buried at Mount Calvary Cemetery in Topeka, KS. Find A Grave Memorial #24618828

4. ROBERT BATEMAN - Class of 1939
Robert M Bateman was killed in fighting near Bastogne, Belgium January 7, 1945. Bateman joined the Army in 1940 and initially was part of the 193rd Glider Infantry Regiment. In 1944 they became part of the 17th Airborne Division and the unit arrived in England in 1944. They were sent to assist Patton's 3rd Army that had arrived from the South to liberate Bastogne. Sgt. Bateman was leading his men in the face of determined Nazi resistance. He was killed by machine gun fire in or near the area known as Deadman's Ridge .

He is buried at Luxembourg American Cemetery and Memorial in Hamm, Luxembourg City, Luxembourg. Find A Grave Memorial #56060346
5. JAMES CURRY - Class of 1937
James Curry died March 17, 1942 after a car collision in North Topeka. Curry was a very popular member of the 1937 Class and was living in California prior to the accident. News reports of his accident stated that he returned to Topeka recently to join the USMC. He was just starting out on the trip back to California with a friend - Edward O'Byrne - when he was thrown from the car during the crash. Topeka State Journal March 17, 1942 and Topeka Daily Capital, March 18, 1942. He was included in the roll of war dead in the 1946 Shamrock. Records of his enlistment in the Marine Corps could not be found. I can remember discussions about him with one of my relatives Mary Ann McCarthy. She said that he probably would not be listed technically as a WW II fatality by today's standards. She confirmed that it was his intent to join the Marines - but conceded that his trip to Topeka may have been as a goodbye to his old friends and to his Grandparents who stilled lived here. The reporting of his enlistment may have been his intention upon his return to California. Still, the death was tragic and still fresh in the minds of the Hayden community in 1946.
Find A Grave Memorial #25524531


6. ALFRED BOOKER - Class of 1935
Alfred Booker was killed February 10, 1945 in a B-29 Airplane crash near Cuba. He enlisted in the Army (Air Force) on July 15, 1940. T/Sgt Booker was part of a 7 man cross country training mission out of Smoky Hills AFB in
Salina, KS to Cuba. The "Silver Crew's" B-29, named for the pilot, stalled immediately after take-off resulting in a power dive and headlong impact into the ground. Impact produced an immediate fire and explosion killing all on
board. T/Sgt Alfred G Booker is buried at Mount Calvary Cemetery in Topeka, KS. Find A Grave Memorial #8411709

7. IVAN MAY - Class of 1936
Ivan May was killed November 12, 1941 in the crash of a Douglas DB-7 (aka A-20 Havoc) near Mohawk, Arizona. May was "ferrying" the plane to Tucson, Arizona on the first leg of a trip with England as a final destination.
He normally had a co-pilot, but was recently flying solo for more training and for performing the mission of transporting planes to the war in England. The planes he and others were flying were used as light bombers and night fighters.
He joined the Army Air Corps in 1940 after graduating from the University of Kansas.

The news of his death appeared on the front page of the Topeka Daily Capital dated November 13, 1941. He was one of the first Topekans to die in service of the United States in World War II. Technically he may not appear on some
war casualty lists because the USA did not enter the war until December 7, 1941. The story had quotes from his parents and was written in a very dramatic style. As the war death totals increased - obituaries were short
and much less personal. There was evidence that May tried to force land his plane on a highway but pulled up to avoid a car in the way. He crashed the plane into a gulley and was killed. Of the four planes that left Long Beach, California, two were forced down by bad weather in Phoenix and another crashed killing the pilot. Lt. Ivan Joseph May is buried at Mount Calvary Cemetery in Topeka, KS. Find A Grave Memorial #24834486

8. WILLIAM MENTLICK - Class of 1936
William Mentlick was lost October 25, 1944 in the Battle of Leyte Gulf near Samar, Phillipines. He was rated as an Aviation Radio Tech First Class USNR and was part of a crew in the VC-10 Composite Squadron. This squadron was carried by the USS Gambier Bay described in WW II as an Escort Aircraft Carrier. The Battle of Samar portion of the greater Battle of Leyte was a significant reason for the defeat of the Japanese fleet and return to the Philippines by the USA. The Gambier Bay was sunk in the battle and many VC-10's that were able to take to the air were shot down. It is not known how Mentlick was killed. He could have been hit aboard the carrier or aboard one of the VC-10 bombers. Some died while waiting for rescue. ART1C William E. Mentlick is memorialized on the tablets of the missing at the Manila American Cemetery in Manila, Philippines. He also has a memorial tablet at Sacred Heart Cemetery in Colby, KS near his birthplace
in Tully, KS. Find A Grave Memorial #105433618

9. LESTER RENYER - Class of 1941
Lester Renyer was killed in action April 16, 1945 somewhere in the Rhineland, Germany. Renyer was a PFC in the Army, 33rd Armored Regiment, 3rd Armored Division. This group took the city of Cologne shortly before the death of
Renyer. Details of his death were not available. His family moved to Los Angeles, California after his graduation from CCHS and details of his death might be available from Los Angeles newspapers of the time. PFC Lester J. Renyer is buried at the Netherlands American Cemetery in Margraten, Netherlands.

10. STEPHEN SURBAUGH - Class of 1937
Stephen Surbaugh was lost April 5, 1944 somewhere in the Mediterranean Sea. Surbaugh was a Staff Sergeant and part of a B-25 Mitchell Bomber crew in the 428th Bomber Squadron, 310th Bomber Group, Medium. The mission of this
outfit at the time of Surbaugh's death was support of the Allied drive on Rome. The group flew missions out of their base in Algeria. 1st Lieutenant Laula M. Middleton and his crew, including Surbaugh, went missing in April, 1944.
S/Sgt Stephen G. Surbaugh is memorialized on the tablets of the missing at the North Africa American Cemetery and Memorial in Carthage, Tunis, Tunisia. Find A Grave Memorial #56250678

11. MICHAEL SOMMERS - Class of 1937 ?

Michael Sommers was killed May 6, 1943 in an auto accident in Mojave, Kern, California. The Topeka Daily Capital of May 8, 1943 states that he enlisted in the USMC in September, 1942 and had been wounded in action.
Military classified his death as DNB (Died Non-Battle). Sommers was a graduate of Capitol Catholic High School as Hayden was known in 1943, but his senior picture could not be found in annuals from 1936-1940. He is placed in the
Class of 1937 based on a name mention in annuals prior to that year. PFC Michael J. Sommers is buried at Mount Calvary Cemetery in Topeka, KS. Find A Grave Memorial #25092804

12. CHARLES LOPEZ - Class of 1942
Charles Lopez was killed October 18, 1944 after the B-24 named "Flying Ginny", in which he was a Tail Turrett Gunner, crashed after a bombing mission on a chemical plant in Leverkusen, Germany. On the return to their base the bomber hit the "prop wash" ( aka slipstream) of planes ahead of them in a cloud bank. The pressure of that event sent the plane into a sharp bank to the left and basically split it apart. There were two crewman who survived and reported this
information and the location of the landing - seven miles from Ghent Belgium. History of the 67 Bombardment Squadron - 44th Bomber Group (8thairforce.com)
Lopez attended Topeka High and Hayden - his enlistment record say he had 3 years of high school. He is placed in the Class of 1942 based on his birth date of July 8, 1925. S/Sgt Charles R. Lopez is buried at Mount Calvary Cemetery
in Topeka, KS. His remains were not received back in Topeka until April of 1948. Find A Grave Memorial #19497658
13. THOMAS FLYNN - Class of 1939
Thomas E. Flynn was killed December 17, 1943 in action with the USMC 2nd Division. The exact location of his death could not be found. Some reports say New Zealand was the location of his death. He was a Chief Cook in
USMC 2nd Division Headquarters. It is possible he was involved in the major action at Tarawa in December 0f 1943 and then died from wounds in New Zealand. That is purely conjecture. Other known facts are his enlistment in Oct-Nov
of 1940.

Thomas Flynn is pictured as a Junior in the 1938 Shamrock even though his birthday was 9-12-1919. His father was deceased and the family was based out of Leavenworth, KS. His mother came to Topeka with Thomas and lived with
with an older daughter. Probable that Thomas did not graduate from Hayden but he is placed in the Class of 1939 because of his appearance in the 1938 yearbook. Chief Cook Thomas E. Flynn is buried in Mount Calvary
Cemetery, Leavenworth, KS. Find A Grave Memorial #36467342

+++++++++++++++++++++++++++++++++++++++++++++++++++++++++++++++++++++++++++++++++++++++++++++++++++++++++
| | | | | | | |
| --- | --- | --- | --- | --- | --- | --- |
| | Capitol Catholic Basketball | | | | | |
| | | | | | | |
| | | | | | | |
| | 1945-46 | | 3 | 14 | COACH: Fr Henry Gardner | |
| | | | | | | |
| | JAYHAWK LEAGUE | | 2 | 8 | | |
| | | | | | | |
| DATE | TEAM | W/L | | OPP | LEAGUE/TOURNEY | PLACE |
| | | | | | | |
| 11/27/45 | Scranton | L | 20 | 36 | | |
| 12/7/45 | Hoyt | W | 41 | 28 | | Holy Name |
| 12/14/45 | Atchison-Maur Hill | L | 24 | 33 | | Holy Name |
| 12/20/45 | Seaman | L | 19 | 59 | Jayhawk | Holy Name |
| 1/4/46 | Leavenworth-IMAC | L | 39 | 48 | | Holy Name |
| 1/11/46 | Wamego | L | 28 | 77 | Jayhawk | Wamego |
| 1/15/46 | Highland Park | L | 36 | 37 | Jayhawk | Holy Name |
| 1/18/46 | Council Grove | L | 52 | 67 | Jayhawk | Council Grove |
| 1/22/46 | Atchison-Maur Hill | L | 21 | 40 | | Atchison-Maur Hill |
| 1/25/46 | Osage City | L | 35 | 46 | Jayhawk | Osage City |
| 2/1/46 | Seaman | L | 21 | 69 | Jayhawk | Seaman |
| 2/8/46 | Wamego | L | 21 | 52 | Jayhawk | Holy Name |
| 2/15/46 | Highland Park | L | 29 | 49 | Jayhawk | HP (Whiting FH) |
| 2/22/46 | Council Grove | W | 55 | 42 | Jayhawk | Holy Name |
| 2/26/46 | Leavenworth-IMAC | L | 26 | 48 | | Leavenworth-IMAC |
| 3/1/46 | Osage City | W | 30 | 29 | Jayhawk | Holy Name |
| 3/7/46 | Chapman | L | 31 | 36 | CLASS A REGIONAL | Wamego |
| | | | | | | |
| | | | 528 | 796 | | |
| | | | | | | |
| | | | | | | |
| | | | | | | |
| | Topeka Daily Capital | | | | | |
| | Leavenworth Times | | | | | |
| | Hayden Yearbook | | | | | |
| | | | | |
| --- | --- | --- | --- | --- |
| PLAYER | G | FG | FT | TP |
| | | | | |
| Harry LaVigne | 12 | 67 | 30 | 164 |
| Ed Montes | 16 | 26 | 15 | 67 |
| Bill Driscoll | 12 | 23 | 11 | 57 |
| Francis Schmidt | 15 | 20 | 13 | 53 |
| Ray Warner | 10 | 20 | 13 | 53 |
| Clarence Severin | 14 | 9 | 13 | 31 |
| Tom Lutz | 12 | 9 | 5 | 23 |
| Jay Haefele | 8 | 8 | 1 | 17 |
| Bill Maggard | 12 | 5 | 4 | 14 |
| Larry Burkhart | 1 | 5 | 1 | 11 |
| Marvin Zeller | 6 | 3 | 3 | 9 |
| Ed Leinacker | 2 | 3 | 1 | 7 |
| Bernard Krische | 3 | 0 | 0 | 0 |
| Lewis Pressgrove | 1 | 0 | 0 | 0 |
| Bob Richards | 2 | 0 | 1 | 1 |
| 11/27/45 Scranton | | | | 20 |
| 2/23/45 CGHS | | | | 1 |
| | | | | |
| | | | | |
| | | | | 528 |