Matt May Return to Coaches HOME September 16, 2011
Coach May graduated from Andale High School and St. Benedict's College. He had coached and taught at Sts. Peter and Paul Catholic High School in Seneca, Ks. He started at Hayden in the 1961-62 season after an undefeated season at Seneca. His first year at Hayden was a rock bottom point for Hayden football. The school had been struggling for several years in football and the decision was made to play underclassmen for future program development. Coach May had better success when Hayden entered the Centennial League. After two straight 4-5 seasons, Hayden won a share of the league title in 1964 with an overall record of 6-2-1.
Coach May left Hayden after the 1964-65 season to become the Head Football Coach at St. Mary's of the Plains College in Dodge City, KS.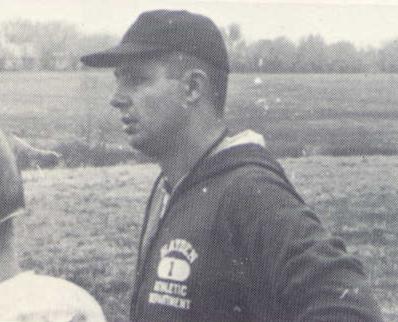 FOOTBALL COACH (1961-1964) W 14 L 20 T 1
Coach May passed away 11-28-2010 - He was a member of St Joseph Catholic Church in Andale, Kansas.