Fred Kelley (1923-1927) Return to Coaches HOME
Frederick Leo Kelley was the first person referred to as a coach of Hayden athletic teams. The SHAMROCK yearbook of 1923 does not list Coach Kelley - but the 1924 yearbook says that Kelley started coaching football and basketball the previous season. I don't think Kelley was a teacher at the school. He worked at the Santa Fe Railway for 52 years before he retired in the mid-1960's. So, he must have coached the boys in his spare time. Fr. William Boland assisted Coach Kelley and sometimes was the adult head of the basketball team on out of town trips (SHAMROCK 1924) when Coach Kelley was unable to travel with the team.
Fred Kelley was born 4-10-1892 in Portland, Indiana. He attended St. Joseph College in Renselaer, Indiana where he played football and basketball. After his coaching days at TCHS concluded, he was well known as an official at local basketball and football games. Many basketball box scores of the 1930's listed the official(s) name. Fred Kelley's name appears in several local box scores. Sometimes NOTRE DAME in parenthesis follows his name. I am not sure if that means he graduated from Notre Dame or maybe gained some certification as an official from that school. Coach Fred Kelley died 1-24-1969.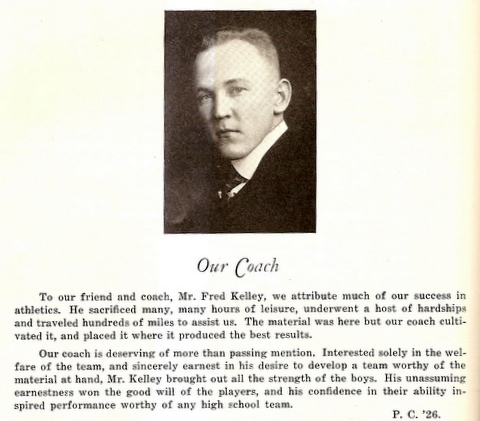 Tribute to Coach Kelley (from 1925 Shamrock)
Football 1922-23, 1925-1926: W 6 L 21 T 3
Basketball 1923-1927: W 30 L 35