Father Francis Hayden (1852-1926) HOME Update: May 30, 2015

Father Hayden was born 11-3-1852 in County Roscommon, Ireland. He was the son of Luke Hayden and Mary (Stroker) Hayden. ( SEE BELOW for more on Fr. Hayden's Irish roots). He traveled to the United States in 1869. He studied at a seminary that was located at the present site of the Assumption Church in Topeka (Seminary of the Assumption of the Blessed Virgin). When that school closed, he went east to St. Vincent's seminary at Pittsburgh, PA where he completed his studies in 1875.
After serving as an assistant at Leavenworth and Topeka, he was given his first parish in Solomon, KS. His mission covered four counties: Dickinson, Saline, Ottawa & Marion. He traveled by horseback to serve those Catholics who had survived many hardships in their attempts to settle the area. Churches were not abundant and sometimes Fr. Hayden would celebrate mass in farm houses.
In 1880Fr. Hayden started a church (ST. BRIDGET'S) in the packing house district of Kansas City. (SEE BELOW) He showed his ability to influence local business men when he convinced saloon keepers to stay closed on Sundays. He and the parishioners were able to keep going even through a devastating flood in 1881.
Fr. Hayden returned to Assumption Church in 1887. After the death of Fr. James O'Reilly, he became pastor of Assumption parish. Assumption was the only parish in Topeka when Fr. Hayden took over. He was known as a very competent business man and was respected by all for his basic goodness and honesty. He was successful in removing indebtedness from the parish. He started a Catholic high school in Topeka in 1911 known as Assumption High. The name was changed in 1912 to Topeka Catholic when a new building was opened on Jackson street to the north of the church. (Continued below)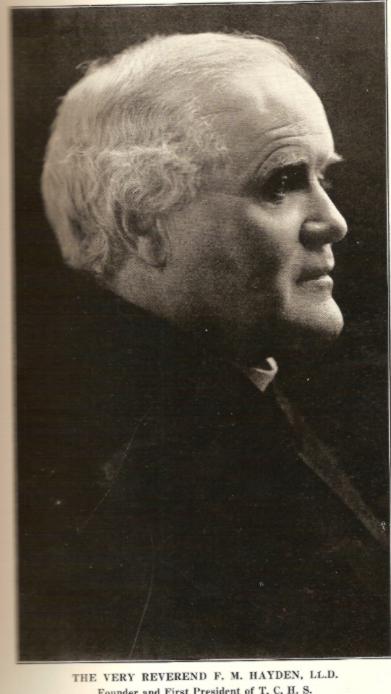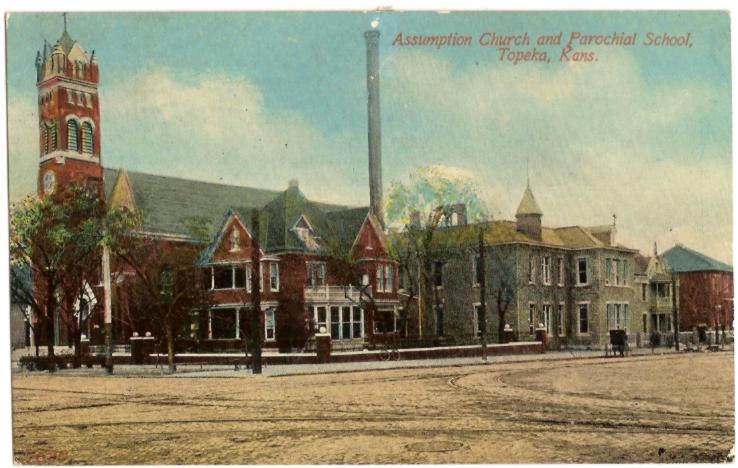 C. 1914 ? Assumption Church before the fire of 1922 (Arthur Capper postcard).
School is the red building at extreme right
Fr. Hayden retired from his post as pastor in 1914. His failing eyesight had reached the point where others could handle the parish better. His sister, Katherine had kept him informed by reading to him and she would continue to be his companion until his death in 1926. The 50th anniversary of his ordination in 1925 was a front page news story. The Topeka State Journal noted that the gathering of clergy for this celebration was "the greatest gathering of Catholic divines in the history of the state." Besides Archbishop John Glennon of St. Louis (later Cardinal), the celebration was attended by Bishop Schwertner of Wichita, Bishop Ward of Leavenworth, Bishop Byrne of Galveston, TX, Bishop Tihen of Denver, CO and Bishop Gilfillan of St. Joseph, MO.
The news stories of the day reflected a great respect and genuine love for the man who, in his last years, traveled the streets of Topeka with his faithful dog "Mutt". ** The TSJ editorial page commented 8/9/26 "Probably there has never lived, in this city, a man who was so universally respected and loved. In the truest sense he was pastor of his people and to all who knew him he was friend, guide and counselor. "
Arthur Capper's TOPEKA DAILY CAPITAL said the following in their tribute. "While for more than 50 years Father Hayden labored constantly for his church and its members, he also gave bountifully of his time and money for the betterment of the city. He was a real citizen. How we will miss him."
SOURCES: TDC, TSJ 8/6 to 8/10/1926. TSJ 5/19/1925.
Excerpts from the Sermon offered by Rev. A.J. Kuhlman of St. Mary's College at the funeral mass for Fr. Hayden 8-8-1926.
He gave up father, mother and home for Christ, but he would not have us speak of that. He gave comfort to the sinners and worked among all classes. He came to this town and built into the fiber of the town itself, his personality. No, he would not have us speak of those things. His works follow him. He rests with his maker.
You know that Father Hayden worked many years. During many of those years he suffered an infirmity. Sight that brings to man the beauty of God's creation was not his. In spite of that he did his work thru the divine power of God. There was one link in his life that made up for this failing eyesight. God gave him a sister and together they bore the cross.
He took up work reaching from the east portion of the state, on out to the Middle West. We should learn in this age to be thankful for the many God has given us, and we also should realize that men and women faced hardships in order that we might enjoy the comforts of this life. Father Hayden was one of them. He went where cities were not established, or there were no temples of worship. It was to those communities that Father Hayden gave unity, stability and Christianity. He built schools and churches. He was not exactly a pioneer but he made the work of the pioneers enduring.
He met many of different faiths but being a man of tolerance was able to bring about peaceful solutions of difficult problems.
Tolerance is a word I would rather not use in speaking of Father Hayden from the pulpit. Rather, he was a man of Christian charity. This spirit was in him just because the spirit of Christ was in him. He was a fair minded, tolerant, Christian American citizen.
He was born in another country, but he brought to us the fine culture of that nation and maintained it here. In every community they found him in anchorage. Father Hayden wove together two elements, the civic and religious. For Father Hayden our prayers will have power indeed before God. His works follow him.
Father Hayden - Solomon, KS 1877-1880.
August 6, 1926 Topeka Daily Capital
Fr. Hayden's death resulted in several stories about his life prior to his appointment to Topeka. The following excerpt describes his time spent as pastor of a parish in Solomon, Ks.
"Central Kansas then was being settled and his mission embraced four counties, Dickinson, Saline, Ottawa and Marion. Abilene then was the cattle town of the Central West.
Most of his traveling over that territory was made by horseback and a great majority of the people were very poor after having gone thru the ravages of the grasshopper years. They were industrious an persevering and devoted to the old faith. All the priest's traveling was not done on horseback as at that time he held an 'annual' pass on the Union Pacific and could work his way by helping pump a hand car. His pass did not help him so much as only a few of his parishes were on the railroad. Churches were not so abundant either and many times he would celebrate mass in farmhouses. "
OTHER NOTES FROM SOLOMON: Solomon Sentinel
The great social event of August 1879 in Solomon was the Catholic Church picnic. Fr. Hayden organized the event that combined dancing, music, contests and "other things". The 9-3-1879 Solomon newspaper stated, "The dinner table was groaning with the weight of good things. It was a feast and no mistake. Everything was orderly and conducted with care. It was a credit to the Reverend Father Hayden and the people whose welfare is dependent in a great measure upon his judgment and influence. The picnic was generously patronized by Solomon's citizens outside of the Catholic Church and many came from other communities to participate in the general enjoyment." This event showed Fr. Hayden's knack for community involvement beyond the Catholic Church that made him popular wherever he worked.
A 2-11-1880 notice in the newspaper described Fr. Hayden's plea for funds to help the starving poor of Ireland. He had raised $100 from the residents, most of whom were not that well off themselves. By November of 1880 the paper proudly announced the great event of the dedication of the new Catholic Church. The arrival of Fr. Leary was noted with mention that he would replace Fr. Hayden as pastor.
_________________________________________________________________________________________________________________________________________________________
Father Hayden - Kansas City 1880-1887.
April 9, 1881 THE EVENING SPY, Kansas City, Kansas
A story from this newspaper tells of a speech that Father Hayden gave to a meeting of the Irish Land League in Kansas City. The SRO audience frequently interrupted his speech, "Ireland, Past & Present" with applause as reported by the writer for THE EVENING SPY.
"He commenced with the entrance of St. Patrick on Irish soil, giving a glowing account of his work for the spread of Catholicism in that country. Then narrated the means used by the English to get possession of the country. The part taken by Henry VIII and Oliver Cromwell to crush out the Irish people, telling how they were massacred and ill-treated. He went on to show that the Irish people were a musical people, mentioning the many Bards of that country and giving incidents of his own experience in that section; he gave a graphic description of the various sections of the Emerald Isle and her cities. He spoke at length of the present troubles and the work of the land league and paid the Irish ladies many flattering comments, and closed his lecture by reading a beautiful Irish poem. "
"The Foray of Con O'Donnell", by Denis Florence MacCarthy (1817-1882) is a poem that Father Hayden could have and probably did use to close his lecture. I can see him using this excerpt. Ain't the internet amazing?
Betwixt the Isles and Antrim's coast,
The Scotch and Irish waters blend;
But who shall tell, with idle boast,
Where one begins and one doth end ?
Ah! when shall that glad moment gleam,
When all our hearts such spell shall feel?
And blend in one broad Irish stream,
On Irish ground, for Ireland's weal?
Love the dear land in which you live,
Live in the land you ought to love;
Take root, and let the branches give
Fruits to the soil they wave above;
No matter for thy foreign name,
No matter what thy sires have done,
No matter whence or when you came,
The land shall claim you as a son !

------------------------------------------------------------------

Father Hayden Remembers his time in Kansas City - Topeka Daily Capital, August 14, 1921, Page 15 by Steve O'Grady
The world moves on and times and customs change. That which was regarded as all wrong by the public of a generation ago is now considered quite the proper thing. What was regarded as ethical
and within the moral law in another period is now looked upon with awe by astonished men and women of a new age. There are many twists and turns in men's attitude on things which concern the
public as a whole.

A little less than 40 years ago Missouri was a wide-open state and had laws as liberal as the legislators could make them. There were breweries and distilleries galore in Missouri and open saloons
that one could count as thousands.

SLACK THIRST IN KANSAS
Kansas, adjoining this wettest of wet states, was just in the experimental stage of state wide prohibition. St. John was governor, and in Kansas it was against the law to make or sell the alcoholic beverage.
Give your imagination full swing, then, and picture this situation: Missouri, in the throes of a Puritanical wave, enforcing in a Puritanical way, its Sunday law with regard to the sale of intoxicating liquors,
and thirsty Missourians, down in Kansas City, coming over to rabid and prohibition Kansas on the Lord's day to satisfy their craving for beer and whiskey!
"Many good, substantial men of high moral attainments subscribed to these general views of the situation," said Father Hayden, "but when Missouri, in its spasm of virtue, closed the Kansas City saloons
on Sunday, the humor of the situation could not be denied, when the thirsty, by thousands, crossed over the line to quench their thirst. We had a law that forbade the sale of liquor on any day of the week.
Missouri's law forbade the sale on Sunday only, thus, Missourians, denied liquor in their own state on Sunday, came to Kansas, where the manufacture and sale of intoxicants were forbidden altogether."
An eye-witness to this unusual spectacle and many more quite as odd was the Rev. F.M. Hayden, pastor emeritus of the Church of the Assumption, and now finishing in quiet fashion the final years of an
interesting life. Go down some day to 720 Harrison street, the home of Father Hayden, and get him in a comfortable chair on the front porch and persuade him to tell you about some of the things that happened
when he was pastor of St. Bridget's church, in the old First ward of Kansas City, Kan. It is rich and rare narrative.
HALF CENTURY IN AMERICA
Father Hayden is now 69 years old and he has spent 53 years of his life in America. He learned his Latin in his old home, County Roscommon, in Ireland, but emigrated to this country when he was 16 years
old. He was one of the first students at the old Catholic theological seminary that was situated in the building in the rear of the present rectory of the Church of the Assumption and he may be regarded as
a Topeka made priest and one of the first of the line.
SEES LIFE AT ITS WORST
His first important pastorate was in connection with St. Bridget's, in Kansas City's noted First ward. Father Hayden went there in 1880 and for seven years that followed he saw life at its best and at its worst.
In these early days Ireland contributed the bulk of the labor for the packing houses and as it was in the days before rapid transit, the men had to live close to their work. Thus the residential section grew
up within the shadow of the industrial plants which employed the new inhabitants.
But there was little semblance of law and order in those days. The general attitude was to wink at the law; to brazenly defy it, if needs be. Therefore when Kansas passed its prohibition act, Kansas City, Kan.
or the First ward, laughed up its sleeve. The law couldn't be enforced. Moreover, Missouri had its saloons and the First, jealous of its commercial greatness, wanted to keep as much money as possible on
the Kansas side of the line.
PRIEST PROMOTES A COMPROMISE
"I never busied myself attempting to force a strict observance of the prohibition law," added Father Hayden, "and no one else did, for that matter, but I figured in an incident which I venture to say is without
parallel in this country.

"I was eager to have my people go to church on Sunday morning, and I realized that the saloons in the old First offered damaging competition to my church services. I went to the chief of police and told them
that I thought the saloon keepers ought to have sufficient respect for the laws of man and God to close their saloons until noon Sunday, at any rate. I wanted the saloons closed tight on Sunday morning. This, I
figured, would give me a running start on the law violators.
"There were forty-three of those saloons or joints in the First ward. That was a high average for a community of about 5,000 souls, but you remember that these liquor stores drew patronage from all of the
packing house workers, and many more from both sides of the state line. Of the forty-three saloon keepers I knew eighteen of them were either Irish or of Irish extraction and ought to be Catholics. I told
the chief of police that I believed I could persuade these eighteen black sheep of my own faith to close their places on Sunday morning. He made this bargain with me: That if I got the eighteen to agree to
close on Sunday morning he would see to it that the remaining twenty-five closed their places, too.


A SUNDAY "HALF-HOLIDAY"
"I prepared a statement, or a pledge for the Sunday morning closing and I visited, in turn, each of the eighteen saloon keepers whom I knew, either personally or by reputation, and asked them to affix their
their signatures to my statement, agreeing to close on Sunday morning. I signed up every one of them, altho the chief of police told me that there were two particular saloon keepers who would not sign the
agreement. I went to him with my signed statement, bearing the eighteen signatures, and the chief promptly notified the remaining twenty-five saloon keepers of the action, and made a written order that
every joint in the First ward should close until noon the following Sunday. Great was my delight at the first success of the undertaking.
"On the next Sunday there was a greatly increased attendance at my church services, but to my distress, I learned soon after the noon hour that two of the saloon keepers - the very two that the chief had been
suspicious of - had violated the agreement and had been reported as selling their goods by a side-door entrance. I was infuriated and went over to see the chief. He laughingly informed me of the deception
and I begged him to arrest the offenders and to do all in his power to have them fined the limit. That very thing happened, too, and I think all of their ill-gotten profits from that first Sunday business went
into the police court treasury.
"I learned later - and I believed it, too - that the two particular offenders had signed my agreement with no idea of keeping it; rather, they were in a clever scheme to close all the other saloons and thus greatly
increase their own revenues. But the scheme didn't work and the joints in the First ward remained closed during Sabbath mornings for a long, long period.
CRIMINALS ON THE JOB
Father Hayden remained at St. Bridget's until 1887 and during that period he witnessed his full share of the grim tragedies of life, and was called upon day and night to lend solace to the afflicted. Not only was the
First ward fairly infested with saloons of high and low degree, but there were open gambling houses and vice of every known form flourishing in the district.
"But despite these conditions I liked the district." said Father Hayden. "It was a fruitful field for a young priest. You were in combat with the devil night and day. There were murders, robberies, gang fights,
crime of every sort, and it was a nip and tuck battle between the good and bad elements of humanity all the time. The First had a bad name. The crimes, with their attendant publicity, emphasized the wickedness of the
district, yet under the surface, living the tranquil life, was a body of people who were God-fearing people; frugal and industrious and grateful for the freedom and the prosperity that they found in this new
country.

GAMBLING HOUSES BREED EVIL
"Criminals from the outside who were in no sense a part of the First ward's populace made for the crimes chiefly. The gambling houses were patronized largely by men from other sections. Kansas City, Mo., much the
larger city, unloaded its sporting element in the little area where the gamblers lived and thrived. The average First ward resident, if he drank at all, was a beer drinker, and he bought it in tin buckets. But the multi-
plicity of saloons, and gambling houses made the district a breeding place for crimes. Officials who sanctioned the violations of the law became a part and parcel of the invisible circle, which had selfish gain as its sole aim,
and as a consequence the temptations were numerous and hard to resist.
-----------------------------------------------------------------------------------------------------------------

Father Hayden remembers his early time in Topeka - Topeka Daily Capital, August 14, 1921, Page 15 by Steve O'Grady
The late Bishop Fink, finding the Topeka pastorate vacant in 1887, offered it to Father Hayden in the way of a promotion, but the priest, fascinated by the struggles which he had encountered on the old First's
riotous firing line, was loath to leave the zone where he had seen so much of the bitter tragedy of life. But the bishop insisted and Father Hayden, with a degree of reluctance, obeyed his superior. He came here and found
the Assumption parish to be the fruitful and inviting field that the bishop had described it and he pursued his pastoral duties in Topeka continuously until 1914, when failing sight compelled his retirement from active labors.

CONVERTING THE INSANE

"Soon after my arrival here," said Father Hayden, "I thought I saw an opportunity for special work at the state hospital. I had seen many of the patients, some of them not so bad off, and I believed that religion would
do them no harm, anyway, if, indeed, it wouldn't accomplish a world of good. I said the mass at the hospital several times and even heard confession of some of the patients there in order to prepare them for the
sacrament of Holy Communion. As a result of this zeal I nearly lost my life. I had gone to the hospital to hear a confession and was admitted within the locked enclosure. I was two rooms from the locked door and was
admitted within the locked door and was attempting to counsel a harmless patient when another patient entered the room. He was plainly in a highly nervous state and he told me that he had a particular grievance
against a priest, who had been with him on his work the day before, and who had kicked him in the ribs when he failed in his task.

HUMORING A MAD MAN

"Of course, there was no priest around the hospital kicking inmates in the ribs, but I tried to humor the mad man, who was bordering on hysteria. I told him I would have the offending priest horse-whipped and at
once suggested that we go out and find him. He agreed, but I didn't know whether to lead the way or follow. I was expecting the insane man to leap upon me at any moment. I finally went ahead and reached the locked door.
I rapped on it sharply several times and breathed a sigh of relief when the guard opened the door quickly. Once on the outside I directed that he take hold of the man instantly. Simultaneously the lunatic lunged toward me, but
fortunately two additional guards seized him and held him. He had discovered the trick the moment we entered the corridor and there was murder in his distorted mind. As they led him away you could hear the man's hysterical
cries throughout the building. That incident put a damper on my spiritual zeal. I was careful after that as to whose confession I heard and where I heard it.

ADVENTURE ON THE ROAD

Not all the hospital patients were dangerous, however, and Father Hayden, for many years, had favorites among the afflicted out there and one of these used to be permitted to leave the institution and come down to the
Church of the Assumption on Sunday to hear mass.

"The first time I met this fellow in Topeka," said Father Hayden, "was soon after my arrival. I had known him in Kansas City. It happened that I was driving in the vicinity of the state hospital one morning when a man left
a group working in a field beyond and, leaping a fence, stopped my horse and grasped the lines.

"I was startled for a moment, for I had forgotten about the hospital and thought I was a victim of a holdup. Fears were dispelled a moment later when the man came up to the buggy and addressed me by name. I recog-
nized him, remembered that he had been sent to the hospital and was glad to see him looking so well. As I shook his hand he leaned over and whispered in my ear. 'What kind of a celebration are we going to have here
on St. Patrick's Day?

BOOMING ST. PATRICK'S DAY

"I told him that I didn't know the - the month was February - but I assured him that I would bring out a quantity of green ribbon for him and his friends. He thanked me and went back to his work.

"And I made good my promise," concluded Father Hayden. "On the following March 16, I delivered several yards of green ribbon at the hospital and my friend of the road was there waiting for it. That was the first time
in my life that I ever had assisted in the proper observance of St. Patrick's Day in an insane asylum."
__________________________________________________________________________________________
FATHER HAYDEN'S PUBLIC BATTLES
It is certain that the people of the parish most valued Father Hayden's every day service to them. His ability to raise money was legendary as well. The high school building was completed on Jackson street in
March of 1912. The cost of the project was about $10,000 and the Catholics had it practically paid for before it opened in the fall. The first freshman of the school studied at Assumption elementary in 1911-12 school
term. Freshmen and Sophomores continued at the new school. Still, occasionally, his name would appear in the public pages of the newspaper about issues not specifically related to his parish duties. Here are a few
of those stories.
Topeka Daily Capital, December 4, 1892, Page 2 FATHER HAYDEN'S LETTER TO THE "CAPITAL"

J.H. Hudson, Esq,. City:
DEAR SIR, As a representative of a large element of a peaceful and happy community, I cannot fail to acknowledge the attempts made by the CAPITAL durning the past week to destroy the harmony hitherto
prevailing here, and which I hope, your efforts to the contrary not withstanding, will always prevail. The CAPITAL has done its best against the Catholic church and Catholic community, allowing an adventurer to con-
duct the paper. The Catholic community knows it and will not soon forget the fact. Yours respectfully, F.M. Hayden
P.S. - This is not written for publication, but you may use it as you please. F.M.H.
Excerpts from Hudson's Reply - The facts which caused Father Hayden of this city to address the editor of the CAPITAL (in) the above letter are briefly stated as follows. During the week ending November 26,
an ex-priest named Slattery, advertised a series of lectures against Catholicism. He was accompanied by his wife, an ex-nun, who also delivered lectures. Father Hayden was told (after receipt of his letter) in the most
friendly manner that the paper did not pretend to endorse the statements of "Father Slattery," and that the CAPITAL desired at all times to be fair to all denominations.
Further comments from Hudson's strong defense - Everything that helps the town or the people has the endorsement free of charge of the press. It is not, thank God, priest-ridden or under the diction or yoke of
any church, but free to defend what it believes to be right, and denounce as courageously as any pulpit, what is wrong. The threat of our friend Father Hayden counts for no more than a puff of wind in the course of this paper.
I could not find another response from Fr. Hayden. It is easy to assume that Fr. Hayden did not continue to hold a grudge. It is likely that his initial response was a protest against the long history of insulting depictions
of the clergy from "Know Nothing" types that were re-cycled in the late 19th century.
Yet, a search of several articles of the time, resulted in the near complete exposure of Fr. Slattery as an alcoholic defrocked priest. And further investigation proved that his wife had never belonged to any Catholic order.
A visit to Memphis by this duo during this same period, prompted the Mayor to meet them at the railroad station. He took Father Slattery on a tour of Memphis that highlighted educational institutions, public and parochial,
churches and a magnificent hospital erected by the city for the Sisters. The anti-Catholic ex-priest did not seem to show much interest in the Mayor's conversation. The Mayor ended the tour at a cemetery where there was a
monument to the martyrs of the Yellow Fever epidemic of 1878. Over 5,000 of the population died from the disease. The city was about 50,000 in population, but 30,000 left the city at the outbreak. The monument listed the
names of twelve Catholic nuns, 9 priests, 4 Episcopalian nuns and 10 Protestant ministers that died trying to care for the sick. Then the Mayor - who was being criticized by several groups over possible Catholic violence
over the visit by the frauds lowered the boom on Father Slattery.
From THE SOUTHERN GUARDIAN (Arkansas), June 27, 1914 Page 6
"Read the names on that shaft (monument)," the Mayor said to Slattery. "The pastor heads the list. He was one of that race (Irish) to which you are a disgrace. He was Nature's nobleman - benevolent, pure, faithful to
every trust and a lover of liberty. The other men whose names are on there were like unto him. They had neither kith nor kin in our city. Read that long death roll of these devoted women whose earthly names even were
given up for charity. Where can you find a parallel of heroism and Christian devotion?

"Look at the fourth name on that roll of angels. I do not know her (given) name, but she was a beautiful girl, and her voice had the mellow 'brogue' of the south of Ireland. She was stricken down, the terrible death
mark of the plague set its seal on her lovely brow. I, too, was ill. In my anguish I cried to God for help. There was a rustle at my door. That girl robed in black, holding the crucifix in her hand, knelt beside my daughter's bed. Man!
do you think she could die while an angel was caring for her? No, my daughter lived, but her ministering angel died. This is enough. Now to you; Do you think that you can pollute the aid of our beautiful city by your foul slander
of the priesthood and those Sisters? If the men of our city should prove so dastardly recreant to the memory of those noble men and women who gave up there lives for us, the women of our city should rise and stone you to
death. Get your foul presence from our city."
The Mayor in this story is not named and since only the Mayor and Slattery were present, the exact wording of his dressing down can't be confirmed. The basic facts of the Yellow fever epidemic are correct. Father Slattery's
engagement that was so heavily publicized never occurred. The Anti-Catholic groups were active in promoting the idea that Catholics would riot rather than let him speak. The article explains that there was never a threat that
the Catholics would resort to violence and that the chief of police was Catholic.

Father Hayden's indignation over the newspapers acceptance of ads for Slattery's lecture was more than justified. The Topeka Daily Capital defended their right to accept the ad from Slattery's press agent on valid
principles. But - it is also clear that, after the frauds were exposed, the newspaper did take under advisement the admonishment of Father Hayden.


KANSAS MEDICAL COLLEGE SCANDAL
Topeka Daily Capital, December 13, 1895, Page 1
FATHER HAYDEN'S INDIGNATION - Grave of Mrs. Lillis robbed of the body for dissection at the college.

Father Hayden says .. that he will contribute his time and labor towards ferreting out these crimes. Father Hayden said last night that he had read of body snatching but never before had lived in a town where it
actually took place. He said, "This is an awful crime. This affair occurring in the city of Topeka, is something should be thoroughly investigated, and the guilty persons should receive the full penalty of the law."
"In Topeka, where we all know one another, where we live in peace and quiet, where there is seldom if ever a legitimate subject for a dissecting table, the Kansas Medical college as it has been conducted,
is a menace to the community, as its presence indicates that we have no security in the burial of our dead."
The doctors and medical students involved in this scandal survived. The doctors defended various law suits, but outcomes could not be readily found. Apparently grave robbery (body-snatching) for financial gain
through sale to medical schools was a common crime during this era. Father Hayden and other prominent Catholics of the town were key in cooling the initial uproar over the scandal.
FATHER HAYDEN'S DISGUST WITH CARTOONIST, ALTON PACKARD
Topeka Daily Capital, November 23, 1907
"I left in disgust," said Father Hayden last night. "I went there expecting to see something that was funny. Instead of that I saw something that was vulgar, of itself, when the cartoonist showed his so called types of Irish."
"It was a great offense to myself and to members of the Irish race that our forefathers should be pictured and laughed at as something resembling idiots. It was exceedingly painful to the Irish people.
To see our forefathers dressed in old tattered clothes, pipes in their mouths, and their noses turned up, does not appeal to me as very witty. Really it was painful. More than that, these misrepresentations which
the man gave were historically untrue. You do not see them in the East or anywhere else.

"From the trend of the pictures which the man made, about the highest aspirations that an Irishman has is to become a burly policeman. Of course everyone knows that that isn't true. The Irish nationality anyone
will say has just good people as other races, accordingly, and it is serious to misrepresent them so shamefully.
In the party with Father Hayden, were his sister, Miss Hayden; Rev. Father P. McIntyre, assistant rector of the Church of the Assumption and Rev. Father McManus of New York City.
Packard's response: "I certainly did not aim to be partial to one race more than to another. This is the first objection of this kind I have heard in my eleven years' experience. I did not see members of this party
leave the audience. I surely did not aim to wound anyone's feelings. I cartoon the Hebrew and the Englishman just the same as I do the Irishman. They all seem to laugh at it, as a rule, with the exception of the Englishman.
And by the next day, after seeing the cartoon, the Englishman is able to get an inkling of the joke and he too laughs. "
Alton Packard was popular in the lecture circuit of the time. He was a quick-draw chalk artist that could also provide commentary as he drew his cartoons. He appeared mainly in small cities and rural areas - with an
occasional date in larger cities of the Midwest and South. He is long forgotten now - but Fr. Hayden was incorrect when he said in the paper that this type of routine was being driven from the stage.
Packard used it for several years after this incident. The Chanute Sun (11-25-1907) described his performance from an earlier appearance there.
"Chanute people who attended the entertainment here will remember the series of pictures, THE METAMORPHIS OF THE IRISH." The first generation was Mickey O'Reilly ... who wore a slouched hat,
smoked a clay pipe and had an upturned nose. Second Generation was a policeman dressed in helmet and blue uniform - Officer O'Reilly. The next generation appeared to be an exceptionally corpulent individual, well
dressed, including a silk tie. He called him Mr. O'Reilly, alderman from the 19th ward. Then came the politician's son - a "Willie Boy" with a brimless hat and the inevitable cigarette.

Father Hayden was a well educated and highly cultured individual. He used harsh words to describe his feelings about the performer. "Some of the members of my party would have been tempted to rotten-egg him. In more
than one case the players have been rotten-egged as should be done with an outrage of this character. It is highly improper that any race has to be subjected to this sort of ridicule, and it is a thing that I can not let pass
without protest."

------------------------------------------------------------------------------------------------------------------------------


INTIMATE INTERVIEWS by Florence Welch, Topeka Daily Capital, December 10, 1911
excerpts from "A visit with the Very Reverend Francis M. Hayden, in the Deanery.
"I have always relied on the good will of the people and I have never been disappointed." This is a statement which was made the other day by the Very Rev. Francis M. Hayden, rector of the Church of Assumption
Perhaps this confidence which Father Hayden places in the people is a partial explanation of their regard for him. Certain it is that there is no man in Topeka, of whatever creed or of whatever class, who is spoken of
more kindly by everyone who knows him than Father Hayden.
"If you intend saying anything in the paper about me," said Father Hayden, "I should, of course, like to be understood as being, first of all, a Kansan, and a Topekan. Irrespective of creed, the people of the city have
always extended every courtesy and every kindness to me. There has been much of the spirit of old-fashioned kindness between us."
Old-fashioned kindness - that is just the term I should have expected him to use; the smooth, low gentleness of his voice sounds as though he would have said it and the rather radiant, kindly expression in his face looks
as though he would have said it. I am inclined that "old-fashioned kindness" is part of Father Hayden's religion and has become a habit with him.
Father Hayden says that the duties of a priest are variable and that no two of his days are spent in the same way. "I never know when I retire at night at what moment I shall be called to go to the sick of the parish,
and to administer to their wants."
"And in the case of contagious diseases?"
"We take our chances - we go anyway," said Father Hayden.
Father explained that the saying of masses, the hearing of confessionals, and the duties inside the church, are only a portion of the work which demands the attention of the priest. "In the Catholic church," said Father
Hayden, "the support of the church, the construction of buildings, all the expenses connected with the schools and the church, are kept up by voluntary contributions from the members." And during the years that Father
Hayden has lived here he has not only paid off heavy debts which rested on the church when he came, but he has increased the property of the church until now there is not only the church and the deanery, but a residence
for the sisters and two school buildings, one a high school building which is just now being completed.
It seems that Father Hayden has been inclined to conservatism in his policies and that he has not attempted those things which he has not been able to accomplish. "I do not like to have my people in debt, so we have built only
as we could pay for our buildings," he said. In the new high school there is now only one year of the four years' course which is offered to the students, another course will be added next year, and the next year another course,
until finally the four courses will be installed.
One would expect that, going about from morning till night, from day to day and from year to year, ministering to the wants of his people - some 2,000 of them - helping them in trouble and sickness, teaching them, and
preaching to them, devoting his years to them, that Father Hayden would have won the affection and respect of his own people. That is quite natural. It does not necessarily follow that he would also have gained the
friendship of those people who are outside the Catholic church, "the friends who are separated from us," as he speaks of them. But he has.
---------------------------------------------------------------------------------------------------------------------------------------------------------
IRISH LAND LEAGUE & FATHER HAYDEN'S POLITICS

Through various sources it has now been proven that Fr. Hayden's brothers were very involved in the politics of Ireland. Francis Hayden was the son of Luke Hayden and Mary (Stroker) Hayden of Roscommon. They had a large family that included Bernard Hayden who was also a Catholic priest who pastored in Solomon, Kansas. Fr. Bernard Hayden also had serious vision problems and was assisted by his sister Therese. After Fr. Bernard died in 1905, Therese married and moved to California. Other siblings of Topeka's Fr. Hayden were Thomas, Luke Patrick, Richard, Joseph M, John Patrick and the previously mentioned Catherine (Kate).

Luke Patrick Hayden and John Patrick Hayden were important figures in Irish political history and rate pages on Wikipedia (follow the links). Both were Members of Parliament and both spent time in British prisons for advocating "nationalist" causes. The "Coercion Acts" of the 1880s resulted in the imprisonment of many of the Irish land League supporters. These acts allowed imprisonment without trial. Of course, this was a reaction to the boycott practices used against landlords and those who did not participate in the boycotting. It was a time of agrarian violence as well that the League did not support but authorities often accused them of sponsoring.
These Irish connections explain why Fr. Hayden was active in promoting fund raising for the league in 1881. The fund raisers in the United States were key in the support of the League during the time of imprisonment of their leaders. The two brothers listed above were also newspaper publishers. This could explain Fr. Hayden's good relationship with the Topeka press.
Topeka Daily Capital, September 3, 1910, Page 4
FATHER HAYDEN IS HOME AGAIN
Home rule for Ireland - this is the encouraging news to friends of the doughty island which the Very Reverend Dean Hayden brings back from a five months trip to England and Ireland, where he spent a
week of visitation at Parliament, a chatty day with John E. Redmond, the Nationalist leader, in the latter's London gardens and a fortnight or more of sojourn in and about Roscommon, the old Hayden home town.
"It is not generally known that home rule is so near of realization," said Father Hayden, who returned Thursday evening from abroad. "In fact it has been kept rather secret that this conference ( a bi-partisan
meeting of Liberal and Conservative MPs) would surely result in what Ireland has been fighting for all of these years. But my information, through my talk with Mr. Redmond, with whom I spent a day in London,
and through my brother, John P. Hayden, who is a member of Parliament, is correct and I am glad to have you tell the people of it.
"The National Irish league of this country has done a great deal of good for the cause and several of the Irish leaders will come over to this country this fall to address the league at a meeting at Buffalo.
T.P. O'Conner, Joseph A. Devlin and John E. Redmond are among those who will come and it is probable that they will come as far west as St. Louis.
"The condition of the Irish peasantry is much better than what it used to be, better than what it was five years ago on my last trip home. The government has secured by purchase a number of estates and
in the more congested districts is selling small tracts of these estates and building comfortable homes on them.The cost to the purchaser is merely nominal, for they are given 68 years to pay in. The people are
more contented, they are prospering and live better. Before this it was all tenantry, the people who tilled the soil had no land of their own and the system made it a hardship on the people. It is rather hard for us
over here to understand such a system for the governments there partake of paternalism, something which we are unaccustomed to in this country where we are independent and are too proud to accept help. The
potato crop is badly damaged in some portions of Ireland by excessive rains; you know the rains bring on the blight.
"My old country is a beautiful place and the tourists have found it out for there were more of them there this year than ever before. It was a record year for tourists from the United States. The boats were crowded in going
and many will have a hard time securing passage on board returning and unless they come over now will have to wait a while.

____________________________________________________________________________________________________________________________

FATHER HAYDEN'S BROTHERS & FAMILY IN IRELAND
Topeka Daily Capital, July 27, 1897, Page 5
FATHER HAYDEN'S BROTHER DEAD
The deceased, Luke P. Hayden, and his brother, John P. Hayden, both brothers of Father Hayden, have all their lives been devoted to the Nationalist party in Ireland. In Parliament the deceased member had
always been an aggressive champion of Nationalist principles and was one of the valued colleagues of John Stewart Parnell. For his devotion to the Irish national cause he suffered persecution and even imprisonment
for his utterances on the hustings.

The DUBLIN INDEPENDENT: "The announcement of the death of Mr. Luke P. Hayden, member of Parliament from South Roscommon, will be read today with genuine regret by friend and foe, if so gentle
and genial a man could have a real foe. He never lost a friend or made an enemy. This is very remarkable when it is remembered that no man held to his political opinions with greater tenacity, expressed them
with more force, or threw himself at every emergency in the strife with higher courage or more grim determination.
"Amongst his colleagues he was beloved and his death will be mourned by Mr. Redmond and all the members of the Parnellite party as that of a brother. With regard to the place he held among his constituents
of South Roscommon, it was unique. They respected and loved him. He was their Nestor, though comparatively young in years.
The WESTMEATH EXAMINER says: "In his young days the deceased entered the fight for Irish freedom and was a pillar of strength for the cause at a time when Ireland needed friends and the downtrodden
people men to lead the way for them out of the bondage and thralldom in which they were then sunk. "


Leavenworth Times, December 25, 1901, Page 3
IRISH MEMBER OF PARLIAMENT SENT TO PRISON
Topeka, Dec 24 - The dispatches Sunday contained a story from Dublin, Ireland, to the effect that John P. Hayden, an Irish member of parliament had been imprisoned for inciting a riot and urging the renters
to "rise". This Irish politician is a brother of Father Hayden, the noted Topeka Catholic priest. Father Hayden said that this is the fifth time his brother had been jailed for the same kind of an offense and that
he really expected it this time. "The alleged infraction of the law occurred about six weeks ago," said he, "but the delay of sentence was arranged in order to force my brother to spend Christmas in jail."
Topeka Daily Capital, September 3, 1910, Page 4

TRIP ABROAD

"I had a pleasant visit with my old mother, Mrs. Mary Hayden, at Roscommon. She is now in her 86th year, bright, alert,intelligent. Unlike many old people she does not live in the past, but in the present and
future, keeps abreast of everything that is going on and reads constantly, good, solid stuff. She does not seem to have grown older since I was there five years ago, and you would not take her to be much over 60.

"My brother, John P. Hayden, M.P. is a newspaper man by profession and owns papers both at Roscommon and Mullingar, living at the last named place.

"A curious incident occurred in London. While my sister (Kate) and myself were taking luncheon at one one of the large restaurants we saw a notice that unless we ordered liquor with our meal we would have to
pay a six pence extra. As my sister and myself are teetotalers we ordered ginger ale in order to get around the extra charge. I thought it was a joke. Over here we are fined if we do take a drink and over there it
was just the reverse.

Several operations as a cure for throat trouble from which Dean Hayden has been suffering turned out very successfully and he was in exceeding good spirits as a result. "The trip was mainly to secure rest and it
has done me good," he said.
_________________________________________________________________________________________________________________________

Father Hayden and his faithful dog "Mutt"
TOPEKA TINKLINGS by Charles H. Sessions, Topeka Daily Capital, September 19, 1920, Page 15
Father Hayden, the friend of all in Topeka, gets most of his exercise by walking. You can see him most any morning or evening taking a hike. Tagging close to his heels you will always see a little yellow dog about
the size of a jack rabbit. It is a "one man dog." It only acknowledges one master. Mary's Little Lamb had nothing on that dog when it comes to "following."As ugly as it is and perhaps as worthless, Father Hayden
would no doubt pay a tax of $50 a year on it rather than let it go into the hands of any one who would mistreat it.
TOPEKA TINKLINGS by Charles H. Sessions, Topeka Daily Capital, December 25, 1921, Page 16

While Father Hayden was talking , his little shaggy brindled dog, which always accompanies him, stood near us snapping at flies. Of course there were no flies in the room. But he dog thought there was and he
seemed to greatly enjoy the sport. Tom McNeal and Harold Chase got into an argument over the matter. Harold claimed the dog was just keeping in practice for next summer. Father Hayden attributed it to a speck
on the dog's eyeball. He said the dog was always imagining that there were flies around and was continually catching them.

Topeka Daily Capital, August 7, 1926

The headline read " GRIEF STRICKEN BY DEATH OF FATHER HAYDEN, DOG WANDERS OUT IN FRONT OF CAR, KILLED. "
"Grief stricken over the death of his master, 'Mutt', the faithful old pet dog of Father F.M. Hayden, who died Thursday night, wandered in the way of an automobile yesterday and was killed.
The accident happened in front of the Father Hayden residence, 720 Harrison street. For many years Father Hayden and the dog had been inseparable friends. Mutt was about 17 years of age. The venerable priest never went for a walk without being accompanied by the little dog. When they came to a crossing the dog would look up and down the street both ways. He then would cross, turn around to see if Father Hayden was coming and wag his tail until his master had made his way across the street. ..... It probably is better for Mutt that he is gone. No one could take the place of Father Hayden and Mutt was really lost without him."
Or, the sentimental observer might just say that Mutt followed his master's last call.