Priest/Coach Return to Coaches HOME
Fr. George Burak 1942-43
Father Burak was born April 17, 1915 in Throop, PA. He competed in athletics at St. Bonaventure College. Fr. Burak coached the basketball team in the 1942-43 season when Coach Hess was called into military service. He also started out as football coach in the fall of 1943 when he was transferred to Kansas City after coaching only one game. He was a teacher and Athletic Director at Ward High School in Kansas City from 1944-1961. His last post was pastor at Immaculate Conception in Louisburg, Kansas. He died May 6, 1982.
Football Coach (0-1)
Basketball Coach (4-9)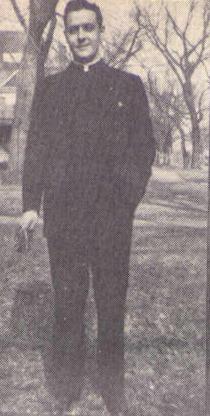 Fr. Edward Smith - from 1945 Yearbook
Fr. Edward R. Smith 1943-45
Father Smith took over as basketball coach for the 1943-44 and 1944-45 season. He also coached football in 1944. He graduated from Creighton High School and played varsity basketball at Creighton College in Omaha, Nebraska.
Football Coach (2-7)
Basketball Coach (6-18)
Fr. Henry Gardner 1945-47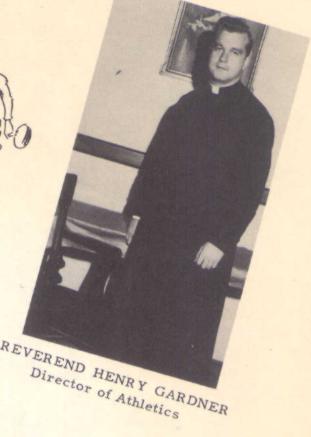 Father Gardner was the school's Athletic Director in the 1940's. I need to do more research on him. Some sources stated that Fr. Smith was the coach of the football team in 1945 - but newspaper reports suggest that assistant Corporal Nate Long was handling the team for the first game against the Topeka High B team. The next few newspaper game reports do not refer to a Hayden coach. Fr. Gardner is referred to as Athletic Director and I assume coach of the team before the 10/26/45 Highland Park game. Until I can confirm otherwise, Fr. Gardner will be listed as football coach for 1945. He served as basketball coach for the 1945-46 season. He took over the basketball team for the 1946-47 season when Coach "Bow Wow" took off for California. He hired Coach John Starbuck as football and basketball coach. I am not sure when he left Hayden - but I think he served in a high position within the Archdiocese.
Football Coach (2-7)
Basketball Coach (2-7)