Barney Byard 1953-58 Coaches HOME Updated 2/22/2005
Barney Byard was hired by Fr. Scully in June of 1953 to replace Al Lee as football coach and to assist Ken Bueltel as basketball coach. He graduated from Ward High School and Rockhurst College in Kansas City. He served in the Navy from 1944-46 before returning to Rockhurst where he lettered in football 4 years ( 5 including the war year of 1943).
His first coaching job was as an assistant football & basketball coach at St. Agnes (MIEGE) from 1950-1951. He became the head football and basketball coach during the 1952-53 school year at Redemptorist in Kansas City, MO where he compiled a 6-2-1 record in football.
Coach Byard's first year was lacking much of an offense. That was turned around the following year and the team shared the Jayhawk League championship with Holton. The best win-loss record was accomplished by the 1956 squad (7-2). The Independent status of Hayden in this era allowed the scheduling of Topeka High and his teams defeated the Trojans in 1957 and 1958. Coach Byard resigned after the 1958 season and became established as a CLU for New York Life Insurance Company here in Topeka, KS. His legacy was the establishment of sportsmanship on and off the field in cooperation with the faculty and other coaches at Hayden. Ken Bueltel said "we are losing a man who has been a tremendous asset to the school ... It is immeasurable all the good he's done." (11-19-58 TDC)
FOOTBALL: Won 23 Lost 30 Tied 2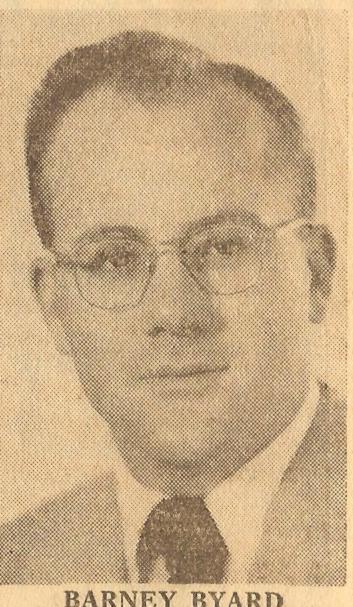 Newspaper photo announcing his hiring in 1953
Coaching at Hayden field in the 1950s : Coach Byard and Bueltel in the south end zone.