Leroy Brungardt HOME Return to Coaches Update June 16, 2006
Coach Brungardt graduated from St. Joseph's Military (Hays) high school in 1956. He attended St. Benedict's college his freshman year but decided to play at Ft. Hays State during his sophomore year. He returned to play at St. Benedict's and started for the Ravens in 1958 & 1959. He initially served as an assistant to Matt May at Hayden for the 1961 & 1962 football seasons.
He returned to his old high school in 1963 and compiled a 26-14-2 record. The St. Joseph Cadets were ranked in the top 10 AP poll of best Kansas high school football teams in 1966 and 1967. The 1966 team was undefeated and finished with a #5 ranking. He was hired as football coach at Hayden in 1968.
Coach Brungardt was a dedicated coach and in his third season Hayden won it's first undisputed Centennial League football championship (1970). The 1971 group was the first Hayden football team to qualify for the KSHSAA football play-offs and reached the semi-finals. He pursued a business career in insurance after his time at Hayden and also worked for the Kansas Department of Insurance. He was also a well respected game official for many years in this area. **
Leroy Brungardt is still an avid fan of athletics and can be found at most Hayden football and basketball games supporting the Wildcats.
** Update - Coach was honored by the Topeka Official's Association with induction to the group's Hall of Fame in March 2007.
WON 24 LOST 30 TIED 1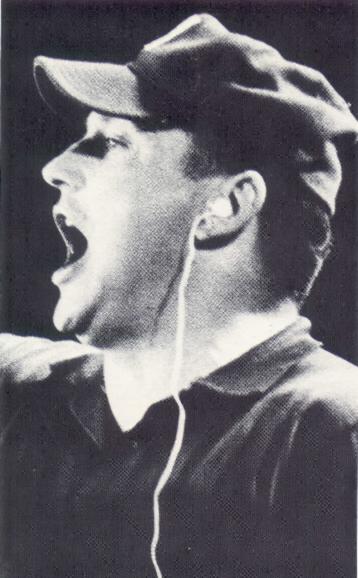 Yearbook photo: Coach shouts instructions to players in 1971 game
CLASS
LEROY BRUNGARDT
W
L
T
AA
1963
ST. JOSEPH'S-HAYS
5
3
1
AA
1964
ST. JOSEPH'S-HAYS
3
6
0
AA
1965
ST. JOSEPH'S-HAYS
4
4
0
AA
1966
ST. JOSEPH'S-HAYS
8
0
0
AA
1967
ST. JOSEPH'S-HAYS
6
1
1
AA
1968
HAYDEN
4
3
1
4A
1969
HAYDEN
2
7
0
4A
1970
HAYDEN
6
3
0
3A
1971
HAYDEN
8
3
0
3A
1972
HAYDEN
2
7
0
4A
1973
HAYDEN
2
7
0
50
44
3