Al Lee took over as football coach after John Starbuck's departure. He graduated from Notre Dame and played football there as a fullback in 1941. He played some professional football (Long Island Indians) & then served 45 months in the Navy, mostly as a fighter pilot. He was a high school coach in Greenfield, IL (1946-47). He served as an assistant football coach at St. Benedict's in 1949.
He led the team left by Starbuck to an undefeated season in 1950 - although he down played the team's chances in pre-season interviews. Hayden won the Jayhawk League football championship all 3 years that he coached the team - 14-0 in league play. The basketball team, under his leadership, also won the league championship twice. His players held him in great respect as a man and as a coach.
He left at the end of the 1951-52 school year to be a coach at Reitz Memorial High in Evansville, IN. Married and the father of three, he needed the better job offered and the location was close to his native state of Illinois. *He was the head coach of the football team from 1953-1955 with a record of 8-16-4. No more information at this time on Coach Lee's life after 1955.
FOOTBALL: Won 22 Lost 5 BASKETBALL: Won 34 Lost 11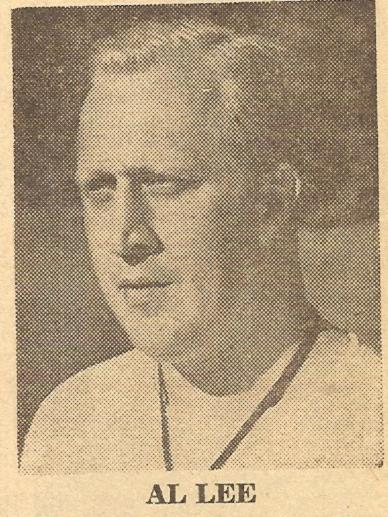 Newspaper photo that ran with story announcing his hiring at Hayden