1960-64 Football Return to Football Year-by-Year HOME Updated October 26, 2009
The football program at Hayden bottomed out in the early 1960's. The 1960 squad tried their best - but were overpowered by the majority of the teams on the schedule. The roster was depleted by many injuries and the team did well to hold teams to under 30 points near the end of the season. Coach Matt May was brought in to turn things around. His first year was a flop , but year two showed some improvement as Hayden got good wins over Seaman and Atchison. Centennial League competition helped the football program focus on goals not available as an Independent. Coach May's last year with Jim Kamer as quarterback was the best finish by a Hayden football team in the 1960's.
*************************************************************************************************************************
1960
Joe Hammerschmidt
1
8
0
9/16/60
Washburn Rural
L
6
14
Washburn Rural
9/23/60
Seaman
L
0
26
Hayden Field
10/1/60
Rockhurst - Kansas City
L
0
58
Kansas City
10/7/60
Ottawa
W
20
19
Hayden Field
10/14/60
Haskell - Lawrence
L
0
41
Lawrence
10/21/60
Highland Park
L
14
35
Hayden Field
10/28/60
Topeka High
L
0
22
Moore Bowl
11/6/60
Christian Bros - S.J.
L
7
26
St. Joseph, MO
11/13/60
Miege - Kansas City
L
0
20
Kansas City
1960 TDC Poll State Champions: Lawrence Lions (Class AA) Phillipsburg (Class A) Sublette (Class B)
Lonesome end Bob Charay provided the offense in Hayden's only win of the season against Ottawa. A trick play had John Schultz pull from his guard position to take a handoff and then pass to Charay for 43 yards to set up a 3rd quarter TD run by Bill Cushing. Tom Meier passed to Charay for another TD three minutes later. Charay came thru again by blocking an extra point kick in the 4th quarter to preserve the victory for Hayden. The "lonesome end" reference described the end taking up a position very near the sideline. Sometimes, he would briefly visit the huddle and then run off to his position early and act as if he was going to the bench - but stop and get set right inside the boundary line. The team would then break the huddle and sometimes an inattentive defense would lose track of Charay leaving him wide open for a pass reception. Other times, Charay would not join the huddle at all - just stayed alone at his near sideline position. The offense also used this position with some success in the loss to Highland Park.
Unfortunately, this season was mainly an exercise in physical survival. My brother, Rich Macfee, considered himself lucky to be injured for the game against Rockhurst. The Kansas City team scored 58 points and ran up 466 yards rushing - Hayden crossed the 50 yard line once in the entire game. Rich got his chance to play again against Ottawa and got his front teeth knocked out. Many other players were sidelined with injuries and came back to play gamely in losses to Topeka High, Miege and Christian Brothers. The Miege game was a good example of Hayden players giving good effort (several goal line stands) but simply unable to generate any offense against the 8-1 Stags.
SENIORS not mentioned above: Pat Fagan, Lupe Escalante, Dick Durow, Terry Ulrich, John Eakes, Dennis Waetzig, Frank Valdivia.
1960 Statistics
RTD
PTD
RCTD
PAT
PAT-K
FG
RA
R YDS
CT
RCYDS
PA
C
PYDS
INT
S
TP
Bob Charay
4
1
20
355
1
27
Bill Cushing
2
31
136
10
139
12
Lyle Schiefelbein
1
14
72
4
63
6
Dennis Waetzig
1
3
-1
1
2
1
John Schultz
2
1
40
98
1
4
64
19
292
1
Tom Meier
2
21
36
26
13
191
0
Lupe Escalante
14
32
9
3
34
0
Ed Herman
13
52
1
10
0
Terry Ulrich
13
25
2
8
5
1
9
0
Ed Tucker
1
7
0
Ramberg
2
6
0
Renteria ?
1
1
18
0
Valdivia
2
3
0
Rockhurst Game*
77
13
13
TEAM/No Account
-14
8
58
516
615
615
47
* Individual Yardage not available
*******************************************************************************************************************************************
1961 TDC Poll State Champions: Manhattan Indians (Class AA) Fredonia (Class A) Perry (Class B)
1961
Matt May
0
8
0
9/15/61
Washburn Rural
L
7
24
Hayden Field
9/22/61
Seaman
L
0
20
Seaman
9/29/61
Highland Park
L
6
20
Highland Park
10/6/61
Topeka West
L
6
7
Hayden Field
10/13/61
Ward - K.C.
L
7
20
Kansas City
10/20/61
Miege - K.C.
L
13
19
Hayden Field
10/28/61
Topeka High
L
0
41
11/5/61
Christian Bros - S.J.
L
0
27
St. Joseph, MO
1961 Statistics
RTD
PTD
RCTD
PAT
PAT-K
FG
RA
R YDS
CT
RCYDS
PA
C
PYDS
INT
S
TP
Ed Herman
1
3
2
97
360
14
164
26
John Sparks
1
2
1
48
110
2
21
22
12
118
7
Bob Lee
1
9
-1
8
2
37
6
Sam Pizzo
1
28
-2
49
19
216
0
Joe Grace
5
-5
1
30
3
3
21
0
Don Gregg
23
67
1
19
1
0
0
0
Perez
32
120
0
Monroe
10
40
1
-5
0
Gary Sterling
2
34
0
Ed Tucker
12
106
0
Vickers
1
2
0
Jim Carson
1
2
0
Duff
2
11
0
Bowman
1
6
0
Unknown
6
693
392
392
39
10-20-1961 Sparks 42 YD Punt return included in RTD
*************************************************************************************************************************
1962 TDC Poll State Champions: Lawrence (Class AA) Columbus (Class A) Victoria (Class B)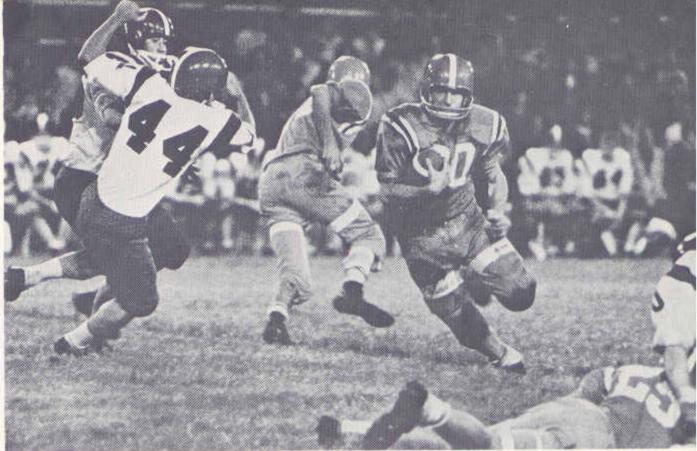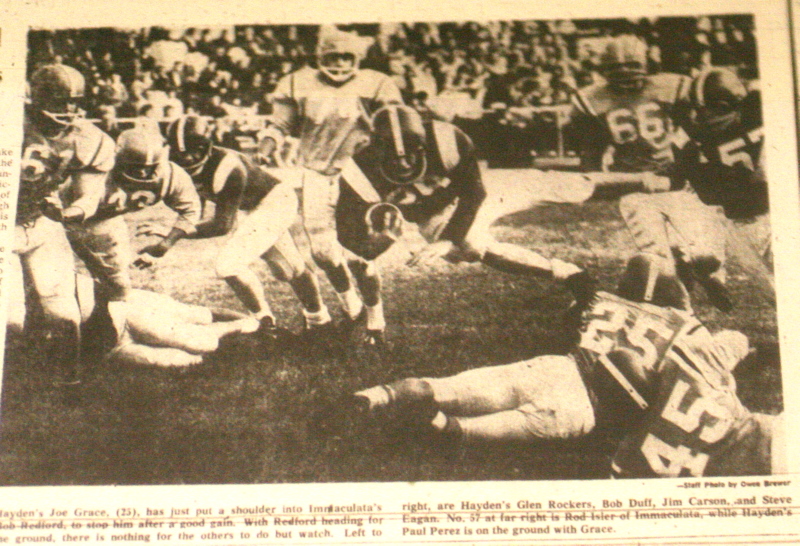 Ed Herman follows block from Joe Grace. HAYDEN vs SEAMAN. Rich Clarkson photo - Topeka Daily Capital 9-22-62 Hayden defenders stop Immaculata runner - Topeka Daily Capital 11-12-1962
This football season began with a rain-postponed game against Washburn Rural that did not give Hayden fans much encouragement. Dave Hupp was one of the best running backs the city had ever produced back in 1962. He lead the 25-0 Rural victory with 124 yards rushing. Coach May's Hayden record cratered at 0-9.
Despite the opening game result, an overflow crowd was in attendance at Hayden field for what was considered, at the time, a big upset. Coach May employed routine T formation plays that used Ed Herman as the Hayden workhorse. He carried the ball 33 times for 116 yards. The next three games resulted in losses for Hayden. There were encouraging signs in the close games with Highland Park and Topeka West. Hayden turnovers were key to both losses as Hayden had a statistical edge in total yards gained. Ward was a strong team that was undefeated. They scored 3 of their TD's on big gainers.
Running back Bob Lovely scored a rushing TD and Sophomore QB Jim Kamer passed to Herman for the other TD that accounted for the 14-0 win over Atchison.
Even though Topeka High swamped Hayden 33-13, the Wildcats played the Trojans even in the second half. Levi Lee was one of the great running backs that ever played at Topeka High. He had four TD's and 118 yards rushing. Hayden's season was supposed to end with the final league contest against Haskell. The Wildcats had a great game against Haskell that produced the most points by a Hayden team since 1951. Haskell was struggling in their final year of existence, so the second team for Hayden played after the starters built a 27-0 halftime lead.
Athletic Director Ken Bueltel convinced Immaculata of Leavenworth to play a rare Sunday afternoon game against Hayden to fill out the standard nine game high school schedule. The Raiders had a 6-2 record and accepted the offer from their old basketball coach. Hayden gambled on 4th down in the 4th quarter for a 48 yard TD pass by punter Joe Grace to his "old buddy" Ed Herman. The defense scored a near TD late in the 3rd quarter when Steve Eagan blocked a punt that was recovered by Hayden on the two yard line. Grace scored from there on the first play of the 4th quarter. This was the last time Hayden played a game on Sunday.

Poor quality copy of microfilm image that shows Ed Herman rushing for a TD after catching a Joe Grace pass off a fake punt. The person in the overcoat walking along the sideline yelling encouragement is AD Ken Bueltel. Mike Tharp is running down the sideline with a clipboard. Topeka Daily Capital November 12, 1962.
1962
Matt May
4
5
0
9/17/62
Washburn Rural
L
0
25
Washburn Rural
Centennial
9/21/62
Seaman
W
15
7
Hayden Field
Centennial
9/28/62
Highland Park
L
14
20
Hayden Field
Centennial
10/5/62
Topeka West
L
12
14
Moore Bowl
10/12/62
Ward - Kansas City
L
6
27
Hayden Field
10/19/62
Atchison
W
14
0
Atchison
Centennial
10/26/62
Topeka High
L
13
33
Moore Bowl
11/2/62
Haskell - Lawrence
W
39
6
Haskell - Lawrence
Centennial
11/11/62
Immaculata-Leavenworth
W
25
19
Hayden Field
Ward game yardage not available
1962 Statistics
RTD
PTD
RCTD
PAT
PAT-K
FG
RA
R YDS
CT
RCYDS
PA
C
PYDS
INT
S
TP
Ed Herman
3
5
108
532
15
394
48
Joe Grace
3
1
1
54
287
3
78
4
3
80
24
Bob Lovely
3
1
54
295
1
13
24
Jim Carson
11
11
Jim Kamer
1
42
41
1
16
43
18
427
6
Doug Monroe
1
25
76
6
Phil Friedl
1
10
76
6
Dennis Butler
1
1
7
6
Mike Pendergast
1
6
Bowman
1
2
Paul Perez
9
33
0
Mike Kennedy
3
16
0
Bob Duff
1
6
0
TEAM
2
4
4
0
1365
511
511
139
11-2-1962 Pendergast 15 Yd Blocked Punt return included in RTD
*************************************************************************************************************************
TDC State Champions: Lawrence (Class AA) Mulvane (Class A) Osage City (Class B)
The fact that Washburn Rural was riding a 21 game winning streak into the opener made the 8 point loss a little easier to swallow for Hayden fans. The game was not as close as the score indicated. All-State running back Dave Hupp racked up 243 yards on the ground for Rural. Joe Grace provided the highlights for the Hayden side with 2 TD's on a 75 yd KO return and a 57 yd pass reception.
Hayden satisfied alumni with a blow-out win over Seaman. Steve Eagan, Jamie Trice & Larry Barnes were cited in the TDC game report as the main contributors in limiting Seaman to -1 yards rushing.
The largest Hayden Field crowd in history (3,500) came out for the game against Topeka West. The visitor's side was much smaller in those days and the home side had fewer seats than the current Hayden side. Fans were allowed to stand much closer to the field . It was common to have a large crowd standing at the end of each end zone. Jim Kamer hit Jerry Simecka for a score right before halftime that gave Hayden a 7-6 lead. Topeka West's ground game limited Hayden possessions in the 2nd half. Jim Kamer was pressured and had a couple passes intercepted. One was returned for a TD ending any hope of a comeback.
The best played game of the year was the upset win over Atchison. Steve Eagan's block of the punt attempt by Atchison QB Pete Enich late in the 4th quarter resulted in a recovery by Simecka on the Atchison 13 yard line. QB Kamer pitched to halfback Joe Grace who passed to Pat Dickey for the winning TD with only a few seconds left in the game. The loss prevented Atchison from claiming an outright league championship. Sophomore Steve Gibbs was a key contributor on offense in this game. He gained playing time when Grace was injured in the Leavenworth game.
The Kansas City teams* were tough to beat in the 1960s and Hayden limped into the final against Highland Park. Reserve QB Dennis Butler came on to lead the team in a comeback win over the Scots. This win allowed Hayden to tie for third with Washburn Rural in the Centennial League. Simecka and Trice were named to the Centennial All-Star 1st Team. Steve Eagan and Joe Grace were named to the 2nd Team.
*Excerpts from Bob Hartzell's Schoolboy Scene : Topeka Daily Capital
Hartzell was a columnist and reporter for the Topeka paper who devoted a full column ( around 1,000 words) to Hayden's preparation for and game against Ward. He spent the week following Hayden through their practice schedule. He described how Hayden would start preparing each week with a meeting of the coaching staff at Coach May's house. They would review game film from Friday's game and the film, if available, of last year's game against the upcoming opponent. Monday would see a 3 hour practice and a review of game films at the end of practice. Tuesday and Wednesday consisted of the most important days of preparation. The coaches would go over the offense and defense in reaction drills. Coach May told Hartzell, "We usually work for about two hours if everything goes well. It depends on how long it takes to get through the orientation. "
Wednesday' s routine would include a lot of contact work. Coach called off hitting on Thursday but would spend a couple of hours with 3 teams running through offensive and defensive plays. If the coaching staff felt that the players were well prepared, they did not see them again until they suited up for the game. If they thought they had problems, they had a team meeting after school on Friday.
Hartzell spent time in the locker room prior to the game, at halftime and after the game. Hartzell reported the halftime comments of Coach May and his defensive coach Bill Orth. Coach May: " You do it (play football) all week in practice. I don't know why you can't do it on Friday night. This second half I want to see some blocking from you lineman and some running from you backs." Then Coach Orth is quoted. " You people are getting in the right places just like you should, but you're not doing anything when you get there. Let's take some chances, take some gambles. Just hit somebody. That's how you play football."
Hayden played better in the second half, but lost to Ward 14-7. Coach May after the game: "Now, you see what you can do when you go out there and play the kind of football you're capable of ? It's just a shame we had to waste a half before we decided we wanted to play." Ward was ranked at the time as #7 in CLASS AA in the state and Coach May described them as "overall, the strongest team we've played this year."
1963
Matt May
4
5
0
9/21/63
Washburn Rural
L
19
27
Hayden Field
Centennial
9/27/63
Seaman
W
25
6
Seaman
Centennial
10/4/63
Topeka West
L
7
19
Hayden Field
10/11/63
Leavenworth
L
7
14
Leavenworth
Centennial
10/18/63
Shawnee Heights
W
19
0
Centennial
10/25/63
Atchison
W
21
14
Hayden Field
Centennial
11/1/63
Ward - Kansas City
L
7
14
Kansas City
11/8/63
Miege - K.C.
L
0
14
Hayden Field
11/15/63
Highland Park
W
13
12
Highland Park
Centennial
1963 Statistics
RTD
PTD
RCTD
PAT
PAT-K
FG
RA
R YDS
CT
RCYDS
PA
C
PYDS
INT
S
TP
Joe Grace
4
1
1
76
248
5
138
6
2
21
30
Steve Gibbs
1
2
99
484
9
170
6
4
91
18
Jim Kamer
1
5
8
10
13
74
23
355
14
Pat Dickey
2
5
31
12
Jerry Simecka
2
11
129
12
Bill Glenn
2
17
75
12
Lonnie Hansard
1
40
148
1
18
2
0
0
6
Mike Kennedy
1
28
97
6
Phil Friedl
1
10
53
2
42
6
Dennis Butler
2
11
35
13
8
136
0
Steve Eagan
2
2
Bob Hack
7
44
0
Perez
4
13
0
Duff
2
17
0
TEAM or No Account
148
51
-7
0
1358
596
596
118
9/21/1963 Grace 75 Yd KO Return included in RTD
**************************************************************************************************************************
1964 TDC Poll State Champions: Lawrence Lions (Class AA) Goodland (Class A) Wathena (Class B)
Coach May was optimistic about his backfield of Kamer, Glenn, Gibbs and Friedl and all of those named were prominent in the opening game win over Washburn Rural. Hayden used the halfback pass to Art Gonzales for a TD that provided the winning margin. Phil Friedl left the squad after this game and Mike Rush covered his spot in the backfield very well.
QB Jim Kamer came to life against Seaman with two pass connections with Steve Gibbs for TD's. The two wins over the long time rivals gave the team a lot of confidence for the game against Topeka West. The new school had not lost a game to Hayden in the first three meetings between the teams. Mike Rush had a chance to score in the final minutes of the first half to take the lead over the Chargers. He gained 33 yards after catching a Kamer pass with a clear field in front of him. Then he stumbled and was unable to keep his balance. The Wildcats could not score from the 33 yard line and Hayden never came closer to a score. With the score tied 6-6, Topeka West made a final drive inside the Hayden 10 with very little time left in the game. A 4th and goal pass by Terry Bettis fell incomplete with only 3 seconds left on the clock.
Hayden's upset of undefeated Atchison was a high point in the season for Coach May's squad. Steve Gibbs was the most potent offensive threat all year long. He put the team in the lead with a 41 yard pass reception in the first half . This victory allowed Hayden a first place tie with Leavenworth and Atchison. Atchison upset Leavenworth in the final game of the season 14-0. Hayden finished with the best record (6-2-1) since 1956. The bad news was that Coach Matt May was interested in moving to the college level of coaching and was hired by St. Mary's of the Plains (Dodge City) as head football coach. Assistant Coach Bill Orth was named the leader of the Hayden program in 1965.
1964
Matt May
6
2
1
Centennial League Tri-Champion
9/25/64
Washburn Rural
W
13
7
Washburn Rural
Centennial
10/2/64
Seaman
W
24
7
Hayden Field
Centennial
10/9/64
Topeka West
T
6
6
Moore Bowl
10/16/64
Leavenworth
L
12
26
Hayden Field
Centennial
10/23/64
Shawnee Heights
W
40
0
Shawnee Heights
Centennial
10/30/64
Atchison
W
14
6
Atchison
Centennial
11/6/64
Ward - Kansas City
L
6
13
Hayden Field
11/13/64
Miege - Kansas City
W
6
0
Kansas City
11/20/64
Highland Park
W
20
0
Hayden Field
Centennial
| | | | | | | | | | | | | | | | | |
| --- | --- | --- | --- | --- | --- | --- | --- | --- | --- | --- | --- | --- | --- | --- | --- | --- |
| 1964 Statistics | RTD | PTD | RCTD | PAT | PAT-K | FG | RA | R YDS | CT | RCYDS | PA | C | PYDS | INT | S | TP |
| | | | | | | | | | | | | | | | | |
| Steve Gibbs | 6 | 1 | 5 | 1 | | | 117 | 777 | 6 | 136 | 9 | 3 | 51 | | | 67 |
| Jim Kamer | 3 | 6 | | 1 | | | 20 | 74 | | | 56 | 16 | 288 | | | 19 |
| Bill Glenn | 3 | | | | | | 119 | 580 | | | | | | | | 18 |
| Art Gonzales | | | 2 | | | | | | 2 | 33 | | | | | | 12 |
| John Eagan | | | | | 7 | | | | | | | | | | | 7 |
| Brian Strathman | 1 | | | | | | 7 | 98 | | | | | | | | 6 |
| Phil Friedl | 1 | | | | | | 10 | 63 | | | | | | | | 6 |
| Ron Esquibel | | | 1 | | | | 1 | -9 | 5 | 55 | | | | | | 6 |
| Mike Rush | | | | | | | 57 | 294 | 4 | 85 | | | | | | 0 |
| Doug Gardner | | | | | | | 1 | 1 | 1 | 6 | 2 | 1 | 19 | | | 0 |
| Don Grantham | | | | | | | | | | | 2 | 1 | 5 | | | 0 |
| Debacker | | | | | | | | | 1 | 10 | | | | | | 0 |
| Dan Sumner | | | | | | | | | 1 | 19 | | | | | | 0 |
| Pat Dickey | | | | | | | | | 2 | 25 | | | | | | 0 |
| TEAM | | | | | | | | 144 | | | | | 6 | | | 0 |
| | | | | | | | | | | | | | | | | |
| | | | | | | | | 2022 | | 369 | | | 369 | | | 141 |