1945-1949 Return to Football Year-by-Year HOME Updated 12/1/2007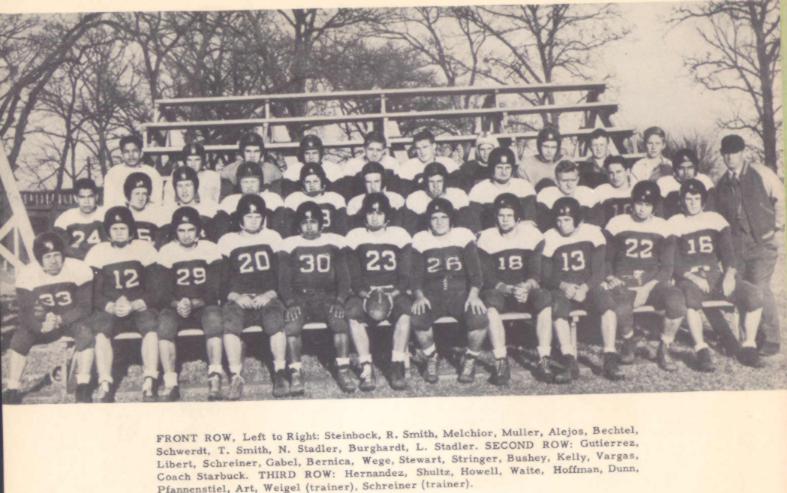 ABOVE: 1948 Team picture from 1949 Yearbook: FIRST LEAGUE CHAMPION in any sport.
TDC State Champions: Hutchinson/Lawrence (Class AA)
1945
Fr. Henry Gardner
2
7
0
Asst: CPL Nate Long
9/21/45
Topeka High - B Team
L
6
20
9/30/45
Maur Hill - Atchison
L
0
38
Atchison
10/5/45
Osage City
W
9
0
Osage City
Jayhawk
10/12/45
Burlingame
W
33
0
Highland Park
10/18/45
Council Grove
L
7
13
Seaman
Jayhawk
10/26/45
Highland Park
L
0
6
Highland Park
11/1/45
Wamego
L
0
25
Seaman
Jayhawk
11/9/45
Seaman
L
0
47
Seaman
Jayhawk
11/16/45
Highland Park
L
0
13
Highland Park
Jayhawk
************************************************************************************************************************
1946 TDC Kansas State Champion: Lawrence Lions (Class AA)
Coach "Bow Wow" staged an alumni game 10/13/46 that may have been the only win for the Wildcats in 1946. The result of this contest was not reported in the local newspapers and it is not a given that the Varsity was able to win this game. As usual the team fought hard on defense - but was absolutely hapless on offense. In fact, the season outpoint of 20 points was the lowest since the school had adopted a full schedule of games.
Seaman dealt the death blow to the team in a 57-0 route. Several of the better players (Clarence Severin, Alvin Beck, Jay Haefele and Bob Richards) sustained injuries that limited or excluded them from participation in the Highland Park game. Jerry McCarthy (my uncle) claimed that he told the referee to keep the clock running in the second half against Seaman (officials kept the time on the field in those days). Jerry and other vision impaired teammates played without their glasses in 1946 (before the availability of sports glasses or contacts). It was in one of the final games of the season that he and another lineman dove to recover a fumble only to discover that they were fighting to capture another player's dislodged helmet.
1946
"Bow Wow" Wojtkiewicz
0
7
1
9/21/46
Lillis - Kansas City
L
7
26
Kansas City, MO
9/27/46
Maur Hill - Atchison
L
0
25
Highland Park
10/4/46
Osage City
T
0
0
Osage City
Jayhawk
10/20/46
Immaculata- Leavenworth
L
6
12
Leavenworth
10/25/46
Highland Park
L
0
33
Highland Park
11/3/46
Wamego
L
7
26
Wamego
Jayhawk
11/8/46
Seaman
L
0
57
Seaman
Jayhawk
11/15/46
Highland Park
L
0
33
Highland Park
Jayhawk
Program from 11-15-46 - 24 brave CCHS players listed inside.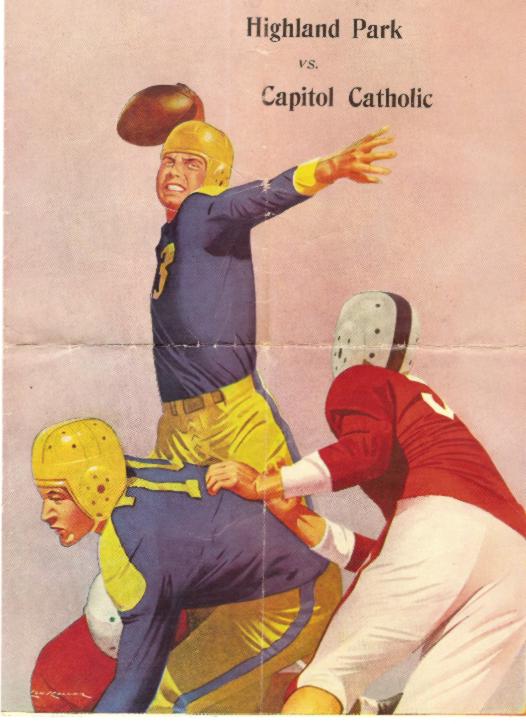 ***********************************************************************************************************************
1947 TDC Kansas State Champion: Lawrence Lions (Class AA)
John Starbuck was hired by Fr. Gardner to coach basketball and football for the 1947-48 school year. This marks the start of the modern era of athletics at Hayden. The "Bow Wow" fiasco had shown that interscholastic sports required a determination to be competitive and while other coaches had briefly gained some status for their programs - the administration and, in most cases, the parents did not stress athletics at Hayden. The end of the war allowed Catholics in town to turn their attention to improving the school in several areas and plans were being made to build a field on Gage north of 6th Street. A first ever Hayden gym was also under construction.
Starbuck started the season with equipment for 17 players and some of the uniforms smoke damaged from a small fire at the Ripley Park storage room. Leonard Schwerdt was the team captain and Jay Haefele scored the team's first TD to defeat Osage City. This was Hayden's first win since 10-12-45. Haefele was the offense again in wins over Alta Vista and Immaculata (in fact he scored all the touchdowns in the three wins).
Just when everyone was getting excited about the team - it was determined that Jay Haefele was ineligible for play in future games and for the 5 games he already had played. Coach Starbuck had reported to the KSHAAA that Haefele was in his 9th semester of school ( He had attended Boswell Jr. High for a full semester and part of another and then enrolled later at Hayden as a freshman). The violation was unintentional but Hayden had to forfeit all of the victories.
The remainder of the year was spent gaining experience and absorbing some beatings. Seniors on the team were Warren Smith, Terry Palmer, Paul Weissbeck, Bill Maggard, Francis Schmidt, Bernie Krische and Art Loehr.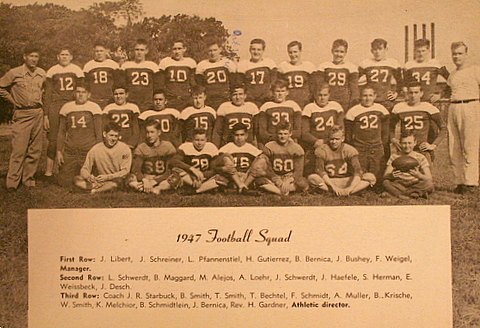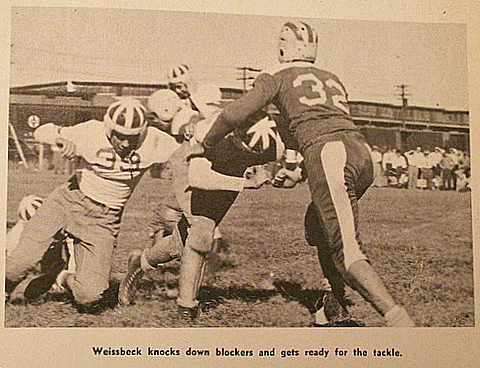 Team picture at Ripley Park 1948 SHAMROCK Weissbeck (#32) in action at Ripley Park
1947
John Starbuck
0
9
0
9/21/47
Lillis - Kansas City
L
0
27
Ripley Field
9/25/47
Maur Hill - Atchison
L
0
7
Atchison
10/6/47
Osage City
L !
6
0
Ripley Field
Jayhawk
10/10/47
Alta Vista
L !
6
0
Alta Vista
10/19/47
Immaculata-Leavenworth
L !
19
6
Ripley Field
10/24/47
Highland Park
L
13
45
Highland Park
Jayhawk
10/31/47
Wamego
L
6
13
Ripley Field
Jayhawk
11/5/47
Seaman
L
0
18
Seaman
Jayhawk
11/13/47
Washburn Rural
L
0
34
Highland Park
Jayhawk
! Wins forfeited due to ineligible player
*************************************************************************************************************************
1948 TDC Kansas State Champion : St. Joseph Military (Hays) Cadets (Class AA)
Thirty-one players turned out for football in 1948 - senior players on this team were Manuel Alejos, Bob Bernica, John Burghardt, Joe Desch, Jesus Gutierrez, Ed Kelly, Art Muller, Joe Schreiner, John Schwerdt, Francisco Vargas, Nick Stadler, Laverne Pfannenstiel, Jerry Earhart, Bill Bushey & Ken Wage. The Wildcats defeated Lillis in Kansas City at CYO Stadium. Starbuck had praise for Schwerdt, Ted Bechtel and Joe Desch. Desch scored a TD in the next win over St. Agnes (Miege) at Ripley Park but was injured in the end zone and was out for the season with a broken collar bone. Fortunately, the program had improved to the point that replacements were available in the backfield - freshman Bob Steinbock replaced Desch and was impressive in the 13-0 victory.
Louis Stadler scored twice in the next win against Osage City while the defense continued their impressive play. Maur Hill's defense was known as one of the best in Northeast Kansas and the teams traded kick after kick in the middle of the field for most of the game. In an oddity in Hayden football history - Maur Hill won the game without ever recording a first down. Their first score was on a 80 yard pass interception and the second was a 85 yard rushing play on 1st down in the 3rd quarter. Hayden's "box formation" was not producing scores and Coach Starbuck switched to a "single wing" system shortly after this game.
Hayden's defense was outstanding the rest of the season giving up only 3 TD's after the Maur Hill game. Several underclassmen began to contribute - Stan Stringer & Ed Gabel helped out in the line play. The finale against Washburn Rural saw the largest crowd to date for a Jayhawk League game - 5,000 watched Hayden win 20-6. Lou Stadler mixed in passes with the improving running attack to win Hayden's first ever League championship in any sport.
Hayden celebrated with a sports banquet that featured K.U. coach J.V. Sikes as speaker. Tom Smith , Hayden Booster President , confessed that he was at first disappointed that his sons wanted to attend Hayden. "We wanted the boys to be athletes, and Hayden at that time (1946) was athletically nothing... tonight, with things changed, this is the happiest moment of our lives", he said as he also stressed the booster club's determination to build a field by next season. (TSJ 12/2).
1948 Statistics
RTD
PTD
RCTD
PAT
PAT-K
FG
TP
Lou Stadler
9
2
1
55
John Burghardt
3
6
24
Bob Steinbock
2
1
18
Bob Smith
1
6
Joe Desch
1
6
Nick Stadler
1
6
Bill Dunn
3
3
118
No yardage figures available
1948
John Starbuck
8
1
0
Jayhawk League Champion
9/26/48
Lillis - Kansas City
W
6
0
Kansas City, MO
10/3/48
St. Agnes - K.C.
W
13
0
Ripley Field
10/8/48
Osage City
W
14
6
Osage City
Jayhawk
10/17/48
Maur Hill - Atchison
L
0
12
Ripley Field
10/24/48
Immaculata-Leavenworth
W
19
6
Leavenworth
10/29/48
Highland Park
W
12
0
Highland Park
Jayhawk
11/3/48
Wamego
W
20
0
Wamego
Jayhawk
11/12/48
Seaman
W
14
6
Seaman
Jayhawk
11/18/48
Washburn Rural
W
20
6
Highland Park
Jayhawk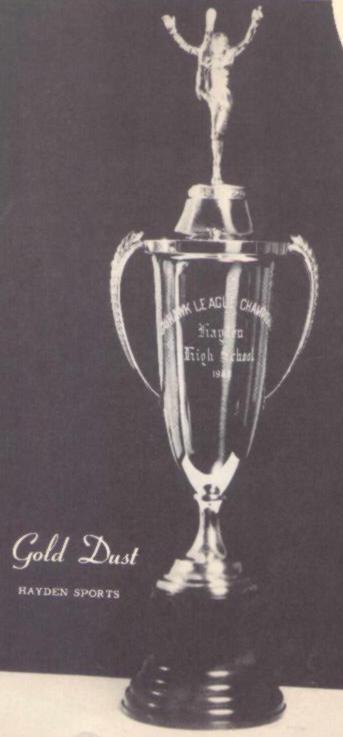 Hayden's 1st Team Champion Trophy ---->
****************************************************************************
1949 TDC Kansas State Champion: Wichita North Indians (Class AA)
A strong Marysville team outfought Hayden in the first game of the year. This strange game saw Marysville take a safety by running out of the end zone rather than punting on their own 1 foot line. This was done after stopping a Hayden drive inside the 10 yard line. A clipping penalty hauled back a 70 yard TD run by Bob Steinbock. ( Pre-season note states that Hayden wore green jerseys in practice). Bob Steinbock says the colors were blue & white during his freshman year - but then they switched to green and gray and kept those colors at least through his senior season (1951).
Lou Stadler was the senior leader in the 1949 backfield - he scored 4 TD's in the St. Agnes game and threw another to Bob Steinbock. Other offensive stars (Joe Bushey, Bob Smith & Steinbock) helped the team roll to victories leading to the face-off with Wamego for the league lead. Wamego was a home game for Hayden played on Seaman's field. Lou Stadler scored the go ahead TD in the 4th quarter. Hayden's defense was excellent as it had been all year - but Wamego was near it's equal when Hayden got close to scoring several times during the first 3 quarters.
After Hayden defeated Seaman & Washburn rural to win the league championship. the TSJ announced that 4 Hayden starters were All-Jayhawk League first teamers. Ken Melchior (E), Tom Smith (T), Ted Bechtel (C) and Bob Steinbock (BACK) were selected by Jayhawk League coaches.
Hayden played Ward in a Thanksgiving day game at Moore Bowl. 6,000 fans showed up for the previously postponed Homecoming contest. Ward was 3-2-3 coming in to the contest but they competed mainly against AA schools. Hayden drove 70 yards in the final minutes of the game only to be stopped inches short of a touchdown as time expired.
Hayden boosters hoped for completion of their own stadium for use in 1950. Land had been purchased in 1948 for $14,000 and estimated cost for initial construction was $60,000. Eventually tennis courts and baseball diamonds were expected to be added to the recreational center.
1949 Statistics
RTD
PTD
RCTD
PAT
PAT-K
FG
S
TP
Joe Bushey
10
5
65
Lou Stadler
8
2
2
50
Bob Steinbock
5
2
2
44
Bill Dunn
7
7
Bob Smith
1
6
Jim Waite
1
6
Jack Libert
1
6
TEAM
2
4
188
Yardage figures are not available
Jack Libert on the way to 30 yd gain at Moore Bowl against Ward (1950 Hayden Yearbook)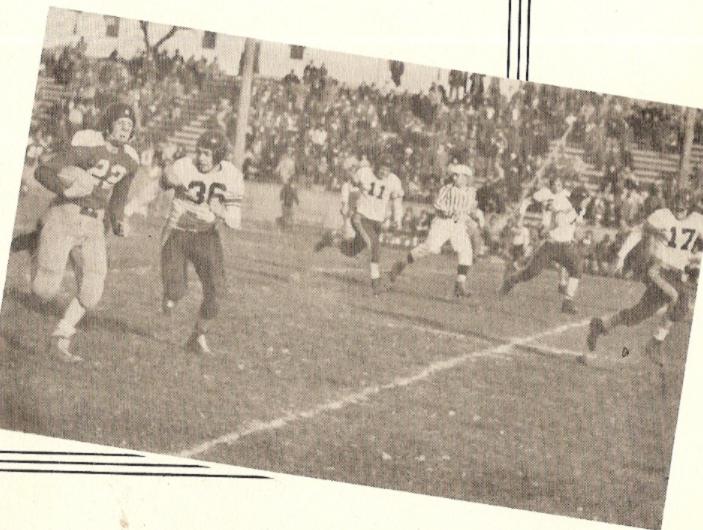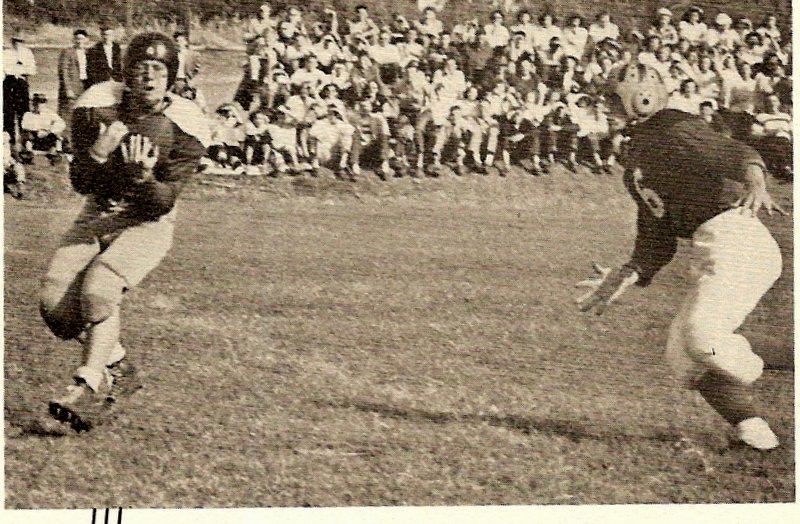 Steinbock takes in Stadler pass for a TD against St. Agnes (1950 Hayden Yearbook). Pre face guard era.
Bob Steinbock remembers the game against St. Agnes was delayed an hour due to the break down of Hayden's ancient bus. Bob said the players had to get out and push the bus to get it started. Once the game was over, Fr. Gardner and Coach Starbuck took the team to a restaurant on the outskirts of Kansas City, KS. The owner, however, said he would be unable to serve Hayden's Negro player. "Oh," said Starbuck - "I thought we were on the Kansas side of the river." The TSJ of 10/3/1949 said that Fr. Gardner and Starbuck then led the whole team out of the restaurant and they ended up eating at a drive-in. Bob Steinbock verified this story - but also pointed out that Hayden did not have a Negro player. "They (objected) to Mexicans", he said. Charles Vasquez may have been the player in question; the owner ended up losing all Hayden business that day. Then the bus broke down again and they had to call in a Trailways bus to get the team back to Topeka.
1949
John Starbuck
7
1
1
Jayhawk League Champion
9/24/49
Marysville
L
10
14
Highland Park
10/2/49
St. Agnes - K.C.
W
33
0
Kansas City
10/7/49
Osage City
W
27
6
Highland Park
Jayhawk
10/14/49
Maur Hill - Atchison
W
27
6
Atchison
10/28/49
Highland Park
W
13
0
Highland Park
Jayhawk
11/2/49
Wamego
W
12
7
Seaman
Jayhawk
11/14/49
Seaman
W
26
0
Seaman
Jayhawk
11/18/49
Washburn Rural
W
33
0
Washburn Rural
Jayhawk
11/24/49
Ward - K.C.
T
7
7
Moore Bowl

Starting line for 1949 Football team (1950 Hayden yearbook). Ken Melchior is left out of scan due to limited picture quality. Ted Bechtel was named ALL-STATE the following season (1950).